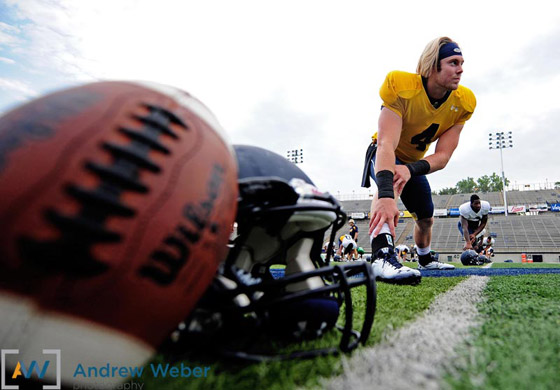 Toledo, OH-based sports photographer and former Toledo Rocket kicker Andrew Weber had full access during a Rockets football practice.
I have been home from London for a day and a half and I was itching to shoot again. After texting my buddy who is the equipment manager for the football team where I use to be a kicker and he telling me it was their last two-a-day practice on Wednesday, I knew it would be a good opportunity to shoot!

Before I left for London I met with newly appointed head coach Matt Campbell, who was on staff when I was a kicker at Toledo. He had always supported my work and my work ethic, so I pitched him an idea about doing an all-access photo blog of the 2012 camp. Where potential recruits and fans could log on everyday and view pictures. Obviously going to London, I didn't get a chance to do that so I am going to try and make up for lost time and hit up a few practice when I am home to make some really good images. Show what goes on during camp and practice that the public might not be able to see!
Continue reading and see more photos on Andrew's blog.