C.S. Muncy
is a freelance photojournalist based out of New York City with a client list that includes The New York Times, The Wall Street Journal, Newsday, The New York Daily News and The Village Voice. As a freelancer, he's covered such subjects as the BP Oil Spill, the fight for same-sex civil rights, the takeover of the state capitol in Madison, Wisconsin and Occupy Wall Street. A graduate of the Defense Information School, he enlisted in the United States Air Force in 2002 and is currently a photographer with the New York Air National Guard.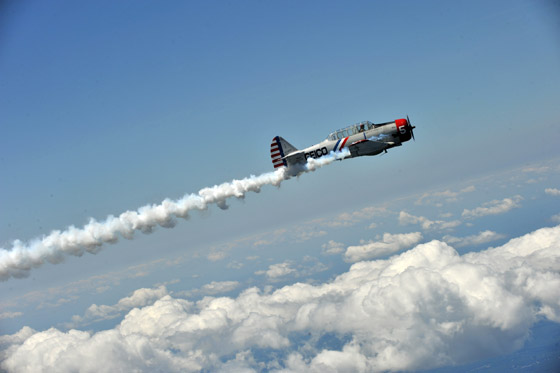 A few months ago I was invited to fly out with and photograph the Geico Skywriters- an aerial demonstration team flying Texan Trainers. The Skywriters are hired out at roughly a thousand dollars a message, and also perform stunts at airshows. Scheduling issues pushed my flight back until this weekend, when I caught a ride along the east coast, leaving from Long Island, flying along the coast to Boston, then back over Manhattan before returning home.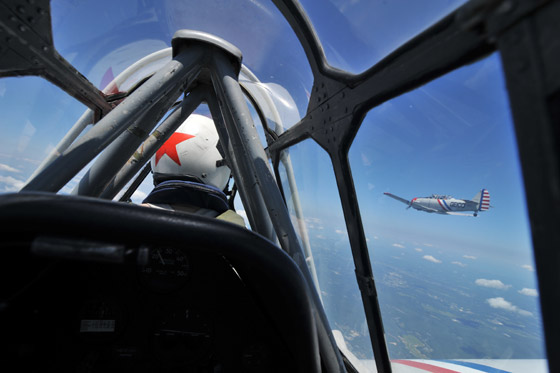 While I've photographed from a variety of aircraft, this would be my first time shooting from an antique fighter. Most other aircraft I've flown from have been roomier. HH-60's and HC-130's for example, give you plenty of room to get up and move around. When photographing from an HC-130 you can literally stand at the edge of the open ramp to shoot- the wind's no worse than sitting in a convertible with the top down. The Texans are much different environments- really there are only a couple of inches of space between your head (I'm a relatively tall guy at 6'3'') and Plexiglas.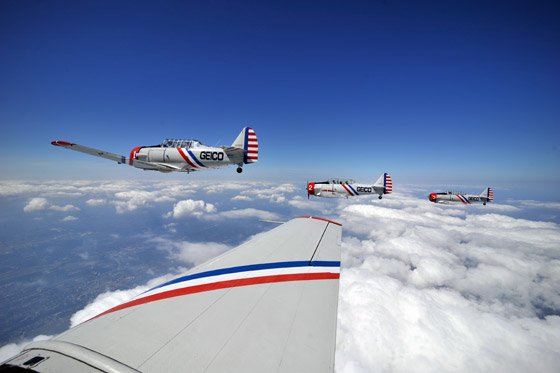 It's not just the size of the cabin, but also all the gear that really makes things tight. The first thing you put on is your LPU, a small inflatable life preserver that fits on you kind of like a detective's holster under your arms. After that goes the parachute. "Don't worry about that," the pilot told me. "You'd only have to use it in the event of a midair collision. Any engine troubles, we'll just try to glide it in." On top of the parachute I had my Newswear Chest Vest, which contained three lenses and two of my three cameras. Finally, over all of that went my seat belt- this fit well enough, but in the event of an emergency it would have been tough getting out of it.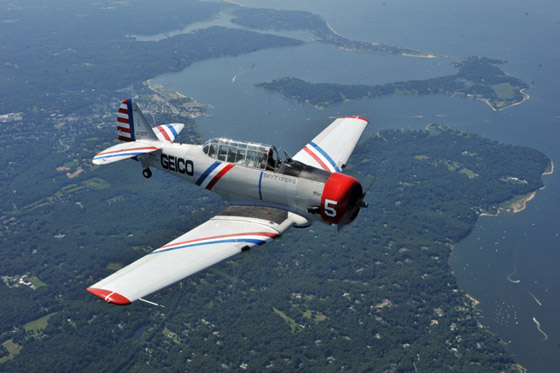 Aside from my Chestvest, which I've customized for this kind of work, I use a Sunsniper dual camera rig. I love Rapidstraps and use them when I'm packing a single camera, but the Sunsniper has a steel cable running the length of each strap, making them extremely tough. I also use beaner clips on each camera, which allows me to keep them firmly attached when not in use. The thing to remember about Texans (and many other aircraft of this era) is that there's no floor to speak of. Beneath your feet are the flight controls and cables; if a lens or body were to fall, you'd have no way to reach them. Worse, they could get caught in something important, which could impact the pilot's ability to safely fly the aircraft. I took extreme care not to drop anything when changing lenses.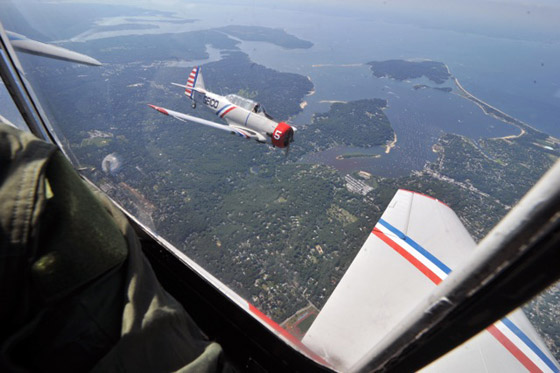 There's a very good reason to wear a flight suit when photographing this sort of thing. It wasn't really apparent to me, not in the beginning anyways- but when you're crammed into the tiny cabin of that old trainer, it quickly becomes apparent that you have an extremely limited field of movement. If I had worn my street clothes, I would have had zero access to my pockets. With the flight suit, you have pockets at your arms, thighs and ankles- more than enough to hold my batteries and memory cards. I was offered a helmet, but turned it down in favor of earphones. I didn't want to keep butting the camera against it every time I tried lining up a shot. For first time flyers, I suggest wearing not only the earphones, but also packing ear plugs. The noise up there is extremely loud, and you can easily wrack up permanent hearing damage if you don't take your protection seriously.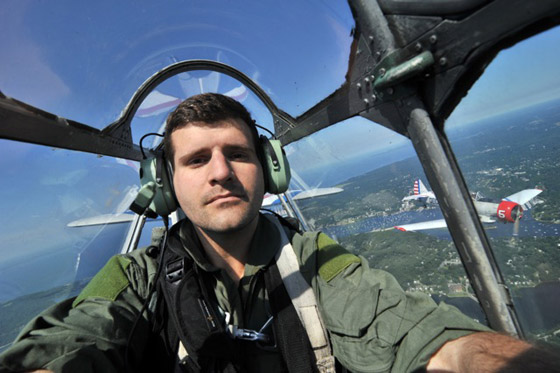 When the formation began skywriting the cabin quickly filled up with a fine layer of smoke. This was normal, and I was told it wasn't any more dangerous than smoking a couple of cigarettes. I did my best not to change lenses during this time. Exposing the sensor in this kind of environment didn't seem like the best idea. While flying slower than a 160mph, it was safe enough to pull the Plexiglas back and shoot through the open window. Again, I can't stress the importance to ensuring all of your gear is firmly connected to your body. Leaning your head out the window, you're likely to lose anything you haven't got a firm grip on.
If I had any advice to other photographers about to do similar work, it's this: pack light, and make sure everything's secured. If you're making sudden maneuvers, you can easily find your cameras flying into your face, or suddenly tripling in weight and dropping to the bottom of the plane.