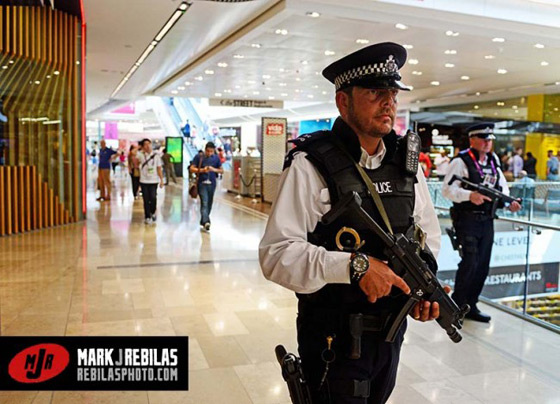 Sports photographer Mark J. Rebilas, currently covering the Olympics, shares photos from his second day in London.
My second day in London for the Olympics would be quite an interesting day. Didn't really shoot much but I will still post about the day that proved maybe I am a luckier guy than I already know!

Above, armed police officers patrols the Westfield shopping center with automatic guns. Earlier in the day we had a company meeting in our office at the Main Press Center (MPC) where we went over our emergency plan. We also were told that photographing the police was allowed and we wouldn't get in trouble for doing so. I still was a bit nervous when I pulled out my wide angle lens and shot the stone faced cop walking past me vigilantly looking for any trouble that may arise.
Continue reading and see more photos on Mark's blog.