Compatible with all EOS EF, EF-S lenses via adapter
Canon today officially became the final major camera company to launch a Mirrorless Interchangeable-Lens Compact (MILC) camera. Did they save the best for last?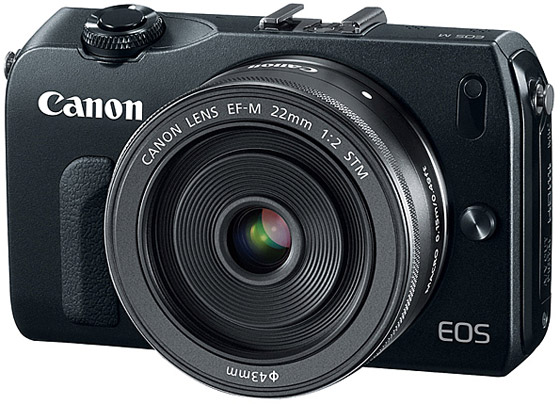 Finally, after sitting on the sidelines for the four years since Panasonic introduced the world's first MILC, Canon today joined the MILC (Mirrorless Interchangeable-Lens Compact) camera fray. The Canon EOS M is an entirely new MILC system based on an 18MP APS-C CMOS sensor, which is likely the same sensor found in the Canon EOS Rebel T4i DSLR.
Canon EOS M Key Features
18MP APS-C CMOS Sensor (22.3×14.9mm)
35mm equivalent: 1.6x
ISO range 100-12,800, extendable to ISO 25,600
JPEG & RAW Still Image Capture
Shutter speeds 30-1/4000 second
Hybrid AF system using contrast and phase detection
3-inch, 1040k dot touch display LCD monitor
Burst rate 4.3fps
1920×1080/30p video capture
MPEG-4, AVC/H.264
Video Servo AF
HDR Backlight Control
Multi-shot noise reduction
Creative Filters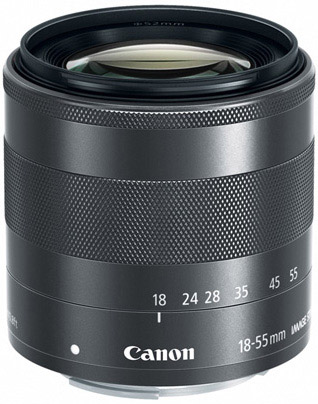 A new camera mount and short flangeback design (which brings the rear lens element closer to the surface of the sensor) means a new lens system based on the EF-M mount, and the EOS M arrives at birth with two lenses, an 18-55mm f/3.5-5.6 IS STM kit lens (35mm equivalent: 29-88mm) and the EF-M 22mm (35mm equivalent: 35mm) f/2 STM pancake lens. Owners of Canon EOS DSLR systems can also rejoice: Canon also announced the Mount Adapter EF-EOS M, which allows you to mount any Canon EOS EF and EF-S lens. With over 70 lenses currently available, the Canon M becomes another part of the Canon EOS ecosystem.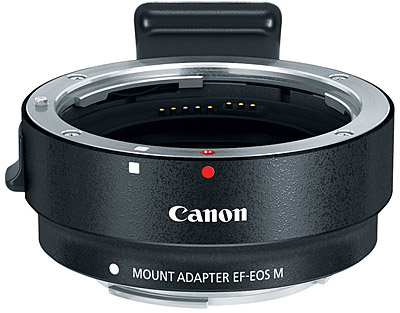 Finally, Canon also announced the Canon Speedlite 90EX, which is closely matched to the Canon M but can also be used with other Speedlites. The Speedlite 90EX boasts a 24mm angle of coverage, and a maximum guide number of 30 feet at ISO 100. The M is fully compatible with the entire Canon Speedlite line, and can control multiple speedlites wirelessly.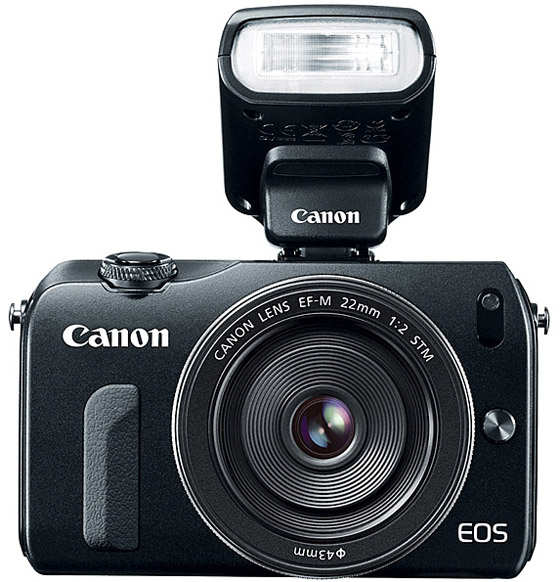 In its marketing efforts, Canon is emphasizing the EOS M more as a movie-making tool and secondarily as a still camera. It has a built-in stereo microphone (with manual audio adjustment), manual exposure control and multiple resolution frame rates, as well as a video snapshot mode with touch-screen editing. The Movie Servo AF mode, which is the camera's default setting, is claimed to be able to track moving subjects. The two new lenses introduced with the EOS M use STM (Stepping Motor Technology) for virtually silent autofocus that won't be picked up by the camera's internal microphone.
The Canon EOS M features a hybrid CMOS AF system that employs both contrast detection and phase detection autofocus techniques. In competing systems this hybrid approach has allowed for minimal focus time, and indeed, Canon claims speedy snap to focus for the M system with reduced shutter lag. Face Detection, Tracking AF, Multip-Point AF with 31 autofocus points as well as single-point AF are all user-selected focus options. Touch-screen operation activates subject recognition and tracking; users can use touch-screen to navigate the menus for both still and video.
A closer look
Based on an examination of the Canon EOS M's external control layout it is clear this is a simplified camera designed primarily for snapshooters and first-time interchangeable-lens camera users. Measuring 4.3×2.6×1.3 inches (without lens) and weighing a mere 10.5 ounces (body only, with battery), the camera is small and travel-friendly.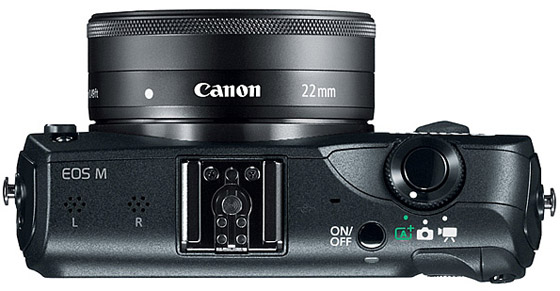 The top of the camera, from left to right, features left and right microphones, a flash/accessory mount (yes, you can mount the Canon TK GPS system), an on/off switch, and a shutter release surrounded by a rotating switch that lets you choose Auto+, still camera or video modes; choices within each mode can be found within the menu structure. A nice design element: The shutter release is nestled in a comfortable tilt within in a carved out wedge. With the flash mount so close, this makes sense because it reduces the likelihood that your shooting finger will bump up against the bottom of the mounted flash.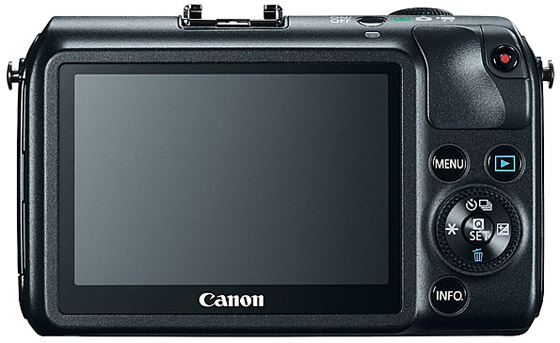 The back of the camera is dominated by the inch LCD monitor which is built in and doesn't rotate, but which boasts a very high 1.04 million dot resolution. A menu button accesses menu controls, while a preview button lets you look at stills and videos. A "Q" button also doubles as a feature set button, and is surrounded by a four-way circular toggle switch to control burst rate and self-timer, EV control, image delete, and an assignable function option indicated by an asterisk. An info button lets you control what information appears on screen during shooting or preview modes.
On the left side of the camera a door opens to reveal AV/Out digital and HDMI ports, as well as an external mic jack, and the front of the camera simply has a small grip protrusion, the lens mount and release button, and the infrared focus aid. There is no eye-level viewfinder option.
Despite its simplified layout, the Canon EOS M is solidly built. Its chassis is constructed of magnesium and stainless steel, and Canon says the body can, via the EOS lens adapter, be fully integrated into the entire line of Canon DSLR lenses.
Image Quality
Based on a handful of still and video files posted on Canon's Japan-based web site, image quality promises to be spectacular, but we won't know for sure until the camera has been lab- and field-tested under a variety of situations and its full range of ISO settings. We can expect similar image quality to that of the the recently-introduced Canon T4i. Look for a full test of the Canon EOS M in the near future.
Competition
Canon sat on the MILC camera sidelines for as long as it could, and that may have been a smart idea. In the four years since Panasonic introduced the first MILC, a lot has changed. Smart Phones, led by the Apple iPhone, have improved their picture-taking capabilities while their wireless image sharing abilities have rendered stand-alone compact cameras a dying category. Meanwhile, MILCs have become the fastest-growing category of stand-alone cameras. Camera companies are either dropping compact camera lines entirely or adding features to their compact cameras that aren't available in camera phones. Clearly, Canon had this in mind when designing the EOS M.
The camera is designed for snapshooters who want the flexibility of interchangeable lenses in a small package. Unlike the Nikon 1 series, which has a small sensor and small, compact lenses but sacrifices pro-level image quality, the Canon M features a full-sized APS-C sensor that should deliver image quality that should equal that of the Canon EOS T4i, one of the highest-rated sensors on the market. Its main competition is most likely the Sony NEX-F3, which also houses an APS sized sensor, but Canon holds a competitive edge over Sony because, via the Canon adapter, the Canon M is immediately and fully compatible with the largest selection of DSLR lenses on the planet. Likewise, the Pentax K-01 has an APS sensor and is compatible with Pentax's extensive line of lenses going back decades, but many photographers may balk at its bulky design.
I look forward to getting my hands on the Canon EOS M and putting it through its paces, but initial impressions are that Canon may have saved the best MILC introduction for last.
Pricing and Availabilty
The Canon EOS M Digital Camera bundled with the new EF-M 22mm f/2 STM kit lens will be available in October for an estimated retail price of $799.99. A white version of the EOS M Digital Camera will also be available.
The new Canon EF-M 18-55mm f/3.5-5.6 IS STM lens, Canon Mount Adapter EF-EOS M and Canon Speedlite 90EX will all be available in October at an estimated retail price of $299.99, $199.99 and $149.99 respectively.