Ty Wright
is a photographer currently based in central Ohio. His work has appeared in Time, the New York Times, The Washington Post as well as numerous national and international publications. He is in the second year of working on his Master's Degree in photojournalism at
Ohio University
. He is readily accepting assignments anywhere in the world.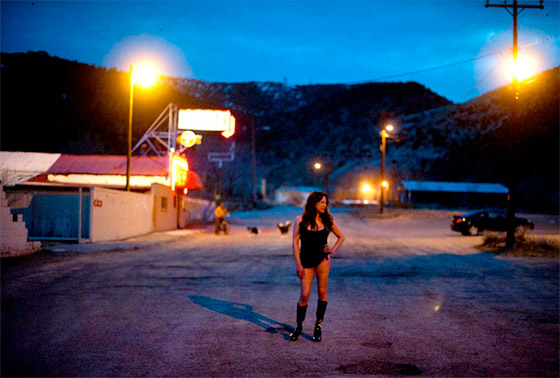 I started working on this project in January 2010 for my magazine class at Ohio University. I was traveling through central Nevada, along State Route 50 working on Loneliest Road in America project when this first started.
I was calling around to contact people for the project, doing lots of online searching, especially on Google, to make contacts along the way that would contribute to the essay. When I did a search for ranches, thinking cattle ranches, in Central Nevada lots of names came up on the list. One of the first names which popped up was "The Big 4 Ranch" in Ely, Nevada. State Route 50 runs straight through Ely. I thought it was a good fit.
So I called them. Still think it was a cattle ranch. I hear "Hello" and I went into my shpeel. I told the bartender, Jack, who I was and what I was wanting to do on his cattle farm. Wrong words. He started laughing his ass off. I was thinking to myself "what the hell? Everyone I've talked to out here has been so nice, what's going on?" Anyway, he finally caught his breath and told me I had contacted a brothel. I was caught off guard. Right before saying sorry and hanging up I asked him if it would possible to come there and photograph the operation for a night. He said, without hesitating, no problem. They would be more than happy to have me.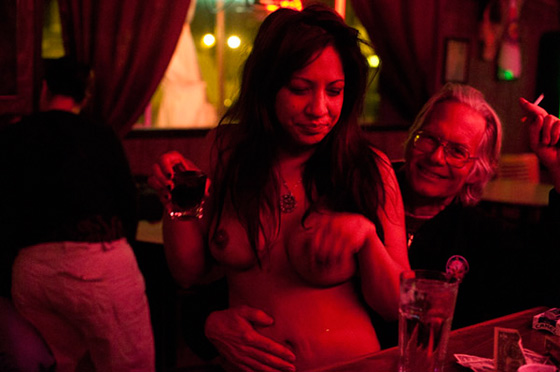 Well, this is where I met Jade. She was 37 at the time and had been working in legal brothels in Nevada for about eight years.
When I first met her she seemed more confident than anyone who I had met in a long time. She walked around topless, wearing nothing but a g string. I thought there was nothing that got to this woman. She was the epitome of the word "SEX."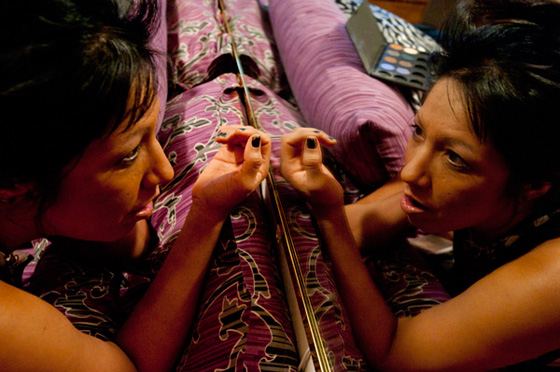 The night after I met her we conducted an interview in the casino of the hotel I was staying in, Hotel Nevada. It was a little awkward at first. She was shy, a little apprehensive about answering certain questions about herself. It wasn't what I expected from someone who could walk around in almost nothing and be such an exhibitionist.
We started talking about her home life. She told me she lived in Orange County, California, where she was born and raised. How she still lived close to her mother and three brothers. She went on to tell about her three children and her relationships with her ex husband.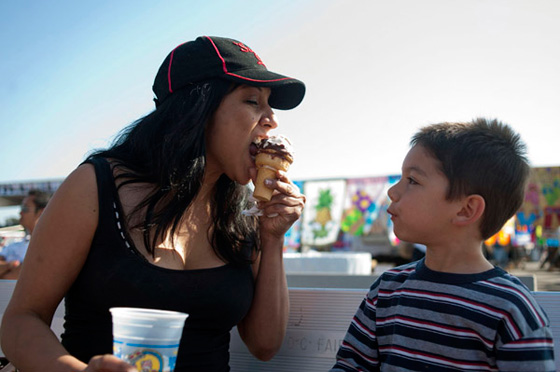 I started realizing she led somewhat of a normal life. This seemed like the life of two different people. I was becoming more intrigued by this woman's story hearing her every word.
After the interview I asked her thoughts about me telling her story. I explained how I was intrigued by the difference in how she portrayed two different people. One being the confident exhibitionist and the other a caring mother.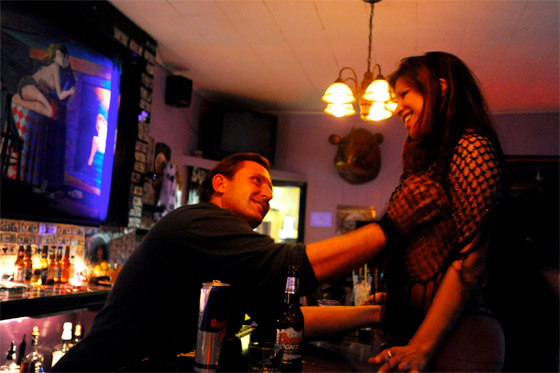 She said it was something she would consider. She further went onto explain that she had recently told a few people in her family, including her mother, about her real occupation as a working girl. They all thought she was an adult dancer.
After I got back to Ohio, I received a call from her about a week later. She said she had thought it over. She wanted to take part. It was something that she thought she needed to do at that point in her life.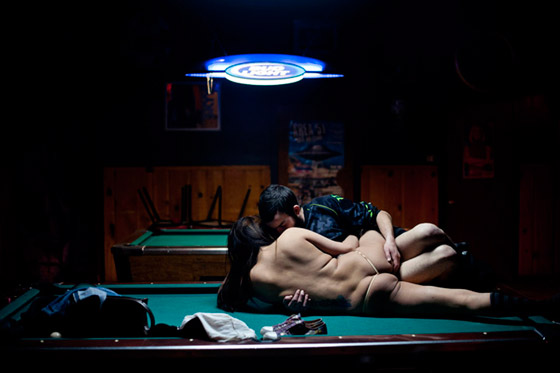 So, now a year later, I have met almost all of her close family, her children, and spent a lot of time with her. We have become close friends.
I think back on how we met now. I was so nervous walking into that brothel for the first time. It was something I had never experienced. And she was totally the opposite. Full of confidence.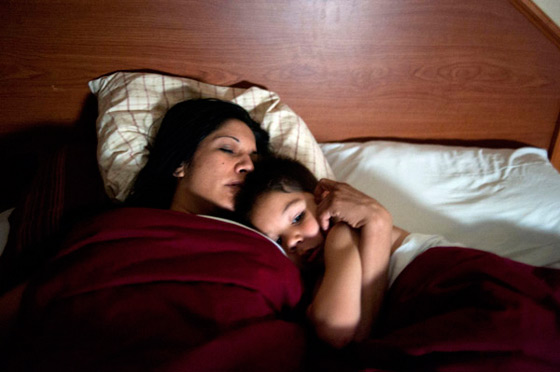 I think this project shows her life in two different places in her life at two different points. It describes who she is and what she does to cope with the two different roles she plays as a mother and a working girl. It shows her confidence and vulnerabilities. But it also shows unconditional love to the people she cares for.
Jade is one of the people in my life I've had the pleasure to meet. And I think she's someone I will always call my friend.