Every job has different requirements, so I'm going to share a couple of different bag setups.
This first "In My Bag" is for a commercial shoot at a factory for a client making a capabilities brochure. My primary bag is always a Think Tank Airport Security that will hold a majority of the gear.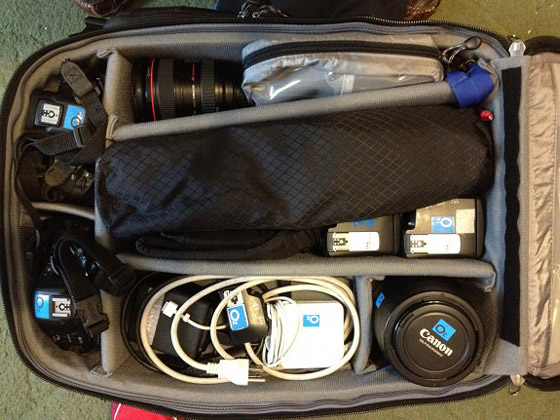 In this bag I'll have:
– 2 Canon Mark IV bodies
– Canon 24-105mm f/4
– Canon 17-40mm f/4
– Canon 70-200mm f/2.8 II
– 4 Canon 580 EX flashes
– Speed light gel kit
– 4 PocketWizard FlexTT5
– 1 PocketWizard Mini TT1
– Four Square block and four square bank
– MacBook Pro with power cable
– 2 Lexar Firewire 800 card readers
– Extra camera batteries and charge
– Camera cables and lens/sensor cleaning tools.
I'll also bring a small tripod that attaches to the tripod mount on the outside of the bag.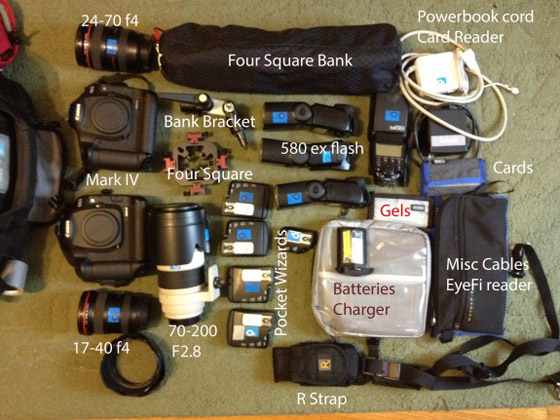 In addition to the Think Tank I will bring anther bag that contains 4-light stands with speed light mounts and 4-umbrellas.
Most of the time I will also bring 4-sandbags to keep the light stands stable so that they cannot be easily knocked over.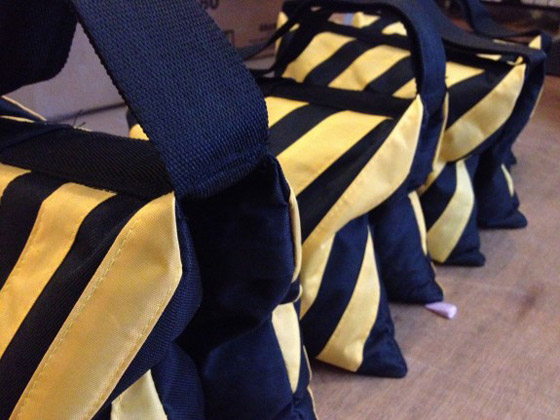 This is for a quick in and very defined project where portability, speed to move from location to location is critical to the job. This particular day I was going into a factory and had to shoot large presses, small robotic stations as well as quality control rooms with and without models/workers in the photos.
Having cords to power equipment wasn't an option in this situation so speed lights were the only option we had and transferred low resolution jpg files to the MacBook via a EyeFI card for approval and saving raw files to the compact flash card in the camera before moving on to the next location. In other situations we will shoot with the studio strobes and tether to the MacBook for approval of final image.
For the second "In My Bag" setup, I'll be covering an MLB game.
In my main bag, a Think Tank Airport Security, I carry my main camera gear. For MLB it is almost the same as for all field type sports.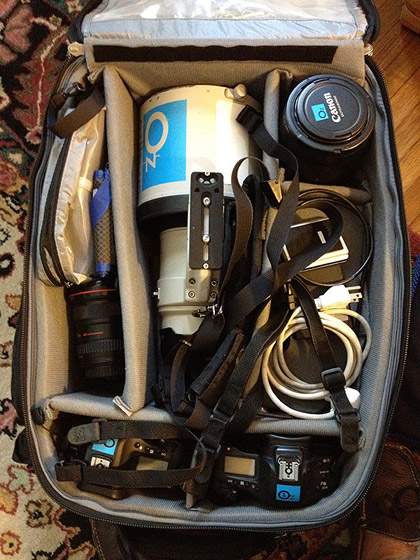 – 2 Canon Mark IV cameras
– Canon 400mm f/2.8 lens
– Canon 70-200mm f/2.8 II lens
– Canon 17-40mm f/4 lens
– Canon 24-105mm f/4 lens
– R Star
– Firewire 800 card reader
– Extra camera batteries and charger
– MacBook Pro with cables and power
– Lens cleaning spray and cloths
– PocketWizard for any remote setup
– Cards in a Pixel Pocket Rocket
The second bag I use is a Crumpler messenger bag that carries my portable work station that I setup in the shooting well so that I can transmit from my shooting position.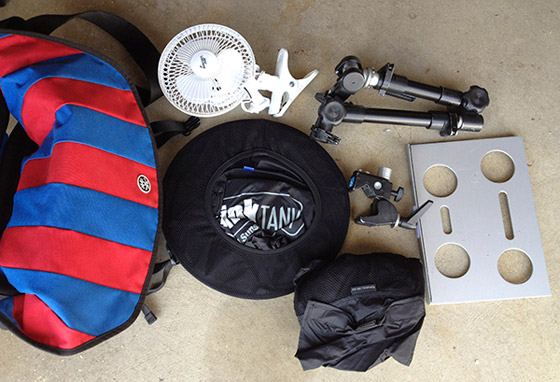 In this bag I have everything I need to setup a laptop stand so I can edit and transmit from my shooting position.
– Think Tank Pixel Sunscreen
– Small clip fan
– Super clamp
– Modified laptop auto mount arm (similar to magic arm but more heavy duty)
– Laptop tray for Arm
– Think Tank Rain, rain jacket and water also fits in here.
With this setup I mount the arm and tray to the pole on the steps in the shooting well and have a 10″ extension cord that I use to power the fan and laptop from the outlets in the back of the shooting well. This setup allows me to edit and transmit from my primary shooting position using the media WiFi in the press box and it is impossible to transmit from the back of the well under the overhang.