Erik Schelkun, owner of 
ElseStar Images
, is an award winning visual specialist with an emphasis on sports action photography, industrial commercial photography and videography. ElsestarImages is currently the contract photographer for the 
University of Dayton athletics department 
and the preferred vendor for
Konecranes, Inc
. Erik is also a regular contributor to 
The Ohio State University
 and the 
Dayton Daily News
. His visual creations can be found in advertising campaigns, publications and websites spanning the globe including: ESPN the Magazine, Sports Illustrated, The Sporting News, Athlon Sports and
KonecranesUSA.com
.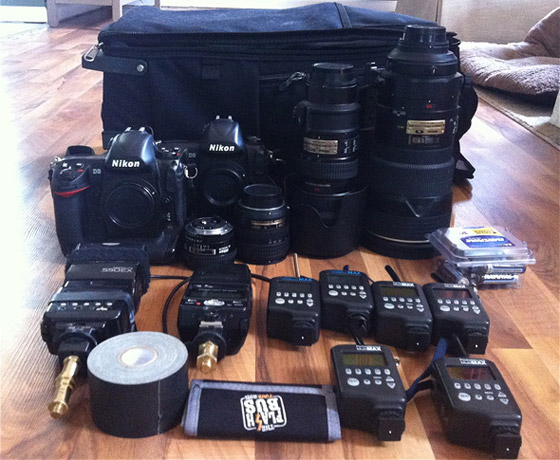 I love camera gear, so it is very easy for me to overthink (and overpack) whatever bag I am using for a particular shoot. This all changed recently after deciding to switch over my system to Nikon. Post switch I have found myself with significantly less gear which I love because it allows me to bring all of my gear to all of my photoshoots. At this point in my career, a majority of my photoshoots fall into only two categories: Sports Action and Industrial Commercial. Despite the totally different equipment needs for the different styles I shoot, now that I bring all my gear with me on all my shoots I spend less time preparing and worrying if I have everything I think i need.
My Main bag is now a Think Tank Airport Security V 2.0 roller bag and it ALWAYS has the following equipment in it:
– HP laptop
– 2 Nikon D3 series cameras
– 300mm 2.8 (In my switch to Nikon I have for the moment decided not to replace my 400mm 2.8 which is great since it allows me to not need another long lens bag or monopod. I now use a 300mm 2.8 VR which is light and fits perfectly in my roller.)
– 70-200mm 2.8
– 24-85mm 3.5-4.5 ( This is a sleeper of a lens and I have found it is as sharp as the 24-70 f2.8 and ALOT lighter and way less money)
– 20mm 2.8
– 2 GoPro cameras
– 5 PocketWizard Multimax transceivers (actually a couple of them are the older MAX version but you get the point)
– Nikon SB-80 DX flash
– Canon 550EX flash (always used off camera strobist style)
– Think Tank CF Card wallet filled with Sandisk Extreme III 8.0 gig cards (and a couple Sandisk SD cards as well)
– Western Digital 500GB portable hard drive
– Zoom H1 digital recorder
– Sharpie
– Extra AA batteries
I also keep an assortment of cables, triggers, and  add-a-taps on hand since you just never know!
….And I always always always have a roll or two of gaff tape because it makes me feel like MacGyver!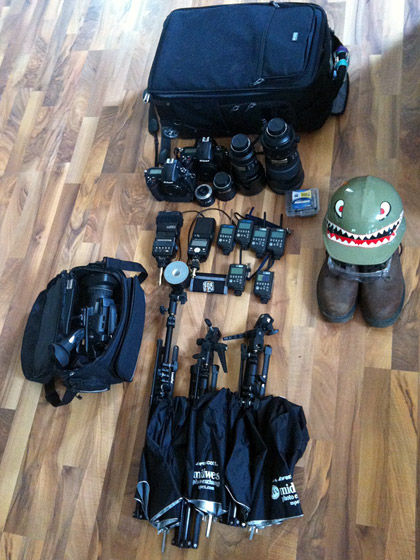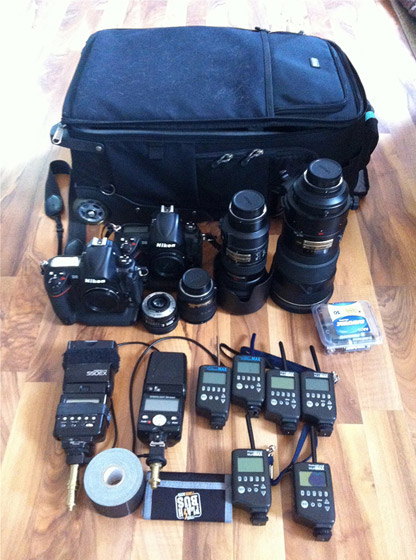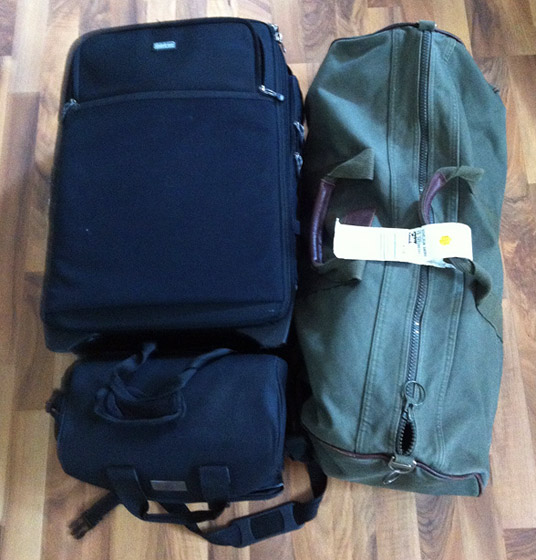 In addition to the above gear, alot of my photoshoots are in factories which require safety gear so I also bring safety glasses, hearing protection, steel toed boots, and my  awesome hard hat!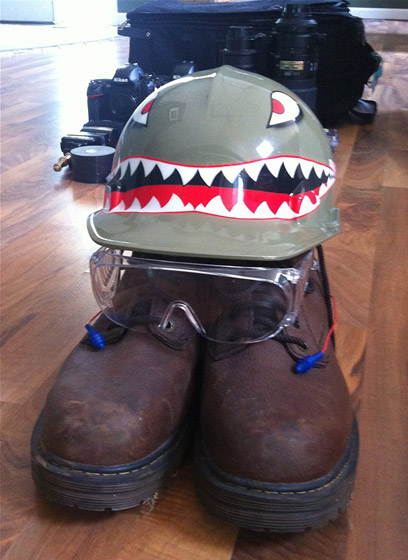 Most of my industrial commercial photos are done for one client and they often want video of their various factories as well as their products at customers sites, so when I am on an industrial commercial shoot, I also bring a bag that has my Panasonic HMC-40 camcorder, a lav mic, and tripod with Manfrotto fluid head.
That covers all of my camera equipment that keeps me working in most conditions I get into.
Many of the places I shoot are dark, dimly lit factories and warehouses so I often find myself in need of some extra light. Many times I get away strobist style carrying only a few Lumapro LP604 6ft lightstands and Westcott umbrellas. I prefer this route since they fit in a small duffle bag, are light, and easy to move around without worrying about power cords.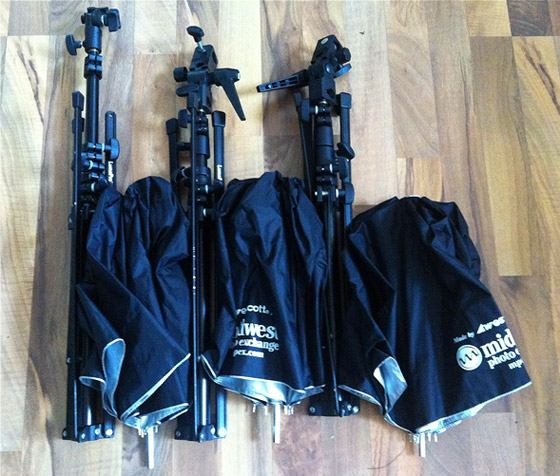 When the strobist lights are not enough I also have a box that carries all my lightstands, extension cords, softboxes, grids, reflectors, umbrellas and misc stuff that comes out to play on the big shoots that require bigger lights. (4-white lightning Ultrazap 1600's)