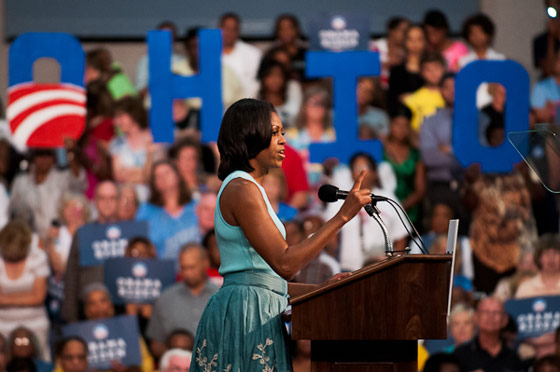 Dayton, Ohio-based freelance photographer Ethan Klosterman shot Michelle Obama's campaign stop in Dayton.
Ohio's a battleground state. We all know that. Lucky for me that Dayton always seems a stop on the campaign bus tours. When I heard that Michelle Obama would be visiting Dayton, actually less than two miles from my house, I knew I should probably get there. I sent off a credential request on Friday, and by Monday morning, I was confirmed and given instructions.

Last time I saw a part of an election year campaign, I was a senior in high school.  I was able to snag tickets to the McCain rally at the Ervin J. Nutter Center in Fairborn, Ohio, where the senator surprised the crowd and country by introducing Sarah Palin as his running mate on the Republican ticket. A few weeks later, I was able to sign myself out of school for a self-led "enrichment activity" (a rally) for Barack Obama that was held just blocks from my school, at Fifth Third Field.
Continue reading and see more photos on Ethan's blog.