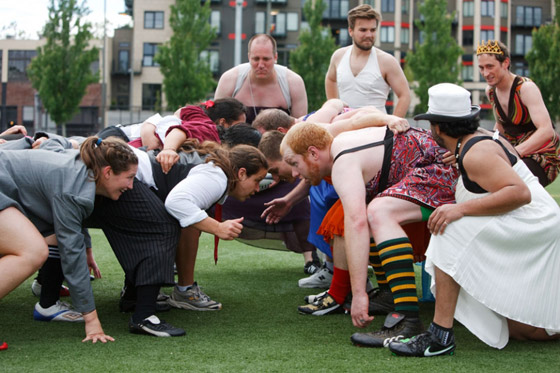 Portland, OR-based photographer Sol Neelman shot the 3rd annual Prom Dress Rugby exhibition in Seattle.
A couple weeks ago marked the 3rd annual Prom Dress Rugby exhibition, which coincided with Pride Weekend in Seattle's Capitol Hill neighborhood, a perfect opportunity for some fun cross dressing.

Two Seattle rugby squads faced off against each other: the men from Seattle Quake Rugby FC vs. the women of the Seattle Breakers Womens Rugby Team.

The gents wore dresses. The ladies sported tuxes. Naturally.

The event is not just fun. It's also a fundraiser. Spectators could affect the game by paying for penalties or change of possession during the game. Fifty bucks would give a team "a try" (think touchdown). But the most popular – by far – cost just $25: a change of costume with an opposing player.

Proceeds from the match went towards supporting Seattle's Pride Foundation. This year, they raised $500, which isn't a surprise after witnessing – and photographing – so many costume changes.
Continue reading and see more photos on Sol's blog.