Born in Philadelphia and raised all over these United States
Alex Federowicz
currently resides in Columbus, Ohio while pursuing graduate studies in photojournalism at Ohio University. Never taking a moment of his time on this planet for granted, he covets his camera as a vehicle to understanding the subtleties and nuances of our human experience. Engaging the world in such an intimate discourse as photography is how Alex wishes to create a visual narrative that challenges our generation's perceptions of ourselves, will hold us responsible for our future and references where we came from to get here. In the meantime, however, he enjoys Irish whiskey, the smell of the ocean, his Kindle and the company of his fiance, Cassie, and their two small cats, Orson and Charlie.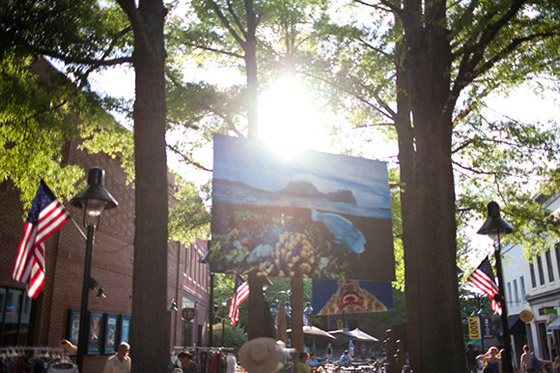 "Pretty nice book, huh?"
A soft, calming voice wafted over from beside me as I paged through David Walter Banks' book at
Luceo's exhibition at the Look3 festival. It was Matt Slaby.
"For you today," he continued "I'll let you walk out of here with it for five hundred thousand dollars."
"Well that's convenient," I wryly replied "that's almost exactly within my budget for the weekend. Take a check?"
"Just cash and I'm afraid you're not walking out of here until we get it."
I'd like to think it was my diplomatic skills in dealing with South American style guerillas that I managed to get my ransom reduced to walking out with the fifteen dollar, hand made "You Are Here" exhibition catalog, however, I'm sure it was just the good humored folks comprising Luceo that ultimately took mercy on me. And to be fair, their interactive exhibition was fresh and thoughtful, an exciting representation of the new generation of visual storytellers. They all were even nice enough to sign my catalog.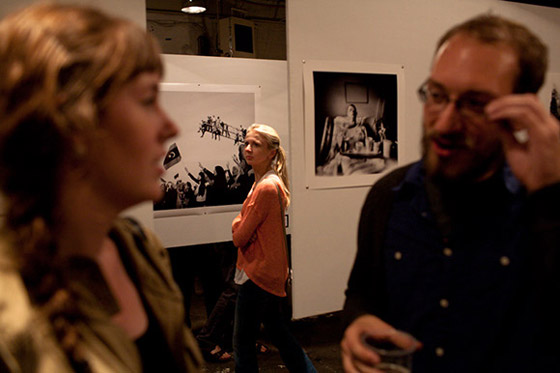 Having just returned home from the long weekend in beautiful Charlottesville, Virginia I'm still letting my first Look3 sink in. The festival turned out to be almost overwhelming, rather exhausting, but infinitely inspiring, a sentiment shared by all as we groggily turned up Sunday morning to say our goodbyes. There's something wonderful about having so many different voices and visions coming together for a few days to reinforce a creative community spread out all over the globe. It would be possible to write a book trying to cover everything from the weekend. However, among the highlights was definitely the Insight Conversation with Donna Ferrato, whose humor and passion simply related to being human brought an entirely new dimension to her work. Most went in to the talk expecting a heavy couple of hours looking over Ferrato's work covering domestic abuse. Everyone came out grinning ear to ear, refreshed by Donna's optimism and humor while coming away re-inspired that it sometimes can be possible for photographers to make a difference in the world, when they want it bad enough. It's surprises like that which made the whole festival worth it and if you haven't been to one yet should consider a visit in the future. If nothing else it's a few days to get away in friendly, fun Charlottesville, a killer place to decompress with or without the festival.