C.S. Muncy
is a freelance photojournalist based out of New York City with a client list that includes The New York Times, The Wall Street Journal, Newsday, The New York Daily News and The Village Voice. As a freelancer, he's covered such subjects as the BP Oil Spill, the fight for same-sex civil rights, the takeover of the state capitol in Madison, Wisconsin and Occupy Wall Street. A graduate of the Defense Information School, he enlisted in the United States Air Force in 2002 and is currently a photographer with the New York Air National Guard.
A walk through my apartment is a bit like a tour through the "Home for Lost and Wayward Cameras." Pick a decade over the last 100 years, and you'll find a corresponding camera hogging some increasingly rare shelf space in what's already a relatively small one-bedroom abode. I'm proud to say that none of them collect dust. As much as I can, I try to find time to use every single one. Each lens provides a unique image; the coating solution (or lack of one on older cameras) the film format, the vignetting and imperceptible imperfections in the glass creates something special that most modern lenses lack. I'll admit freely admit that I'm a film geek. Film has an excess of character. When I'm on assignment, I'll usually carry at least one film camera with me for personal shots.
One of the biggest problems I've faced when using many of my older cameras is that most of them lack built in light meters, and those later models that did are often unreliable. When I'm on assignment this isn't a problem as I can use my D3 to get my proper exposure, but when I'm out having fun I don't like to carry all that extra gear. I used to use the "Sunny 16″ rule, or even just best guess my values with mixed success, but that's not a great way to shoot.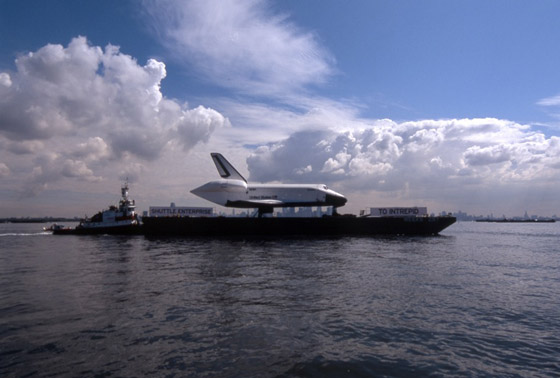 Not too long ago I upgraded to the iPhone 4, and noticed that there are a few light meter programs in the App Store. I decided to grab the Pocket Light Meter App, and have so far been very impressed. As a basic reflective light meter, it's easy to understand and even faster to use. The app takes advantage of the iPhone's built-in camera, so you can see what you're measuring from, while the bottom quarter of the screen has options for adjusting the shutter speed, f-stop and film speed. There's a "HOLD" button to freeze your image and measurements, and a "SAVE" button to preserve them for later use. You can also tap a specific portion of the screen for accurate spot metering.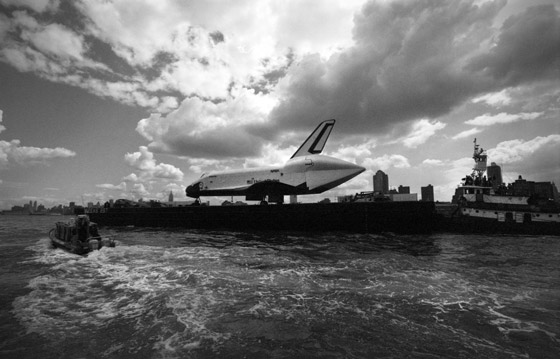 I recently took my Nikon N90s with me to cover the transfer of the Space Shuttle Enterprise to the Intrepid Air and Space Museum in Manhattan for the Village Voice. The N90s is a fantastic camera with a hyper-accurate meter, but I wanted to put the Pocket Light Meter app to the test when and where it counted. Turning the camera to manual mode, I based my exposure entirely off the app's readings. Shooting ISO 400 Kodak black and white film, I wanted to capture the dramatic clouds overhead so I simply pointed the meter upwards and tapped the appropriate portion shown onscreen. The shuttle, barge and boats in the foreground were slightly underexposed -which is to be expected on a bright day like this- but this is something that could easily be adjusted in the darkroom or photoshop. The great thing about film (and what makes this app so appropriate when you're using a film camera) is that it has a much higher tolerance for exposing light and shadow than digital. I also shot a roll of slide film, which is less forgiving if you get your measurements wrong. Shooting on Fujichrome, I noticed no problems.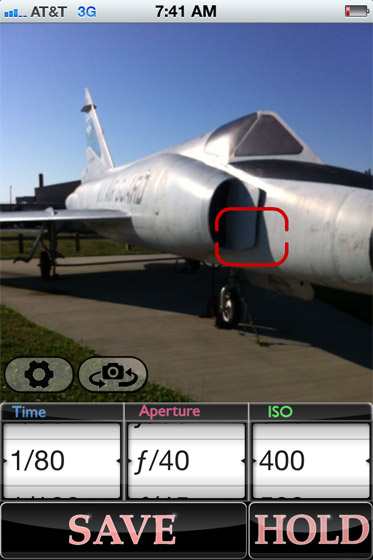 This app is limited in a few ways, so don't toss out your old Sekonic meters just yet. Since it lacks a PC sync, there's no way to use it with strobes or flashes. This means that unless you're using a constant light source, there's no way to use it for studio work. It's pretty unecessary when you're shooting on a digital camera, too. When I'm shooting manually I simply set my image to RAW and look at my screen until I find an exposure I'm happy with.
But when I decide to go out with my Hasselblad, my pre-war Zeiss Tenax II, or Leica IIIf, using this app makes the most sense. It's easy enough to understand that even amateur photographers can pick it up and use it almost immediately, and accurate enough for the professionals.
Cost: Free with ads
For more info:
www.pocketlightmeter.com