I use the Think Tank Airport Security Rolling Camera Bag for all of my sports photography gear. The first thing you will notice on my bag is a large carabiner. I use this to attach my laptop bag so I don't have to put it on my shoulder.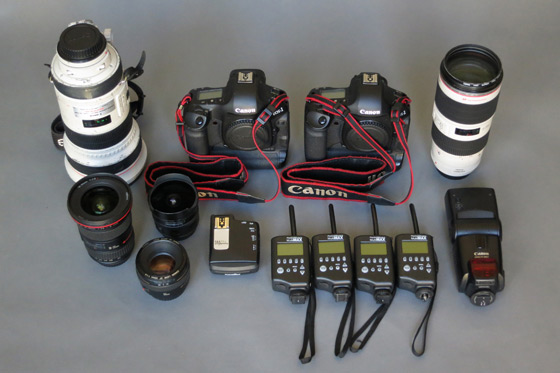 The biggest surprise in my bag is that I do not use dividers. Instead I place all my gear in separate bags from the Think Tank Modular set. I do this for a number of reasons. Dividers take up space and I want to fit as much as my gear in my bag as possible. This also makes it easier to switch out gear for different sports. Instead of messing with dividers to fit around the new gear I can take the gear out with the bag and place the new gear in with a different bag. Sometimes I do have to rearrange things but I feel it is much faster and easier than dealing with dividers.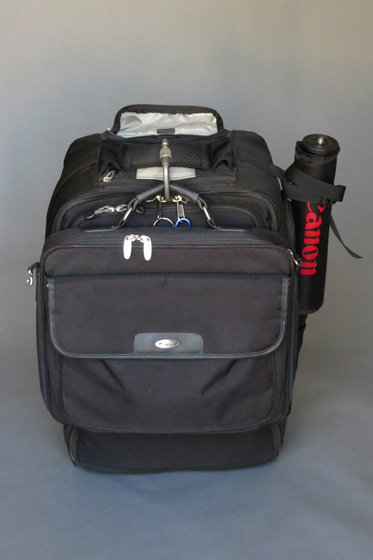 My favorite reason for doing this is when I am photographing a sport like football and I use the Think Tank Change Up. I place misc things like cards, kneepads, water, snacks and a light jacket in the Change Up and use the modular bags for my lenses and attach them to the side of the Change Up bag.
I also do not own a 400mm f/2.8 like most sports photographers. It's too expensive, heavy and using the 300mm f/2.8 forces me to think differently than everyone else with a 400mm f/2.8.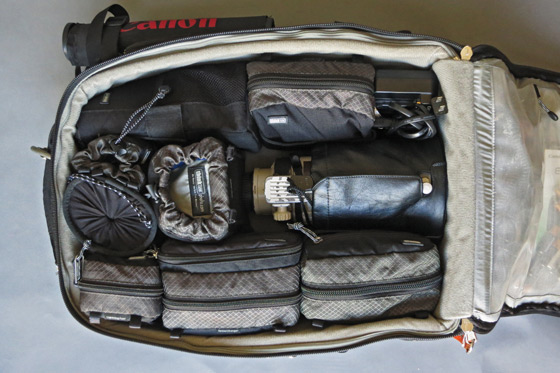 Gear:
– 2 – Canon 1D Mark IV
– Canon 300mm f/2.8
– Canon 70-200mm f/2.8 IS II
– Canon 50mm /f1.4
– Canon 16-35mm f/2.8 II
– Canon 15mm Fisheye
– Canon 580EX II Flash
– Battery Charger
– 4 – Pocketwizard MultiMax
– Pocketwizard Flex TT5
– Cords for Pocketwizards
– AA Batteries
– 4 – 16GB Sandisk Extreme Compact Flash
– 2 – 8GB Sandisk Extreme Compact Flash
– 2 – 4GB Sandisk Extreme Compact Flash
– Camera Manual for Canon 1D Mark IV
– 2 – Lens Cleaning cloth
– Credential holder and lanyard
– Flash light
– Ear plugs
– Electric tape
– Gaffers tape
– 2 – plastic rain covers (it rarely rains in southern California)
– Business Cards
Bags:
– Think Tank Airport Security V 2.0 Rolling Camera
– Generic Laptop Bag
– Chimp Cage (2) – for Camera Bodies
– Lens Changer 75 – for 70-200mm f/2.8
– Lens Changer 50 – for 16-35mm f/2.8
– Lens Drop In – for 50mm f/1.4
– Lens Changer 15 – for 15mm f/2.8
– Trim Changer – for Pocketwizards
– Lighting Fast – for Flash