Click here to see Marcus's gear list.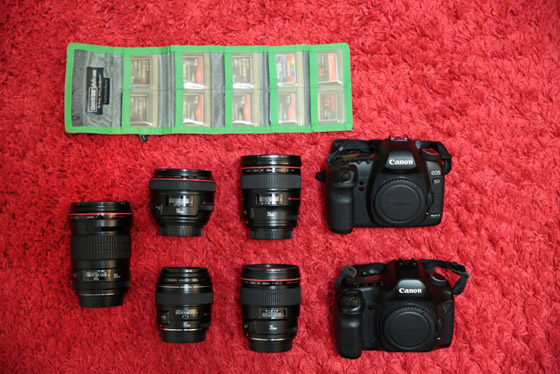 I've never had much luck with camera bags. At one point in my life I was keeping lenses inside my jacket pockets. Ergo, I have yet to love any of the camera bags I've owned throughout my career.
Being based out of New York City means taking the subway everywhere. It's crazy how many hours a human being can spend underground. During my first few weeks, I was slinging my cameras around me with only but a small bag to keep my lenses. It wasn't until I woke up on the subway at the end of the train line, to a gentleman staring at all my equipment, did I realize that I was tempting my good fortune.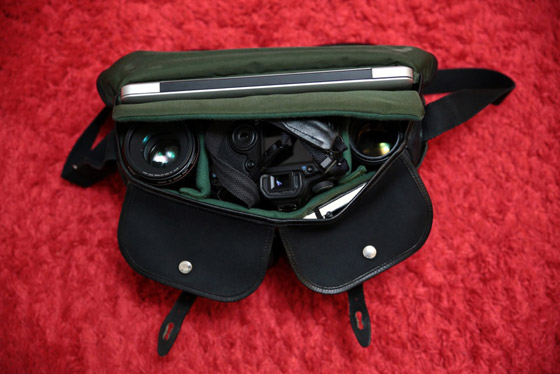 That all changed. Enter Billingham Hadley Pro. It doesn't really look like a camera bag but more like a leather office bag. It was perfect because I needed one bag to keep it all inside. The bag oozes character (like all leather bags) and provides ample space inside despite it's slim profile. (I just didn't want to sport another boxy looking camera bag). Having been caught in the rain several times and I am glad that this bag is waterproof. It is however, still a shoulder bag and it sometimes weighs a ton which prompted me to get myself a wonderful padded strap to help with the weight distribution.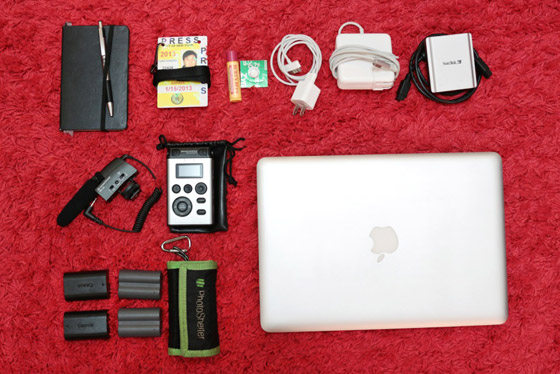 Inside is enough room to hold 5 lenses, 2 bodies, a 13″ macbook and plenty of accessories. In the front are two expandable compartments to hold anything of my choosing. One compartment for cables, card reader, power adaptors and the other compartment for a CF card wallet, batteries, Press ID, audio recorder, etc.. In the back is a waterproofed zippered pocket to hold documents, tickets, pieces of papers.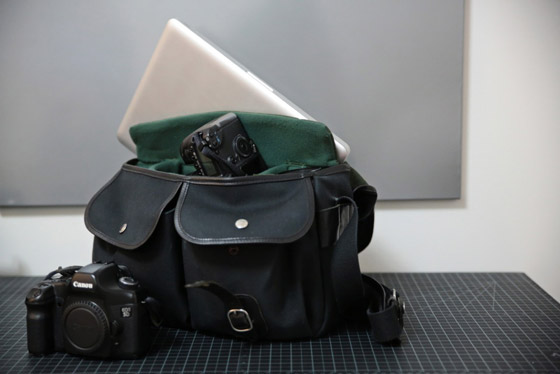 I travel for the my job a lot and the Billingham serves as a great travel companion because I can keep most of my gear in one bag without worrying about checking anything in. It also counts as my man-purse, and I get away with bringing a backpack, a roller bag and the Hadley Pro onboard a plane when traveling for assignments.
On the flip side, just to be realistic, some assignments require extra dexterity and flexibility in crowded spaces, i.e. protests, politics. Plus long hours. The last thing I want is a heavy shoulder bag tugging on one shoulder.
Enter EMS Women's FEN Daypack (don't judge) and Domke J-5XB Shoulder Bag (The ballistic nylon brother to canvas version)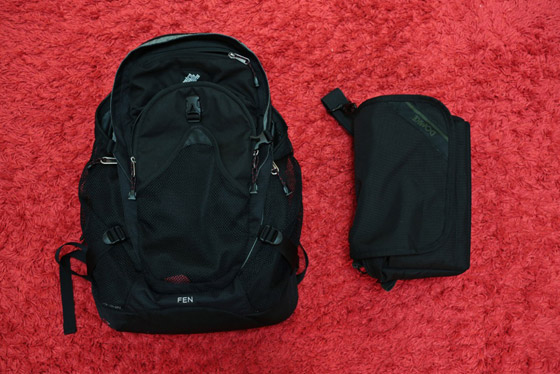 The logic behind these two was that I wanted a SMALL backpack that stores my computer, cables, personal junk, some peripheral lenses ALONGSIDE a small shoulder bag that keeps 3 lenses, with my Moleskine, pen, press ID, CF card wallet, and batteries. The day pack is great, it's got a slim profile, it's rugged looking and most importantly it doesn't scream camera bag! I use a 3 compartment insert inside the daypack to store things away while in transit.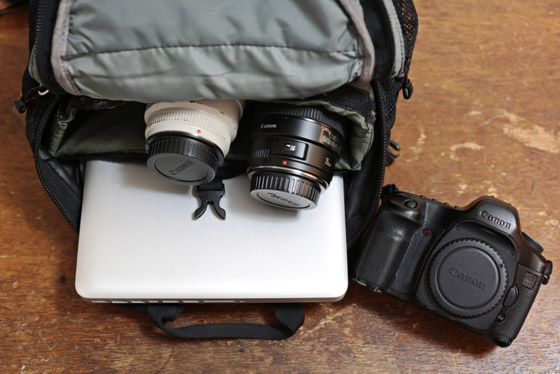 For the Domke Shoulder bag, I keep 3 lenses in there and accessories that I need to reach immediately. You want the Ballistic Nylon version of this bag. Trust me. My canvas version turned magenta after years and years of sweat stains and water exposure. It's got just enough space for the bare necessities and most of the time I'll have both my camera bodies on both shoulders, so I won't be reaching in for lenses unless I have to. The best part of this setup, is that I'm able to move quickly on my feet without holding on to my bags.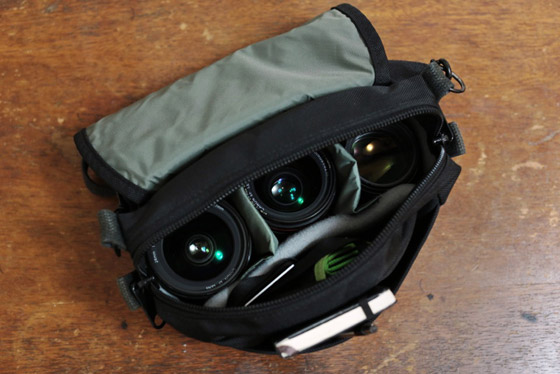 So really I have two bag-setups. (I'm also experimenting with others right now)
In terms of gear, I ended up with a lot of prime lenses because in the beginning, I saw it more cost effective than buying the three most expensive zoom lenses which are the standard in our industry. For the same amount of resource, I accumulated 5 primes over the years that does pretty much the same thing. I've since added a 70-200 to that list and I'm waiting to get myself a mid-range zoom. I don't believe in shooting exclusively with primes because it depends on the situation.
I keep a peripheral setup to swap out with the primes that I'm not using depending on the assignment. I bring a flashgun and a wireless trigger as basic lighting. I also bring extension tubes for assignments that require close ups. (They change the minimum focusing distance of lenses, ergo, a poor man's macro lens.)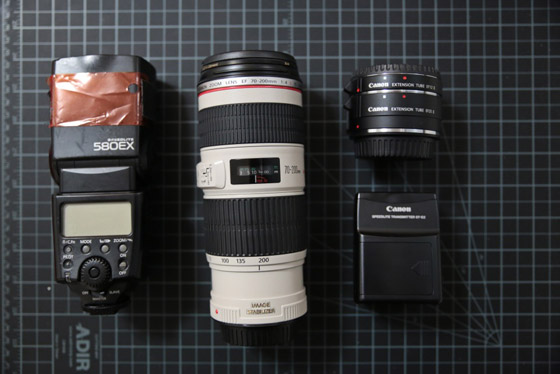 Using 2 cameras are essential for covering news events, portrait work, and doing multimedia work. (I shoot stills on one camera, and do video on the other)
I carry an audio recorder and a small shotgun mic with me sometimes for multimedia work. I absolutely believe in having a field recorder with you all the time as a necessary toll for a photographer. Audio sometimes help describe scenes or moments better than pictures can. It's not a perfect solution, but I like to keep things simple. For more audio/video work, I have a completely different bag of tools and workflow that I won't get into in this post.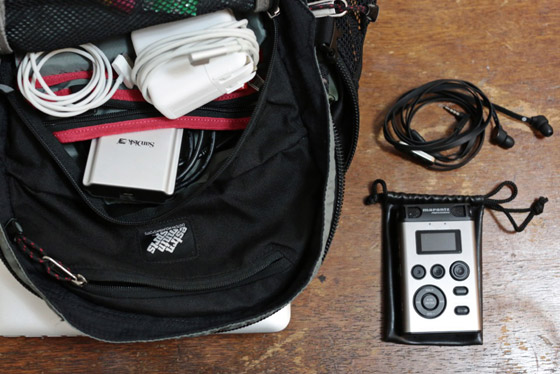 I use a 13″ macbook pro for work. ( I would really like the 13″ Mackbook Air. Hint, Hint, Santa. ) It's a small portable computer and the battery life on it is amazing. I've got a few key softwares that I use for work installed and I even modified my photoshop to run excessively fast to process RAW files. The key to keeping your computer running fast and battery full is doing a consistent system wipe every six months and keeping the hard drives empty.
For personal items, I carry Burts Bees Lip Balm around. That stuff is addictive. I also have a dose of allergy meds, just in case my allergy flares up. For my music needs, A-Jays Four earbud headphones are a necessity. They're great fettucini-like earphones with strong warm middle tones and good bass tones. It sounds slightly hollow on the high end of the pitch. The microphone on the A-Jays Four is amazingly clear and warm, which is why I bought it, because I wanted something I can use without holding my phone up to my poor brain.
In conclusion, I'm always changing my setups and methods. Gear, not so much. (hint, hint again, Santa.)  Therefore I'm also always on the lookout for new bag solutions. At least I'm no longer keeping my gear in my pockets.
Gear List
– Canon 5D Mark II
– Canon 5D
– Canon 24mm f/1.4L
– Canon 35mm f/1.4L
– Canon 50mm f/1.2L
– Canon 85mm f/1.8
– Canon 135mm f/2L
– NYPD Press Credentials
– Think Tank Card Wallet
– 168GB of memory cards (I shoot RAW)
– Extra Batteries for both cameras
– 13″ Macbook Pro w/ small charger
– SanDisk Firewire Card Reader
– iPhone Wall Charger
– Moleskine & Zebra F-301 Retractable Pen
– Marantz PMD620 (Oade Brothers modified)
– Sennheiser MKE 400 mini shotgun
– A-Jays Four headphone with mic
– Burts Bees Lip Balm (pomegranate flavor)
– Allergy Relief Med (just in case)
In the peripheral section:
– Canon 70-200 f/4 IS L
– Canon 580EX w/ yellow gel
– 12 & 25 II extension tubes
– Canon ST-E2 Transmitter
Bags
– EMS Women's FEN Daypack
– Domke J-5XB Shoulder Bag
– Billingham Hadley Pro