Andy Jacobsohn
is a freelance editorial and commercial photographer learning to settle down in New York City. He is also a photo editor at Newsweek Daily Beast. Jacobsohn, a self-described "Florida Boy" earned a degree in visual journalism from the University of Central Florida in Orlando. He owes much of his remarkable experiences in storytelling to the editors of Major League Baseball, The Dallas Morning News, The Florida Times-Union, ESPN and McClatchy-Tribune. Jacobsohn believes that one of the greatest privileges and rousing thrills of visual storytelling is the access to enter a stranger's home to make their portrait and departing with a friend. In his free time, the Parrotheaded-Floridian studies the culinary possibilities of avocado and maps out his next upstate New York-bound camping trip.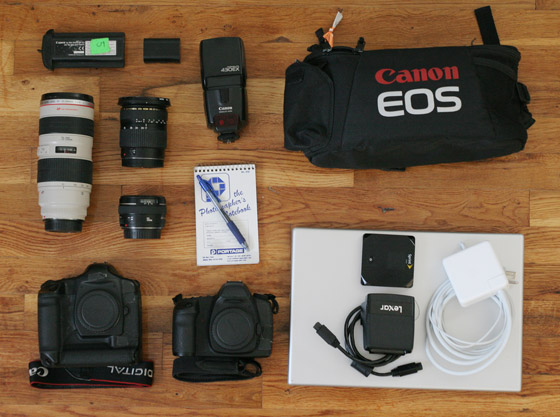 List:
– Canon 1D Mark II
– Tamron 17-35mm 2.8-4
Assembling a bag of reliable gear gained to-do list-precedence while preparing to set off following my second internship with The Dallas Morning News and dash into freelancing. In the process, ignoring the "I wish I had…" advice from those who explored the "school-internship-freelance" realm before myself would have been a mistake.
Call the advisor or me a fiscal conservative. The received words of resonance: "I wish I had saved my money and purchased only the necessary gear needed to start freelancing."
The point was made to prevent a beginner from accruing more-than-necessary debt when gear exists that fulfills clients' needs. When there is no guarantee of immediate business or business at all, observance of this may make paying the creditors easier.
Minus what was issued at my internships, before freelancing my gear consisted of a Canon 1D Mark II body, a Tamron 17-35, a Canon 70-200, and a Speedlite 430EX, along with an old MacBook Pro. Some of this gear was purchased used while in school and others were included in my student loans. A week before leaving Dallas, with the advise on my mind, I purchased a Canon 50 1.4, to cover the middle range, and a Canon 5D Mark II to finish the bag update.
The 50 1.4 was the cost-effective, reliable choice compared to the more expensive 50 1.2. The new 5D purchase may have broken the formula, but I felt more comfortable with a new body in all its capabilities given I had an aging, already used body in the 1D.
While covering local assignments I carried two inherited and trusty bags. I kept the spare lens and other immediately needed equipment in a Canon "fanny pack" that was handed out by Canon while covering the Super Bowl. I stored my laptop, snacks and transmitting gear in an embroidered messenger bag issued to The Dallas Morning News' photojournalists.
I had to carry the bag around after Dallas to remember one key lesson I learned during my internship: God Blessed Texas.
But then again, I try to forget that all my exes live in Texas.