Andrew Weber
, is a freelance sports photographer based in Toledo, Ohio. Andrew was a staff photographer for the Bowling Green Sentinel-Tribune for 4 years covering a wide variety of events ranging from high school athletics and late-breaking stories to local county fairs. He is now a regular contributor to US Presswire and ESPN. His images regularly appear in Sports Illustrated, ESPN the Magazine, USA Today, the Los Angeles Times and many other online and print publications. Andrew also works closely with commercial clients such as Toledo, Museum of Art, Under Armour and Verizon Wireless.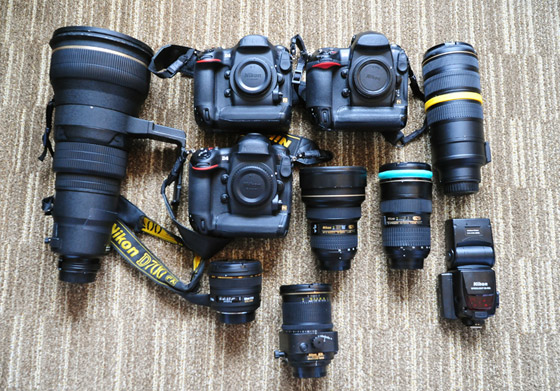 Traveling all over the country covering sporting events and I would never be able to get my gear from venue to venue with out my Think Thank Airport Security v2.0 roller and my Lowe Pro Roller X200. My Think Tank roller is my primary roller that fits easily into must overhead bins on airplanes, and I use my Lowe Pro Roller as my secondary bag to carry extra lenses and gear for remotes when I am driving. Then I have an Ogio backpack that I carry my laptop and miscellanies memory cards, card readers, and cords in.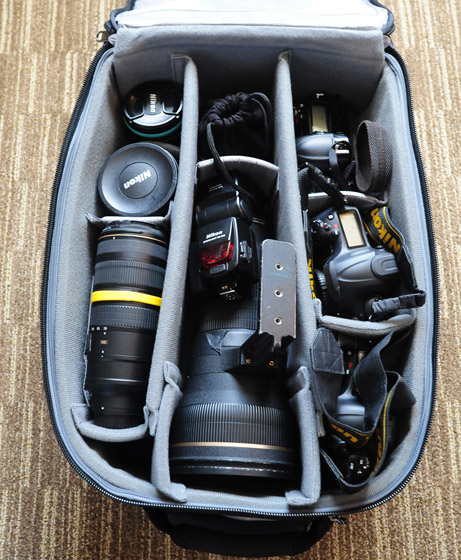 Inside my Think Tank Roller I carry the following:
– 2 Nikon D4 Bodies
– Nikon D3 Body
– Nikon 400mm f/2.8
– Nikon 70-200mm VII f/2.8
– Nikon 14-24mm f/2.8
– Nikon 24-70mm f/2.8
– Nikon 28mm tiltshift 3.5
– Sigma 28mm 1.8 (used to take the picture)
– Sigma 50mm 1.4
– 1.4x teleconverter
– SB-800 flash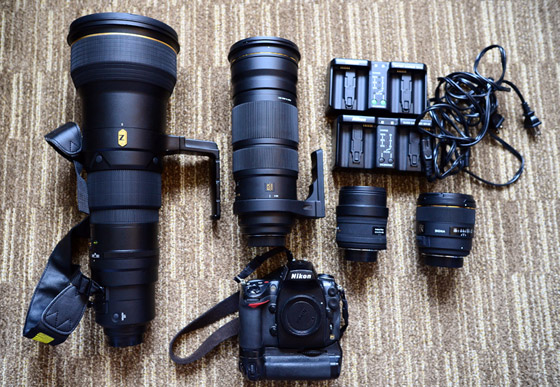 Inside my Lowe Pro Roller bag:
– Nikon D700
– Nikon 600mm f/4
– Sigma 120-300mm f/2.8
– Sigma 85mm f/1.4
– Sigma 10mm f/2.8
– Battery Chargers
– PocketWizards
– Western Digital 500 GB external hard drive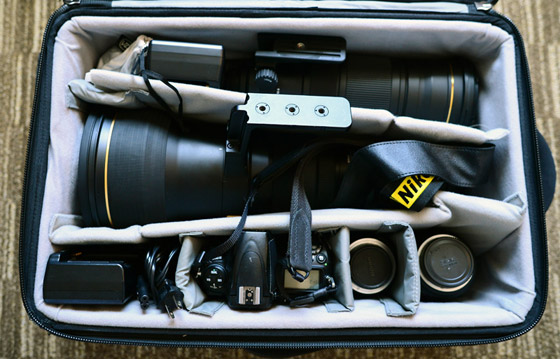 Inside my Ogio Backpack:
– 11″ MacBook Air
– 2 MacBook Air chargers
– iPad 2
– iPad/iPhone charger
– Think Tank memory card holder
– Sandisk Memory Card Reader
– Sony XQD Memory Card Reader
– Verizon Wireless 4G Laptop Card
– Old credentials
– Pens/Markers
– Eye drops
– Sun Screen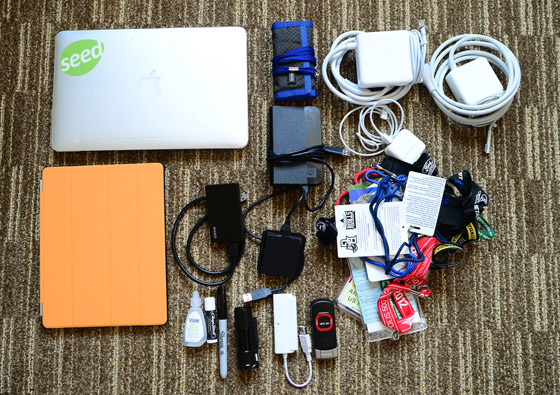 Once I get to the venue I determine which lenses I am going to use to shoot with and I leave the rest in my roller bag. For example when I am shooting football I use the 400mm on a D4 70-200 on the other D4 and the 24-70 on the D3. Once the game is over I pack up all my gear in my roller bag and off to the next shoot I go.