Developing a workflow is key to generating a routine to process your images that you capture through the camera.  A workflow that may work for myself may not necessarily work for every photographer.  Depending on whether you shoot portraits, sports, weddings or wildlife your workflow may be different.  I am primarily photographing sporting events, stock images, and portraits.
After experimenting for a few years with different methods to post process my images I have found a method that really works. Since most of my shooting involves a tight deadline, having a workflow that is clean and fast is the key to processing large batches of photos. Sports photographers know that if your not uploading during the game/race, half time, or just minutes after the game it's too late!
There are many programs on the market that allow a photographer to post process images.  Below is a list of the most popular:
Programs:
Lightroom
Aperture
Camera Raw
Photoshop
Photo Mechanic
Personally for a few years I was using Adobe Lightroom. I would find that my mac would bog down when editing images. Lightroom would then freeze, lock up, and I noticed a major lag when toggling between images.  I increased the ram to the max on my mac in hopes this would fix the issue, this did not! Lightroom is a great program but not necessarily for the photographer on a tight deadline.
I was turned on to Photo Mechanic by Camera Bits.  The software ROCKS! The speed at which image previews are generated is astonishing compared to Lightroom.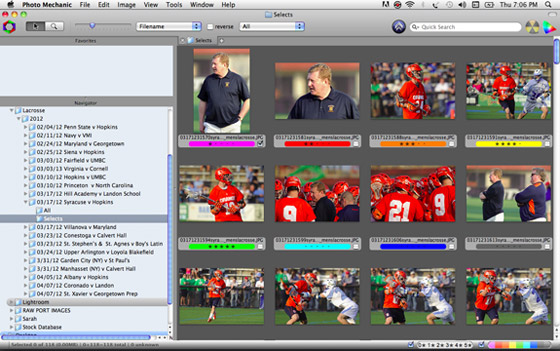 Pros to Photo Mechanic:
Speed
Image Previews
Key Wording/ Meta Tagging
Code Replacement
Photo Mechanic is widely used by photojournalists who need to key word and caption every image transmitted to the wires and editors. This can also beneficial to a photographer who submits stock images to magazines or has a stock database.   PM allows a photographer to create code replacements before an event or game for fast captioning and editing during and after the event.  More on that later!
Now to my work flow!
1) Before the events and games I cover I will pull rosters and create the code replacements for the game/events. Also will generate the META Data (Caption, bylines, IPTC info). I will also create the folders where I will upload the images to from the camera cards.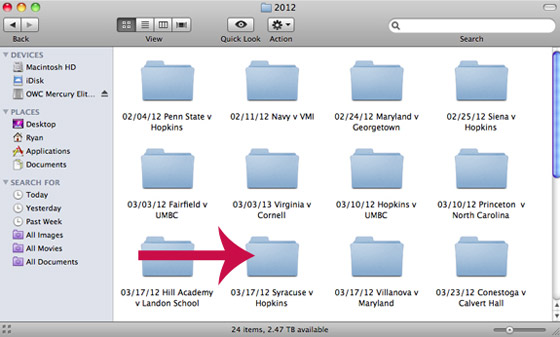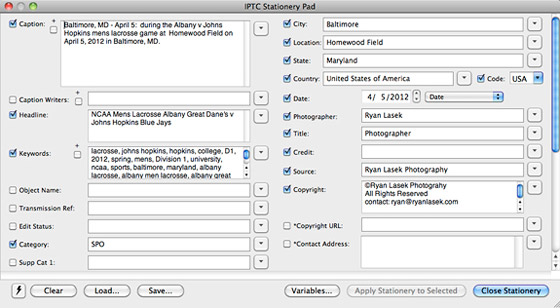 (Above I open the IPTC Stationary Pad to caption and enter as much meta data as possible before the event and use the save feature to save it in the folder for that event)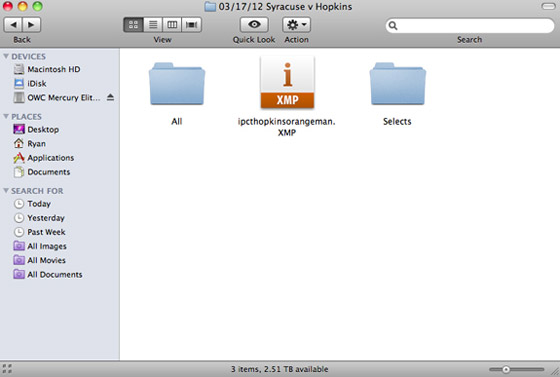 2) Shoot the event- I Shoot in Raw mode most of the time.
3) After the event I upload the images to the folder that I created before hand, using PM I apply the IPTC DATA I save in step #1 and rename the photos. This will load all images with the IPTC DATA.  (I always name my photos with as much detail as possible. For example when I am covering  Syracuse v Hopkins Lacrosse, I would name the file mmddyyhopkinsbluejays_syracuseorangemen_lacrosse why all that you might ask? Everything we do as a photographer involves having images being searchable after the fact. Take a look at Google images, search any terms under the Google images option. Now download the first few images that you see. Look at the file name on those images! That is a big part of the images that are display near the top!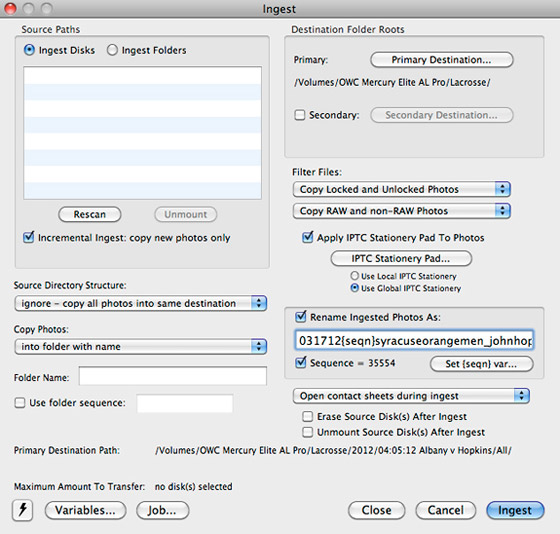 4)   After the images are loaded I quickly sort thorough the images and select the best of the best.  You can either color code the (SELECTS) OR TAG with the keyboard key (T).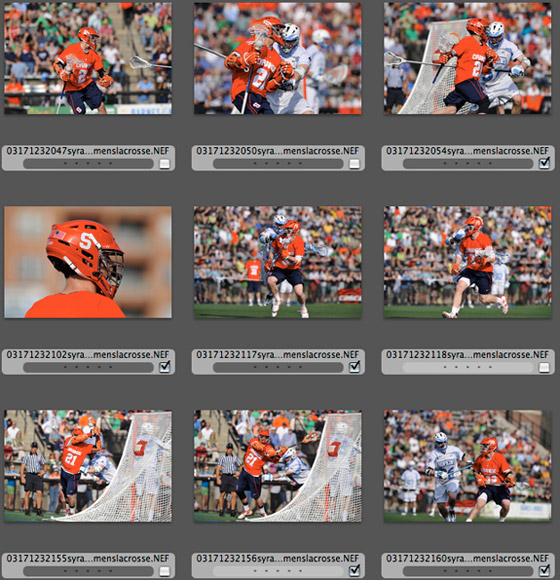 5)   Once my favorite images have been selected I will open those images in Camera RAW, where I have created numerous presets for various shooting conditions (DAYLIGHT SUNNY, DAY CLOUDY, NIGHT HIGH ISO are a few examples)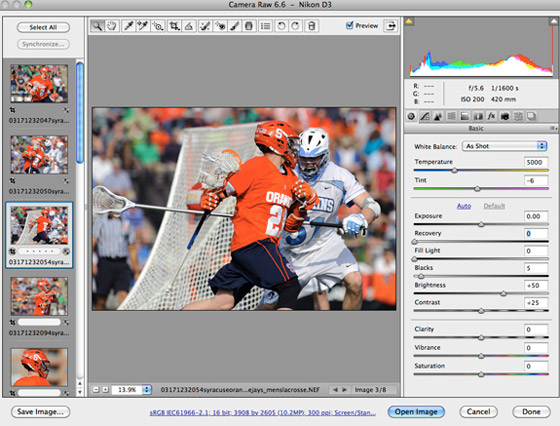 6)   I apply the preset to all images and make any small adjustments needed to the images.
7)  I then save those images to a folder called selects.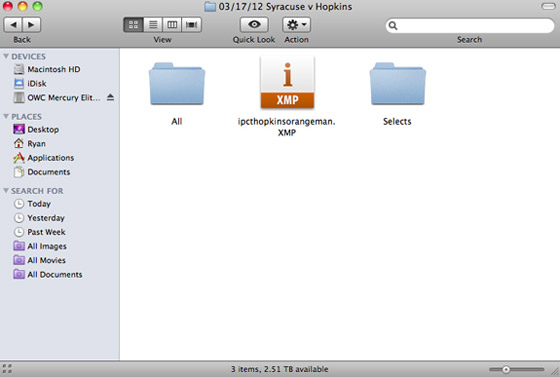 8 )   There I will begin to update the captions and keywords for each image.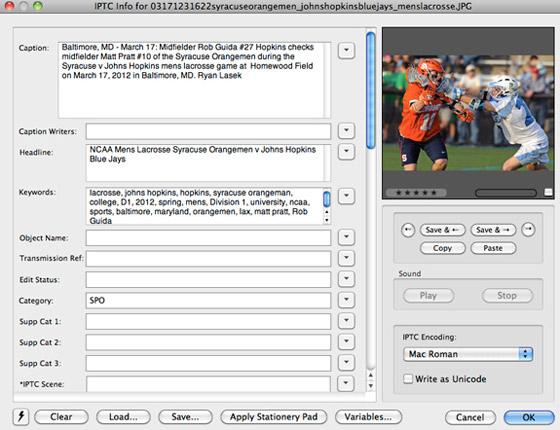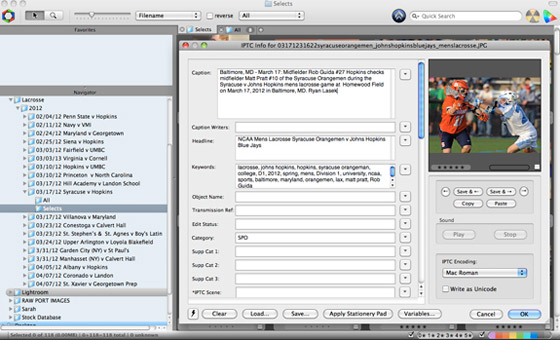 9)  Lastly I FTP the images to clients, editors and the wire.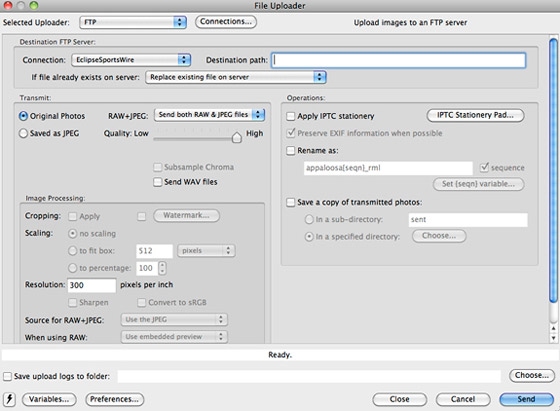 Code Replacement
PM, allows a photographer to create code replacements to allow the photographer to caption and keyword images quickly.  Whether you are shooting football, auto racing, lacrosse, or golf you will save a tremendous amount of time taking advantage of this feature.  For example, you are covering a sports game where each team has 50 players. You shot 1000 images and the last thing you want to be doing after the game is typing each and every players name over and over. This is where you save  time! Instead of looking up each player's name you create a code for them. There is no more looking up who is number 19 on Maryland. Simply create your prefix (so), enter \so19\ in the caption field and bada bing! Done, next photo please!  You can also create single word codes such as (gk) Goal Keeper. The key once again is to save the time and to have those images searchable on the net.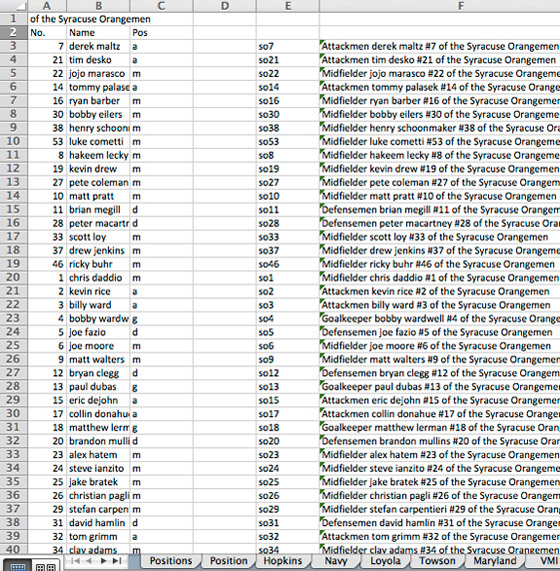 There are a few sites that offer the code replacement files to download as well as paid versions. The question is do you trust them and know they are 100% updated and current? Probably not. I have created a few different formulas in Microsoft Excel where I copy and past the rosters from a teams website to Microsoft Excel. Once the roster has been copied into excel, the formula that was created does most of the work for you. The last step to making sure the replacement codes work correctly is by copying them to a text file and loading it in PM. Sounds like a lot of work, but in reality this takes 2-3 mins to step up for a entire game which saves tremendous time when your post processing the images.