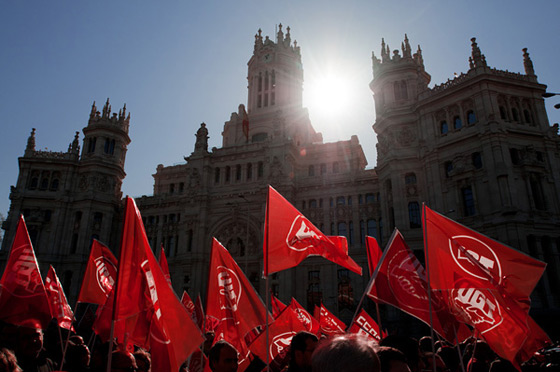 Dayton, OH-based photographer Ethan Klosterman is currently living and studying in Madrid, Spain for the semester and shot the general strike on March 29.
I'm taking a politics of Spain class, and when my professor mentioned a nationwide strike, I got excited. He explained in his broken English that it had happened a couple times before with varying levels of effectiveness. As an adrenaline-seeking photojournalist, I was hoping for big things.

As most of my friends were prepping for their departures from Madrid and Spain for Semana Santa (Spring Break), I was planning how I was going to get downtown to cover the biggest protest Madrid has seen in years. Public transport was putting out notices of reduced services, flights in and out of the country were being canceled, countless businesses were closed, and at least one television station was not broadcasting regular programming.

As clocks struck midnight in downtown Madrid, there were already reports of protesters taking to the street to kick off the 24-hour strike. There were some reports of minor damage and fires, but people were definitely getting rowdy. Twitter was lighting up with hashtags of #29m and #huelgageneral.
Continue reading and see more photos of the strike on Ethan's blog.