I use different setups and different bags depending on the type of shoot and whether I have to get on an airplane or not. This is how I pack to cover a local football game.
The two bags I bring are the Lightware Z600 long lens case and the Think Tank Airport International rolling bag.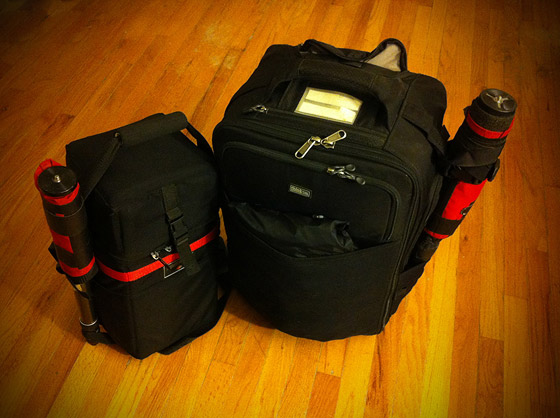 I strap Gitzo monopods to the side of each bag and often put the long lens case on top of the roller so I can wheel them with one hand.
Inside the long lens case is my Nikon 600 and a Nikon D700 body w/grip (inside a White House News Photographer wrap for protection).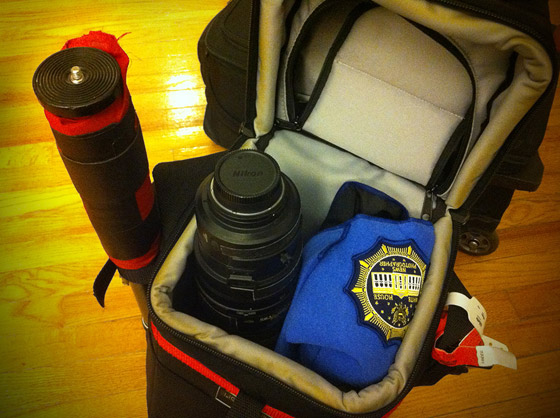 If I'm flying, I swap the long lens case out for a Versa-Flex multi format case. It holds my 600 and both monopods along with my clothes and other various items. That large bag needs to be checked.
I realize that checking a $10,000 lens with the airlines makes some people nervous. But there is simply no way around it. It's protected by Versa-Flex inserts that are made specifically for the lens. I also have commercial business insurance to cover loss or damage on all of my gear.
At some point, you just have to stop worrying about it.
Inside my roller, I cram three bodies, four lenses, and various accessories. The bag weighs 45 pounds, which is why I prefer a rolling bag instead of a backpack.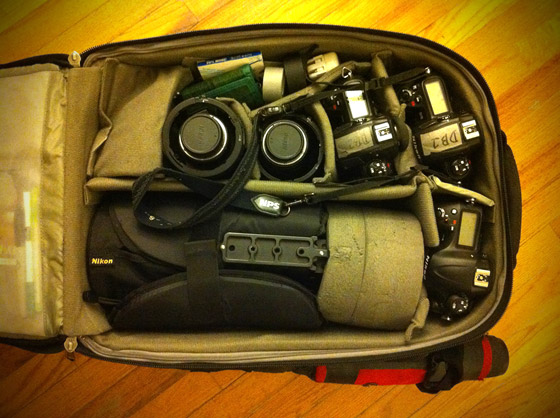 I carry this bag onto the plane when I'm traveling, along with a Think Tank Airport Checkin for my computer.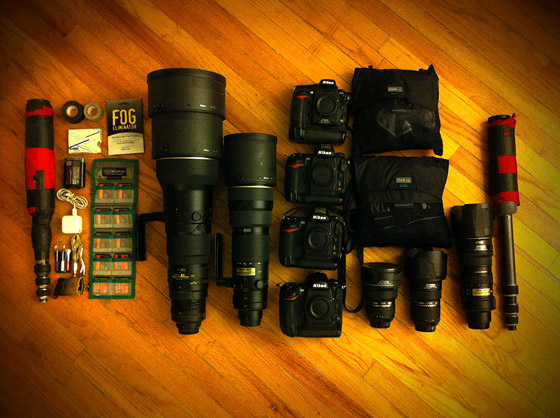 Here is the complete list of gear in the two bags pictured above:
– Nikon D4
– Nikon D3 (2)
– Nikon D700 with grip
– Nikon 14-24mm 2.8
– Nikon 24-70mm 2.8
– Nikon 70-200mm 2.8
– Nikon 200-400mm 4
– Nikon 600mm 4
– Gitzo monopods (2)
– Think Tank hydrophobia rain covers (2)
– 32GB Sandisk CF cards (7)
– 4GB Sandisk CF cards (3)
– Nikon fog eliminator wipes
– Spudz lens cleaning cloth
– Small screwdriver set
– Pliers
– iPhone charger
– Extra Nikon D3 battery
– Mint gum
– Micro gaffer tape (black and grey)