Anyone who knows me knows that I'm extremely particular about my tools and that I love to work efficiently. In music photography, nine times out of ten that means striking a good balance between weight/mobility and carrying the right equipment. This is my go-to kit for concert photography.
The "bag" I rely on most when shooting live performances is actually a modular belt system made by Kinesis. For long concerts or music festivals, I'll choose a belt system over a shoulder bag or roller in order to save by back muscles, remain fully mobile, and have instant access to my gear. While a belt system from any manufacturer would accomplish this, for me Kinesis strikes the perfect balance of carry-options, build quality, and protection for my gear. I've found that the following configuration of bag and gear allows me to cover 95% of the problems I encounter during concert photography.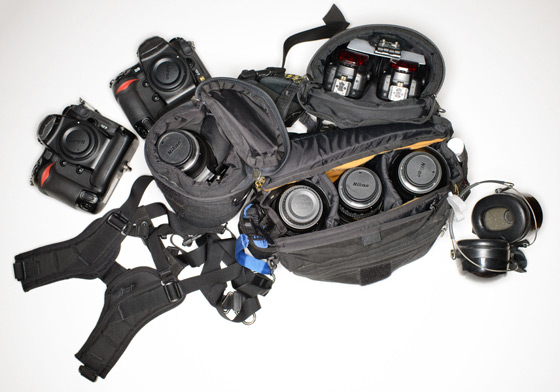 The specific belt configuration I use consists of:
– 1 Standard Weight Belt
– 1 M550 Medium Multi Pouch
– 1 E280 Large Lens Pouch
– 1 A257 Body Pouch
The Medium Multi Pouch is worn in front, giving me direct access to three small to medium lenses and all of my accessories. When every split second counds, the lid of the Multi Pouch can be tucked behind the belt giving me instant access to additional lenses without the fuss of a zipper or draw-string. The Body Pouch sits on my left side and typically holds two speedlights or a third camera body. The Large Lens Pouch holds a 70-200 zoom lens and will zip closed when the lens hood is reversed. While shooting, I typically leave the lens hood in the active position and allow the back of the lens to protrude slightly from the top of the pouch, again allowing for zipperless-access to a longer lens when needed.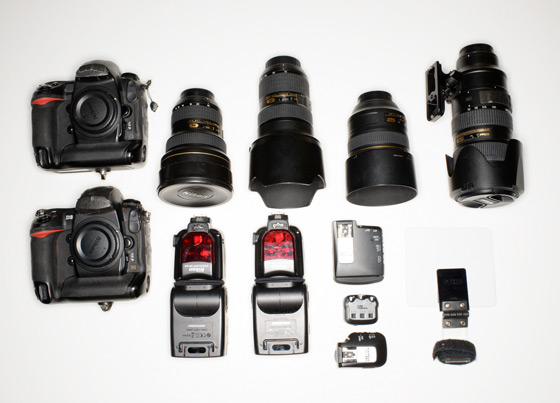 I typically shoot with two to three camera bodies so that I have several focal lengths to choose from at any given moment. Carrying multiple bodies and mixture of zooms and prime lenses also allows me to keep working in the event that a single lens or body goes down or in case of extremely low light. I also tend to carry multiple speedlights with wireless triggers and a large bounce card should the opportunity for a portrait arise or if the ambient light is simply too weak to work in.
If a lens is mounted on each of my two main camera bodies, I typically carry a total of 5 lenses in this bag setup. The 85mm starts attached to one body, the 24-70mm starts attached to the other. This leaves space in center Multi Pouch for two additional lenses and one empty space that I use as a temporary holding area while changing lenses. Here's the list of specific gear pictured above:
– 2 Nikon D3 Digital SLR body
– 1 Nikon D800 Digital SLR body (used to take the photo)
– 1 Nikon 70-200mm f/2.8 AF-S G
– 1 Nikon 85mm f/1.4 AF-S G
– 1 Nikon 24-70mm f/2.8 AF-S G
– 1 Nikon 35mm f/1.4 AF-S G (used to take the photo)
– 1 Nikon 14-24mm f/2.8 AF-S G
– 2 Nikon SB-900 Speedlights
– 1 PocketWizard AC3 Zone Controller
– 1 PocketWizard MiniTT1 wireless flash trigger
– 1 PocketWiard FlexTT5 wireless flash trigger
– 1 Demb Flash Diffuser Pro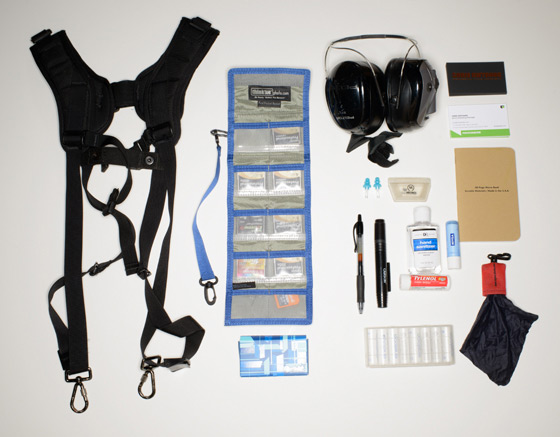 The Kinesis Medium Multi Pouch also allows me to carry a variety of ass-saving field essentials (yeah, that's the technical term). Among the most important are extra memory cards, light ear plugs, industrial ear covers, business cards, pain killers, and chewing gum.
– Black Rapid Double Strap camera carry system
– Think Tank Photo Pixel Pocket Rocket
– Peltor Behind-the-head Earmuffs
– Etymotic high fidelity ETY-Plugs
– Pen
– LensPen
– Hand sanitizer
– Tylenol
– Nivea lip balm
– Eneloop rechargeable AA batteries
– Business cards (two kinds)
– Fieldnotes notepad
– Lens cloth