C.S. Muncy
is a freelance photojournalist based out of New York City with a client list that includes The New York Times, The Wall Street Journal, Newsday, The New York Daily News and The Village Voice. As a freelancer, he's covered such subjects as the BP Oil Spill, the fight for same-sex civil rights, the takeover of the state capitol in Madison, Wisconsin and Occupy Wall Street. A graduate of the Defense Information School, he enlisted in the United States Air Force in 2002 and is currently a photographer with the New York Air National Guard.
I've been covering protests and political rallies off and on for almost ten years, starting back in 2003 when I traveled to San Francisco to shoot one of the big rallies against the upcoming invasion of Iraq. As I've worked through the years and acquired more gear I've learned the value of having everything you need right in front of you. It used to be I carried all my lenses in a National Geographic camera/laptop bag, but in the middle of a rally, with protesters and police yelling and pushing all around you it can be difficult to twist around to grab a new lens. With that in mind, three years ago I picked up the Newswear all weather Chestvest. It sometimes gets me odd looks on the subway, but it's been one of the best investments I've ever made. It has enough pockets right in front of my that I can safely carry multiple lenses and a third body, as well as a half dozen mini pockets that I can carry around extra cards and batteries.
While covering the Occupy Wall Street scene in New York, I've had several incidents where people (protesters and police) have grabbed at my press pass, so I recently had my Chestvest modified with an ID card holder and some extra velcro. If I had one suggestion to Newswear, it'd be to add something like this to their regular models.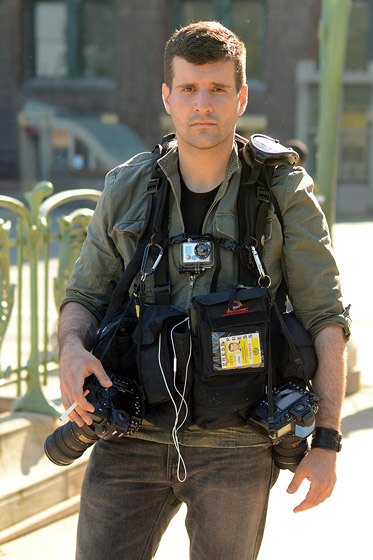 In my vest, I typically carry:
– Nikon D3
– Nikon D700
– Nikon 70-200mm 2.8 VR
– Nikon 28-70mm 2.8
– Tokina 16-28mm 2.8
– SB-900
– Netbook
– iPhone4
– Respirator or gas mask
– Goggles
– Rain bag (not pictured)
– GoPro Hero2 with chest rig.