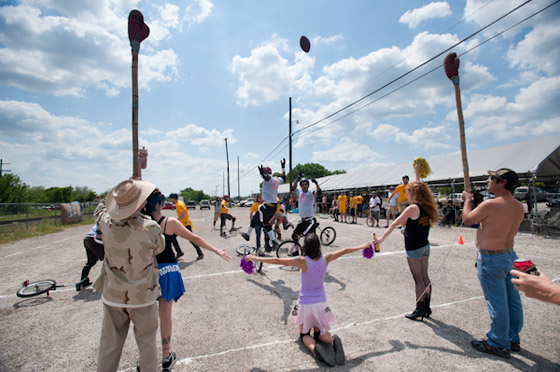 Austin-based graduate student Cooper Neill has spent the past two weeks documenting the Unicycle Football League playoffs in San Marcos, TX.
Two weeks ago my friend Julia Robinson (@JuliaRPhoto) invited me to go out and shoot some weird sports with the weird sports man himself, Sol Neelman (@SolNeelman). The weird sport? The Unicycle Football League playoffs in San Marcos.

Unicycle football is exactly what the name says – 5 on 5 football played on unicycles in a gravel parking lot. It's not tackle football but it's not flag football – it's "flackle" football. Players are down and play is stopped when a players flag is pulled or he touched the ground either by jumping from his unicycle, falling off or forced off by the opposing team.

There is no coin toss – play starts after a unicycle jousting determines who kicks and receives.

It is fast paced, highly competitive and extremely impressive to see the skill these guys have on unicycles. Kicking, passing, catching and "running" must all be done while on the unicycle – if you fall off you can not engage in the play until you have fully re-mounted. Extra points are worth 2 and an NFL 2-point conversion is worth only 1 since it is harder to kick.
Continue reading and see more photos on Cooper's blog.