Julie M. Elman
has worked as a photojournalist, picture editor and designer at a handful of newspapers in the U.S. Currently, she teaches design and picture editing at the School of Visual Communication at Ohio University in Athens, Ohio. Got a fear you'd like her to know about (and possibly turn into a drawing for The Fear Project)? You can send it to her at
joodlesbyjulie@gmail.com
.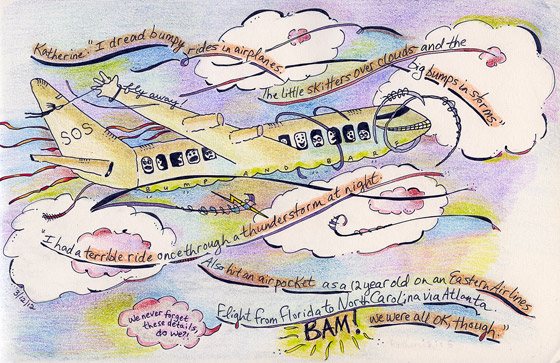 Everybody's afraid of something.
One of my students admits she has a fear of dry towels. Another one recounts how she grew up terrified of water closets (i.e., toilets) in Scotland. A college friend described her fear that her daughter will be killed at her military job working with explosives. Someone I met recently told me about his fear of centipedes crawling into the shower with him.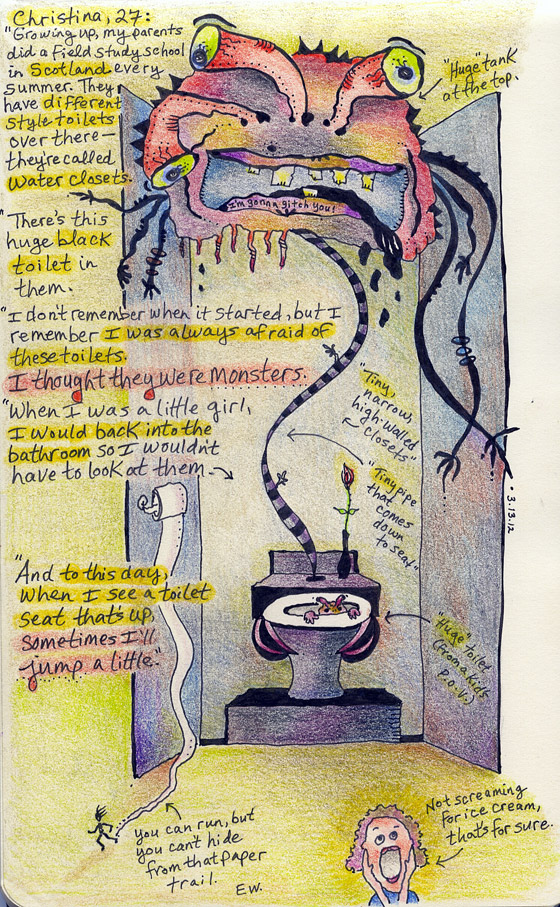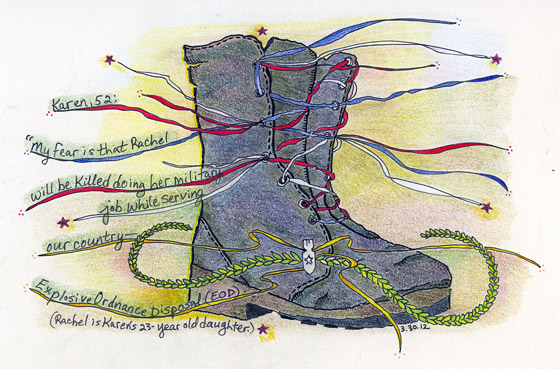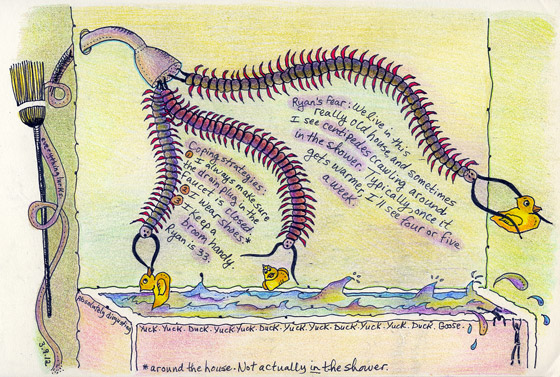 For the past couple of months, people have been sharing their fears with me, and I've been creating little drawings of them, accompanied by their words. I upload these pieces to my blog (www.joodlesbyjulie.com) and Facebook page a few times a week.
I call this ongoing series "The Fear Project."
I've discovered that there's a universal quality to most peoples' fears. Even for the more specific ones, like losing one's memory as a result of liver disease, others find a way to relate on some level. Oftentimes, people note how much better they feel after they articulate their fear to me via text, email, Facebook or in person.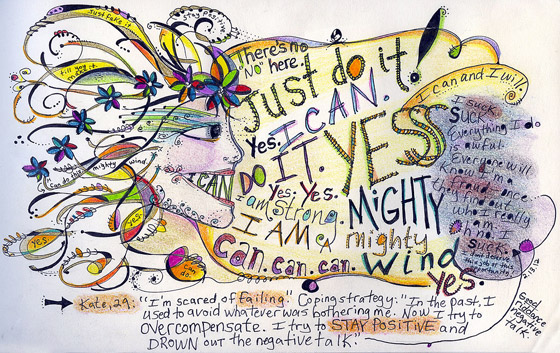 People often ask me how this project got started. In February 2011, I began posting a random collection of doodles on WordPress.org, mainly so I could learn how to reskin a template. Technical exercise meets squiggly lines—it was all frustration and fun rolled into one visually lite site.
About a year after I started posting these doodles, one of my students sent me a link to the site creativemornings.com—"a monthly breakfast lecture series for creative types." Of all these videos from creatives everywhere, one in particular jumped out at me.
In a half-hour presentation, Kate Bingaman-Burt, a graphic artist who lives and teaches in Portland, Ore., talked eloquently about how helpful it was to bring guidelines and structure to to her creative process. (http://creativemornings.tumblr.com/post/13164231309/the-very-first-creativemornings-portland-hosted).
Creation comes from constraint, she said.
I was blown away. Something clicked. I knew I wanted to bring more focus, more discipline and a more storytelling component to my doodles. I wondered how to involve others in a project, and I thought about broad themes.
Fear is something I've been thinking a lot about these days. I reflected on those pockets of fearlessness in my life that led me to some amazing people and experiences. At 52 years old, though, I was starting to let fear affect me more than I was willing to admit, and this bothered me.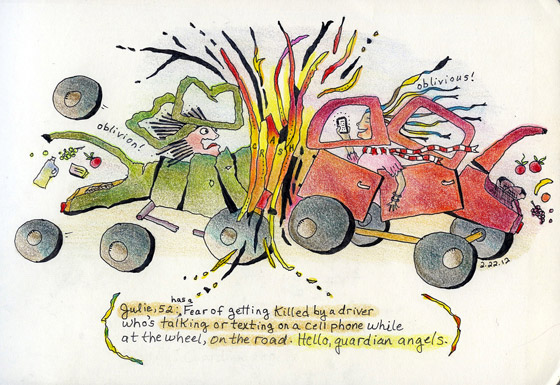 So I set out to learn more about fear. I knew there would be endless amounts of material out there.  Participants are everywhere—neighbors, students, colleagues, family members, people I've never even met.
Surprisingly, in the 30 pieces I've created so far, I've found that redundancy is not an issue. There are just too many fears to go around, I guess.