Growing up, I always loved watching documentaries of bands on tour and dreamed of one day creating my own, but with a twist. I loved MTV's style of reality television. It mixed the look of a documentary with fast paced editing which kept the audience tuned in. When I was approached with my first offer to tour with a band to create "tour updates," I looked at is as an opportunity to create mini-documentaries but with the MTV reality show style of editing. After months of touring with a band in a van, sleeping on hotel floors, or not a hotel at all, I had created a slew of crazily edited tour videos and a couple of "tour style" music videos. But I wanted a broader audience. My biggest joy was not only seeing that other people saw my work, but that they enjoyed it; they were entertained.
In the summer of 2010, thanks to a referral from someone I met on my first tour, I was offered a job as a videographer for an artist opening Justin Bieber's first tour. It was on that tour that I met Robert Caplin, who I spent many catered meals with and became friends with. He let me borrow a couple of lenses on tour and even let me help him out on one of his shoots with Justin Bieber for his movie. I learned a lot on that tour. I was shooting shows in front of thousands of screaming fans and the backstage life of that show was unlike any other. I ran into so many celebrities backstage that I started to refer to it as "Namedrop City." I think I could write a whole other blog just on the backstage life of that tour, but I'll save you from reading that. Overall I was satisfied with the experience and thankful for all the friends I had made as well as the opportunity, but I still had a goal of getting my work out on a larger platform.
Shortly after that tour I joined RCA Records' New Politics on their tour opening for alternative-rock group Thirty Seconds To Mars. Not only was this a completely different kind of tour than Bieber, but the band I was touring with was unlike any band I had toured with before. New Politics were a group of guys from Denmark who had more energy and nuances than I could imagine. Their ability to say the weirdest things and create the most awkward and hilarious situations made filming them a charm. On top of that, their stage presence was insanely high energy and made for some interesting shots. Eventually those videos were featured on MTV.com as part of their "Posted" promo in January 2011, a definite highlight in my career. Just seeing the MTV logo at the top right corner of my videos brought me so much joy and a sense of accomplishment.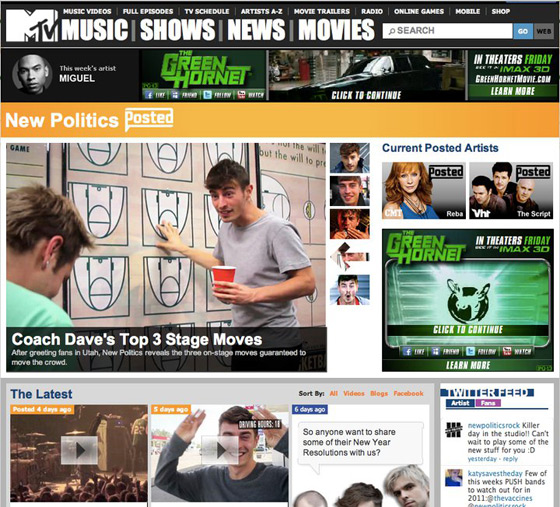 Lately I have been doing freelance editing work for labels and management. What I really love is traveling and filming the world and the people who get to travel it for a living. It's amazing not only seeing different parts of the world and the cultures that come with it, but what makes it even more intriguing is that when your subjects are experiencing that culture for the first time. I'd love to work on a traveling reality tv show one day and maybe even produce one. We'll see. All I know is for now I'll try to get better at shooting on a DSLR because it's the most convenient tool I have to take wherever I want and just shoot run-n-gun, but not have to compromise at all with the quality.