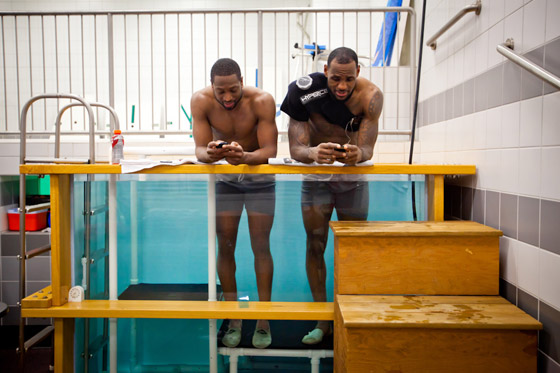 Sarasota, FL-based photographer Chip Litherland spent some quality-time in the locker room with Miami Heat's LeBron James and Dwayne Wade.
So LeBron James, Dwayne Wade, and I were there together hanging out and….well, there really isn't going to be a time I get to say that again, so I'm going to take advantage now.

I was lucky enough to be part of the huge team that the fine folks at ESPN the Magazine put together for their latest One Day, One Game series. The point is to give fans a glimpse into everything that it takes for one single game to be put on with vignettes from every angle imaginable.  It was one of my most fun shooting days ever, and I don't think I can really go back to "normal" access after this.  Of course I will, but now will at least have a hard time wondering why I can come back into the locker room and photograph a player in the ice bath.
Continue reading and see more photos on Chip's blog.