With the sports I cover, I don't often have the luxury of having a press room or sometimes even a media center at all so everything I carry has to be on me. Steeplechase horse racing in particular, essentially you're out in a field all day long with only tents and porta-potties as protection from the elements.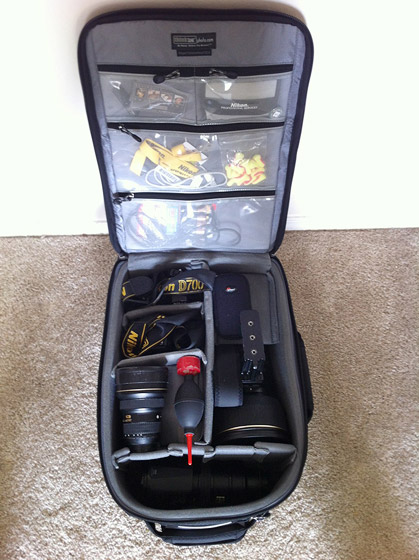 To carry all this gear to the event, I use the Think Tank Airport Security V2.0. It is incredible. I can't rave about this bag enough. It fits in most overhead bins if I have to fly and is so easy to work with. Has locking hardware in the back (to lock the bag itself to something) as well as built in locks for the zippers. I feel safe leaving my wallet/passport/keys/phone in the bag while I'm off shooting. I also use a North Face bumbag/fannypack (whatever you want to call it). The North Face is a sturdy brand and it's comfortable to wear. I've got a variety of lens pouches on that including one that I have a few trash bags, poncho and ziplock bags stuffed in. You never know when it will pour rain and you might not have anything to cover gear with. I've used a trashbag and my belt as a 400mm rain cover and it worked surprisingly well.
Bodies:
I shoot on Nikon equipment and I am a member of Nikon Professional Services which is always a huge help. My bodies are a D3 and a D700. Both being full frame, you lose a little bit with the long glass, but I love the look of full frame images. I wouldn't trade my Nikon gear for the world.
Glass:
– Nikon 400mm 2.8 AF-S. What a lens this is. You need pretty good reach to shoot motorsports. They often have the catch fence there to protect us, but in protecting us, they make it hard to get really nice tight shots. So the 400 does a good job as I can get in close enough and if need be, there are TC options. I own a 1.4TC and a 2xTC. You lose some aperture but the 1.4 is an invaluable part of my kit.
– Nikon 70-200mm 2.8 VR1. This is about everyone's go to lens. It gets less love at motorsports sometimes but it gets a ton of use in horse racing. Really versatile piece of glass.
– Nikon 28-70 2.8. This is the old version but it's still tack sharp. I use this lens a ton. Portraits. Action. Panning action. It is almost always on the D700 at an event.
– Nikon 14-24mm 2.8. I love this lens. On a full frame camera, it is extremely wide. So wide you have to watch not getting your feet in the photo.
– Nikon 50mm 1.4. They call it the magic bullet and it certainly is. It's a lot of fun to use and gives a really interesting effect at f1.4.
Misc gear:
– Western Digital 700GB portable hard drive. Especially in motor racing, you shoot a lot of images over a weekend. I need a hard drive I can count on.
– Various lens cleaning gear. I sometimes have to change lenses and throw on a wider lens, or strap on the TC to the 400. In doing that, occasionally you get dust on the sensor and if you pan a lot at f22 (like I do) it shows everything. So having a blower is crucial.