Ask anyone who's ever worked with me on a shoot, and they'll tell you about the moment they've rolled their eyes when the rear door of my SUV swings open to reveal cases upon cases I've packed for that "simple" job. You see, ever since I was a wee lad, I've had a habit of packing too many toys. I can remember stuffing brown paper grocery bags full of Legos, markers, tape, Hot Wheels, and anything else I thought my creative urges might call for just to spend an evening at my grandma's house. Just over twenty years later, only the type (and price point) of toys have changed, with the "take the kitchen sink" preparedness mindset remaining.
With that said, I have learned to streamline my pack for basic shoots for newspaper clients, available light portrait shoots, or sporting events. This list will give you an idea of my go-to lenses and accessories that work for 90% of the situations I encounter. I'll also touch on some of my lighting gear that goes out on larger portrait shoots.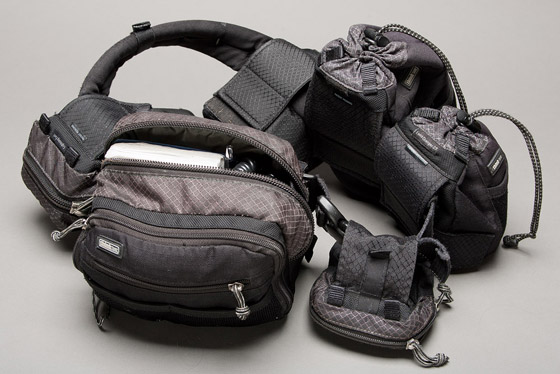 My "bag" is actually a modular belt system from Think Tank, which is made up of the following:
– 1 Pro Speed Belt
– 1 Speed Changer
– 1 Lighting Fast
– 1 Modular Pouch
– 1 Lens Changer 75
– 2 Lens Changer 25
The Speed Changer holds all my accessories (which I outline below), while the lightning fast keeps my Canon 550EX flash ready to roll. The Modular Pouch is a perfect fit for my iPhone, and the Lens Changer pouches hold whatever glass I'm not using on either camera body.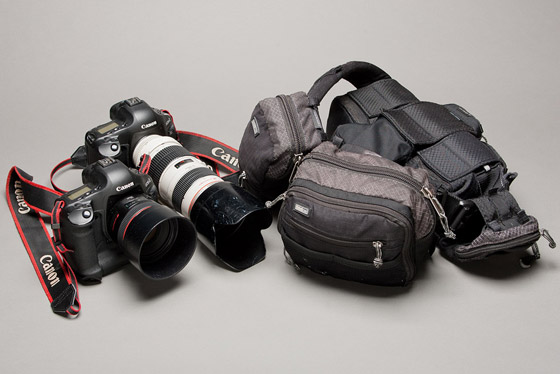 I always shoot with two camera bodies, mainly for the convenience of having two focal length lenses readily available. Of course, having a backup camera ready to go is an added bonus. Yes, I've had shutters blow on several occasions while on a shoot, once at a wedding in central Mexico. Because of this possibility, having two camera bodies is essential. Those cameras, along with my lenses and flash, are listed below:
– 2 Canon EOS 1D Mark IV SLR Digital Cameras
– 1 Canon 1.4x EF Extender II (Teleconverter)
– 1 Canon Fisheye EF 15mm f/2.8 Lens
– 1 Canon EF 17-40mm f/4L USM Lens
– 1 Canon EF 50mm f/1.2L USM Lens
– 1 Canon EF 28-70mm f/2.8L USM Lens
– 1 Canon EF 70-200mm f/2.8L USM Telephoto Zoom Lens
– 1 Canon Speedlite 550EX
– 2 Sto-Fen Omni-Bounce for 550EX (White and Gold)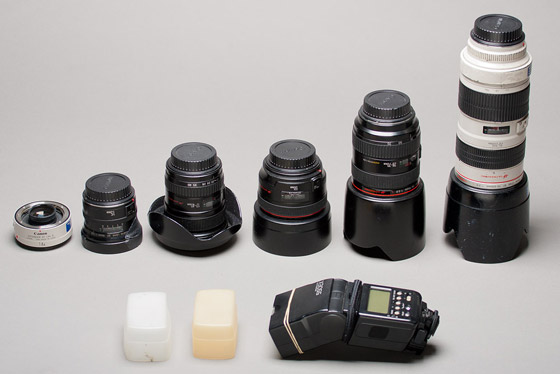 When I'm shooting field sports (or breaking news events where I feel like I might be kept far away from the scene), the following items also come along:
– 1 Canon EF 400mm f/2.8L IS USM Telephoto Lens
– 1 Canon EF 100-400mm f/4.5-5.6L IS USM Lens (Daytime, Slow Action Only)
– 1 Gitzo Carbon Fiber Monopod
– 1 Think Tank Hydrophobia 300-600 Rain Cover
– 1 Think Tank Hydrophobia Flash 70-200 Rain Cover
In the Speed Changer, all my accessories I can't live without stand ready, including the following:
– 1 Canon Off-Camera Shoe Cord II (Gets 550EX Off Camera)
– 1 Canon Timer Remote Controller TC-80N3
– 1 Extra Battery for Mark IV Camera Bodies
– 1 Extra AA Battery Set for 550EX Flash
– Think Tank Card Wallet with Sandisk 16GB and 8GB CF Cards
– Credentials
– Notebook
– Business Cards
– Sharpies and Pens
– Minimag AA LED Flashlight
– Assorted Gels and Blackwrap
– Rubber Bands (For Attaching Gels to Flash)
– Gerber Small Multi-Tool
– Microfiber Lens Cloth
– Wipe 'n Clear Pre-Moistened Lens Tissues
– Small Bulb Blower
– Carabiner
– Gum
– Ear Plugs, Tylenol, and Band-Aids
I have quite a bit of lighting gear (both continuous and strobes), and it's not typically a part of my daily carry-around kit. In brief, I use everything from small Vivitar 285HV flashes for quick portraits, AlienBees B1600 monolights for more involved setups, and Elinchrom Style 600 monolights for sports. Arri and Lowel tungsten lights fill things out on the video side, along with Litepanels LED fixtures. I have light modifiers ranging from Photoflex and Chimera softboxes to Matthews flags, nets, and silks, on up to larger Matthews Road Flags kits. Stands range from Manfrotto and Arri "K-Stands" on up to more rugged American C-Stands and Baby Stands. I have a large assortment of other grip accessories, allowing me to mount lights or cameras pretty much anywhere you can imagine.