Brad Mangin
is a freelance sports photographer based in the San Francisco Bay Area. His regular clients include Sports Illustrated and Major League Baseball Photos. After graduating from San Jose State University he worked for several newspapers, including The National Sports Daily (where he was hired by Neil Leifer), before starting to freelance in 1993. Mangin has covered every World Series since 2000 for Major League Baseball, and regularly covers spring training in Arizona for Sports Illustrated. Mangin is a founding partner and managing editor of
SportsShooter.com
, an online community and resource for sports photographers and other working photojournalists. Mangin's first book "Worth The Wait" was published in March of 2011. "Worth The Wait" is the official commemorative book of the San Francisco Giants 2010 World Series season featuring Mangin's photographs from spring training through the final out of the World Series.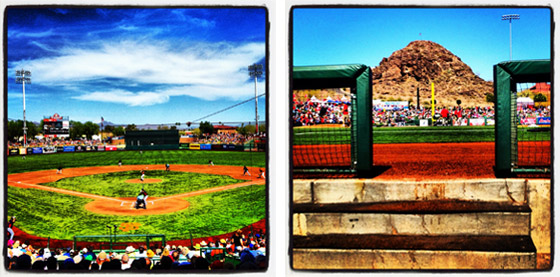 The grass at Scottsdale Stadium was bright and emerald green. The infield dirt was a lush combination of red and brown, like bricks had been crushed and spread about the desert floor. It was the first game of spring training last month and my first assignment of the Cactus League season. The game would not start for an hour and there were so many photo opportunities in front of me. I immediately grabbed my camera and started shooting the grounds crew chalking the area around home plate. I shot some details in the dugout. Did I use my Canon EOS-1D Mark IV? No. Was I secretly testing out the new Canon EOS-1D X? No. Was I shooting with my cool Canon S95 point and shoot? Nope. I was shooting with my new favorite camera: my Apple iPhone 4s.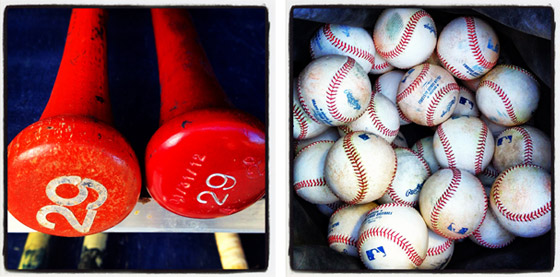 I finally joined the rest of the civilized world and got an iPhone a few months ago and immediately started goofing around with the camera. I quickly realized that I could make some really nice pictures with this phone. I could also make some really bad ones. With not many hours of daylight over the winter and no ballgames to shoot I practiced my iPhone camera skills by shooting pictures of my cats Mike and Willie. Some of the pictures were kind of cool, but most of them sucked. I needed help!
There are so many photography-related apps out there for the iPhone that it is very confusing. What do I need to improve my pictures? Being that I hate doing research and following directions (like most photographers) I just started downloading a bunch of apps like Camera+, Hipstamatic, Snapseed, and Photoshop Express. Fellow photographers started suggesting a few of their favorite apps. Chris Covatta told me to get Dynamic Light. Andy Kuno told me to grab Tiny Planets. Kohjiro Kinno taught be about Halftone.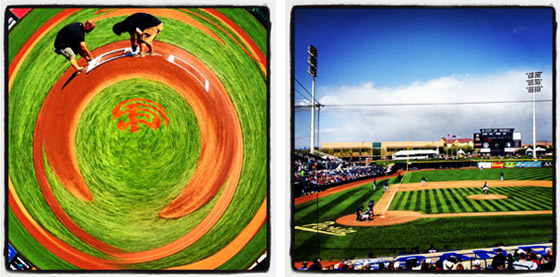 I was starting to have more fun with my new camera, but the app that really sent me over the edge into becoming a maniac about my new camera was Instagram. I knew about Instagram before I got my phone. I had seen cool images shot by other shooters and learned about the fun social networking features it had, but it did not make much sense to me until I downloaded it and started messing around.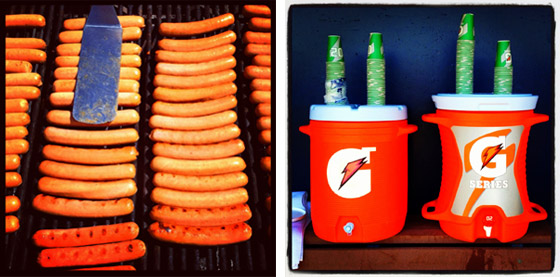 Once I began getting the hang of Instagram and continued to flood my feed with pictures of Mike and Willie I had my Eureka moment. "How cool would it be to shoot Instagrams with my iPhone during baseball season when I spend all my time at the ballpark?" I asked myself. I was determined to challenge myself to come up with fun and creative images surrounding the game of baseball to share with everyone on my Instagram feed, Facebook, and Twitter. Spring training would be my fist big test. I couldn't wait!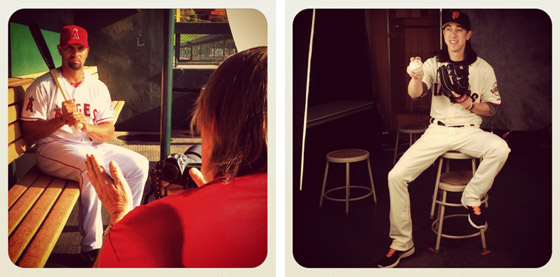 I was never one of those photographers who cruised around while off duty carrying a camera to shoot anything and everything that happened around me. When I was just out of college in the late 1980's all the cool kids walked around with a Leica M4-P or Leica M6 slung over their shoulder loaded with Tri-X. I was never rich enough or cool enough to have one, so I opted for NOTHING. I hate carrying camera gear. If a plane crashed in front of me on the freeway I was shit out of luck. No camera with a 180 mounted on it loaded with a roll of Tri-X just in case. Heck, I have not worn a watch in over 20 years and I hate keys in my pocket. I like to travel light. But, I always have my cell phone with me. Now my cell phone is a camera! I can finally look at the world with a fresh eye at age 47. It is like I am a newborn photographer seeing things for the first time.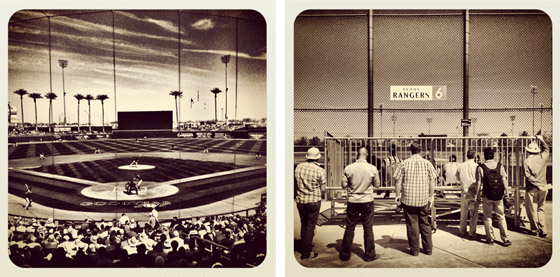 I spent a few weeks in Arizona shooting spring training games on assignment for Sports Illustrated and tried to look for cool things to shoot every day with my new camera. Since I had to shoot the games and be on the lookout for certain players I did not have free reign to wander around the park just looking for square pictures for my Instagram feed. However, before the games I always had a little bit of time to look around and see what looked good. Some of the pictures turned out better than others, but the important thing is I was having fun and I was being a photographer.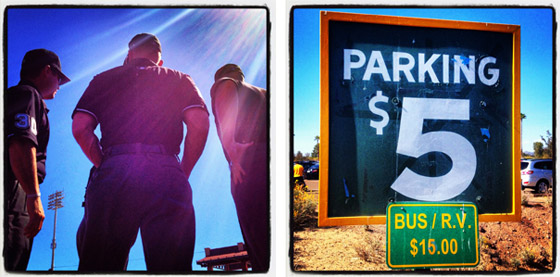 Since I have been home from spring training I have been anxious to get back out to the ballpark and shoot more pictures with my iPhone. Over the next seven months I will shoot close to 80 baseball games, which means I will have many opportunities to fine-tune my iPhone shooting skills. My poor Canon S95. I might never use it again.