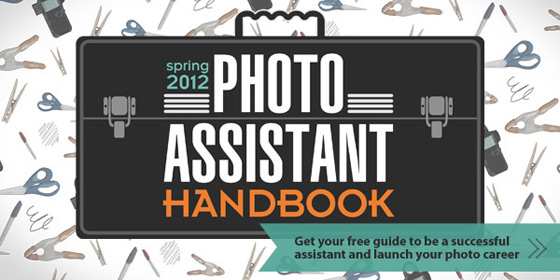 Our friends over at PhotoShelter put together a Photography Assistant handbook with great tips!
Taking the path to become a photographer's assistant is an excellent way to get noticed by the pros and launch your own photo career. By learning from and supporting accomplished photographers, photo assistants get the firsthand experience necessary to grow their own careers in a demanding industry.

Still, the reality is that photography assistant jobs can be hard to come by, and it may be the hardest you will ever work. But you will find the secrets to success in this line of work surprisingly simple.

With The Photo Assistant's Handbook, allow us to introduce you to the world of photo assisting, and offer the best tips & strategies to help you succeed, get rehired, and grow your photography career.

The Photo Assistant's Handbook will help you:

• Sort through the benefits of working as a full-time or freelance assistant photographer.
• Learn the 12 problems that all photography assistants are expected to solve.
• Create the essential equipment kit and prepare for every scenario.
• Plus tips from Robert Seale and Vincent Laforet on what skills they look for in
Read more on the PhotoShelter blog.