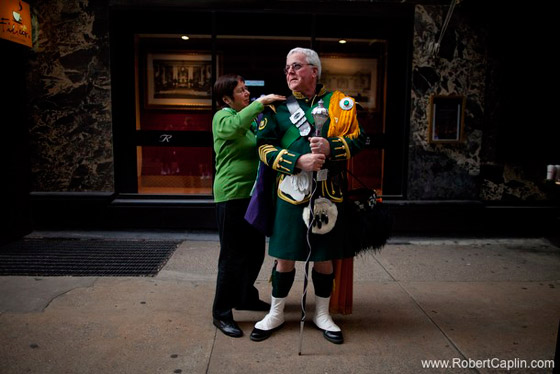 Manhattan-based freelancer Robert Caplin documented the life around the Saint Patrick's Day Parade in New York City.
Today I decided to wake up early on the weekend and head to midtown on my bike with my wife and photograph some of the activity around the Saint Patrick's Day Parade. Normally I try to stay as far away from Fifth Avenue parades as possible, but I felt motivated this morning. Also, this was not for an assignment, rather just for ourselves, so there was no stress with deadlines or editor's expectations. We decided to  concentrate on the activity around the parade because in order to get a good spot, we would have to stay in one place and not move…this way we got to roam and see all the participants of the parade warming up for the before the parade started.

It was fun, but as the start time approached, more and more highly intoxicated revelers began pouring out of bars, which wasn't so fun. Anyhow, I hope you like my take on the parade!
See more photos of the parade on Robert's blog.