Peter Taylor
is an editorial and commercial photographer based in Charlotte, NC with clients that range from national and local magazines to Fortune 500 Corporations to ad agencies to TV networks. A graduate of RIT, he has worked as a newspaper photojournalist, a war photographer, a fashion photographer, a sports photographer, a travel photographer, a food photographer, a still life photographer, a news and sports photo editor, a set builder and designer and a prop man. All of these vast and different experiences have help shaped him and the way he sees the world. When not shooting or editing or doing marketing or billing, he can be found playing with his 3 dogs or fly fishing on a mountain river.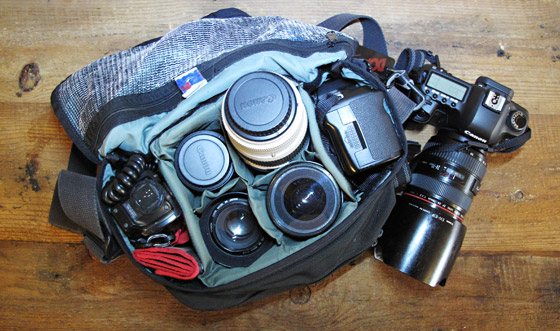 My bag is a pretty simple one, a Domke F-6B. I also use a Think Tank Airport Security V2.0. I also use some Pelicans for lights and some other bags for stands. These two bags are all I've ever needed. In 24 years of shooting ( college and pro ) I've worn thru 2 Domkes and the Think Tank has yet to show any signs of wear at all! The Domkes carry what I need and only that, very little extra stuff. My back up gear sits in an extra Domke in the truck. The Think Tank is perfect for traveling. Getting that weight off my shoulders has been a huge relief and made traveling much easier. I pack all the gear into the roller and stuff the camera bag into a checked bag or if it fits, in the roller and when I get to the hotel or the assignment, I repack it into the Domke.
The gear – I've only used Canon gear and don't plan to change. I know Nikon makes great gear too, but I see no need to switch.
My daily pack includes:
- Two Canon 5D Mark II
- Canon EF 70-200mm f/2.8L IS II USM AutoFocus Telephoto Zoom Lens
- Canon EF 24-70mm f/2.8L USM AutoFocus Wide Angle Telephoto Zoom Lens
- Canon EF 16 – 35mm f/2.8L II USM Ultra Wide Angle Zoom Lens
- Canon EF 100mm f/2 USM Medium Telephoto AutoFocus Lens
- Canon EF 50mm f/1.4 USM Standard AutoFocus Lens
-Â Canon EF 50mm f/2.5 Compact Macro Standard AutoFocus Lens
- 100+ gigs of CF cards
- iPhone
- 3 extra camera batteries for each camera, AA batteries, notebook, pens, biz cards, promos, locks, sharpie, gaffer tape, breathe mints, parachute cord, carabineer
If I feel like I might need to shoot some quickie video, I toss in a Sennheiser microphone and a Zacuto Z-finder
Other gear that makes appearances as needed:
- Canon TS-E 45mm f/2.8 Tilt and Shift Manual Focus Lens and Canon TS-E 90mm f/2.8 Tilt & Shift Manual Focus Telephoto Lens – I use these for food photography primarily, but they can also add a different look to an oft seen subject.
-Â Canon EF 300mm f/4L IS USM Image Stabilizer AutoFocus Telephoto Lens
- Canon EF 100mm f/2.8L IS USM Macro Auto Focus Lens – for when I can't get close to the subject.
- Rollei 2.8 Xenotar with close up lens
- Hasselblad 500cm, with 120 T*
- Ipod speakers.
-Â Manfrotto 055CXPRO4 Tripod-4 Section ( fits on the Think Tank or in a duffle bag. )
My lightning kit -  My lightning kit is a bit of a Frankenstein kit. I have 4 brands and types of lights. Profoto, Elinchrom, White Lightning and Lumedyne. I keep promising myself that I will consolidate at some point and stick with one brand, but it hasn't happened yet. I have octabanks, light boxes, beauty dishes, a ring flash, umbrellas, parabolic systems, 3×6 and 6×6 silks, Pocket Wizards, 15-20 light stands and booms, reflectors and flags. Hopefully I have everything that I need for whatever kind of job I am working on.