As a freelance photo assistant, digital technician, aerial specialist and video AC, I've developed a toolkit that keeps my essentials close at hand and serves a variety of needs. I've based my bag around a hip pack, the LowePro Orion Waist Pack. I got this bag for free at the Rich Clarkson Sports Photography Workshop in 2002, and it's been a great bag. Unfortunately my exact one has since been discontinued, but any similar size bag would be suitable. While a "fanny pack" may not be the most fashionable item, it can be very useful to have access to the contents of the bag without setting the bag down or having it interfere with work.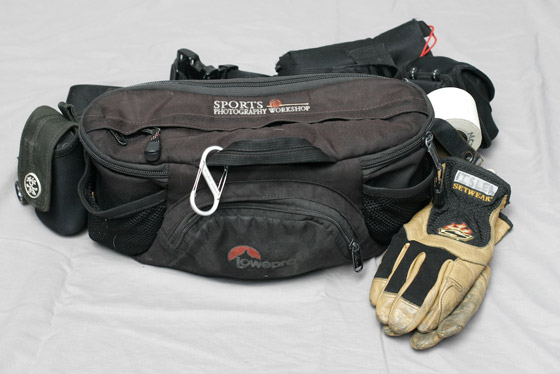 Hip packs are great when working on beaches, city streets, or any area where setting a bag down might slow down the work or put the equipment close to harm's way. One can keep a few lenses in the pack, in addition to all sorts of equipment in its pockets or on the belt. The belt serves as a great place to store things like Multi-tools and light meters (more about that later), keeping the main pocket free for camera equipment.
The jobs I work range from product still life to architecture, fashion to music videos…as well as a few hundred hours in the back of helicopters all over the country and abroad. While every job and client is different, I've adapted my tools to be as universal as possible.
Here's a rundown of all of the odds and ends I travel with on a daily basis:
The Bag: LowePro Orion Waist Pack (discontinued)
Outside
– GPS for location scouting and aerial photography location verification
– Red laser
– Radio earpiece for Motorola walkies
– Hiking compass
– Sekonic L-558 meter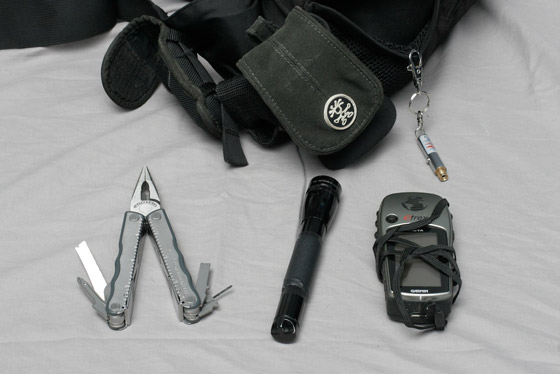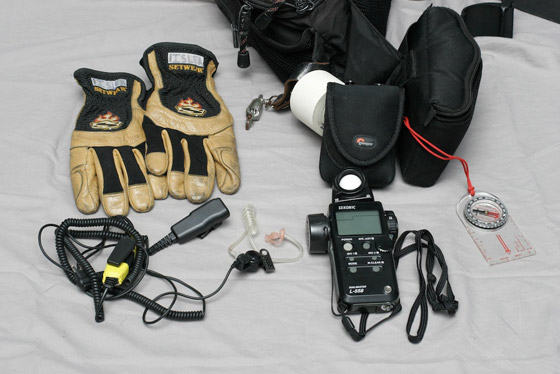 Inside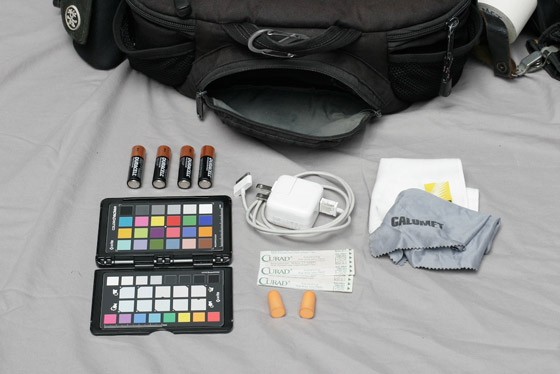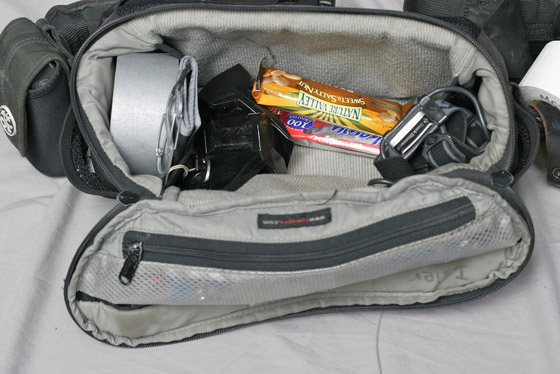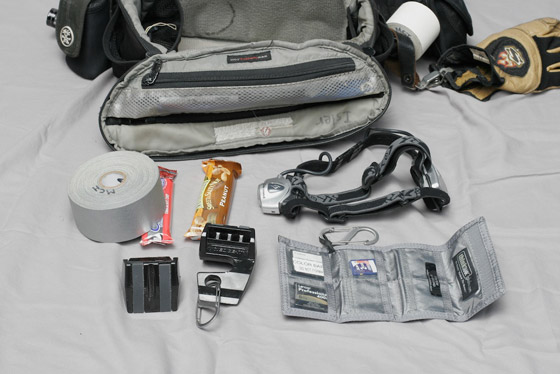 – CF card with SMPTE color bars in image file for video monitor calibration
– Sharpies
– Red and black pens
– 4x mini plastic wedges for shimming props, furniture, etc
– Various size zip ties (qty 30+)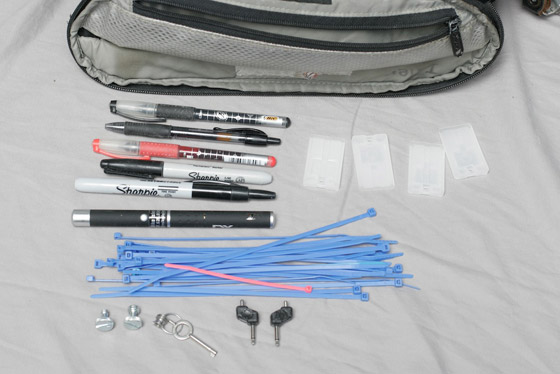 Sometimes carry
– Multi-Meter
– Butane lighter
– Desolder braid
– .032 silver solder
– Combo wire strippers and cutters
– 18/2 hookup cable
– Assorted heat shrink tubing
Soldering tools used for fixing PC sync cords, repairing power cords for video accessories, making cords from scratch
– USB extensions and spares
– FW400, FW800 and FW400-800 cables
– Cat5
– SATA / USB drive dock
– Blank DVDs
– DVI and HDMI cables
– Gaff
– Power strip
– Full body harnesses
– Personal adjustable tethers
– Carabiners and equipment safeties
– Communications equipment and cables
– Headsets