"The Art Of" columnist, Jared Wickerham, is a freelance sports photographer based in Pittsburgh, Pennsylvania covering high school, college, and professional sporting events such as the US Open, NHL Winter Classic, AFC Championship Game, and the World Series.
His freelance clients include Getty Images, The New York Times, and the Pittsburgh Tribune-Review, ESPN, Sports Illustrated, Hockey News, and his corporate clients include DirecTV, The Pittsburgh Pirates, Coca-Cola, Macy's, and The University of Pittsburgh.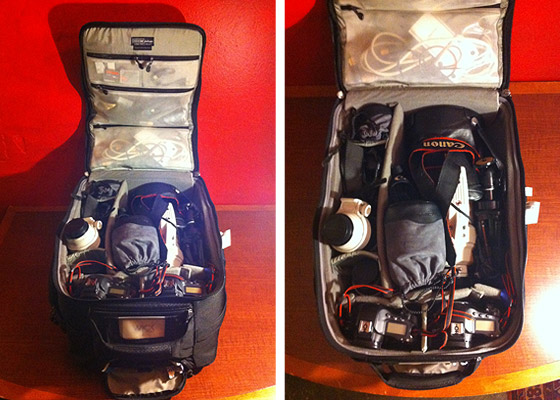 My Bag: Think Tank Airport Security v2.0 roller
What would I do without this bag! Even at a young age (23), I'd more than likely be at the chiropractor. It fits in most overhead bins while flying. Think Tank also has some of the best customer service out there!
Computer: Apple Macbook Pro 15"
Camera Bodies:
The best camera in my arsenal usually accompanies my 400 when covering most sporting events. To get in tight, I may also attach my 1.4x TC to my 400 as well for the extra reach. There are always plenty of intense moments within a scrum.
– 1D Mark III
I typically pair my Mark III with my 70-200 slung around my shoulder as a second body for action that may not fit within the frame of a 400. In football or soccer it's perfect for most scores and celebrations.
– 1D Mark II
Depending on the sporting event, it is either my third body that hangs around with neck to cover any action that happens right in front of me with a 24-70 (football, baseball, hockey) or setup as a remote camera (basketball). The 17-40 is great for those wide stadium overalls, the end-of-game coach's handshake, or any other great on-field jubilation.
Lenses:
Accessories:
– Canon Speedlite 580 EX II flash
– Pocket Wizard Multimax (set of 2) and a pre-release cable
– Think Tank Skin pack with Speed Belt
– Think Tank Remote Control 20 rain cover
– Sensor and lens cleaning kits
And of course, the obvious: Multiple compact flash cards as well as extra card readers, camera batteries, and AA batteries.