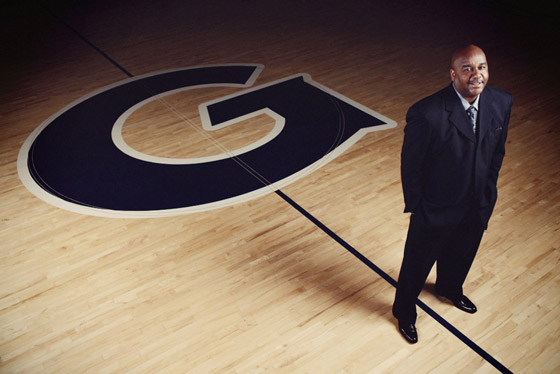 DC-based freelancer Melissa Golden photographed Georgetown basketball coach John Thompson III for the Washingtonian magazine.
The fine folks over at Washingtonian Magazine have been sending some real plum assignments my way lately.  I photographed Georgetown basketball coach John Thompson III for a great profile piece by Brett Haber (read it here), doing my thing as both a photojournalist and a portrait photographer.  I spent several hours at practice shooting the coach in his natural environment as he talked to the press, worked with the team, and sat with his father, the legendary John Thompson Jr., who watches most of the practice sessions.  I went back a few days later to shoot the accompanying portrait.  I was asked to incorporate the graphic elements of the gymnasium floor, but this meant using a gigantic space with messy backgrounds as my studio.  Controlling light in a gym is a bit of a nightmare.  I don't envy photographers who have to do this on a regular basis.  Fellow photographer Matt Roth made some time to help me out with the shoot and we spent a pretty big chunk of time prior to the actual portrait session trying to set everything up and get everything just-so.  This flies in the face of my natural inclination to improvise, but one must do what the situation calls for.  The coach was very generous with his time (2 hours worth) and it was a pleasure working with him.
See more photos of the shoot on Melissa's blog.