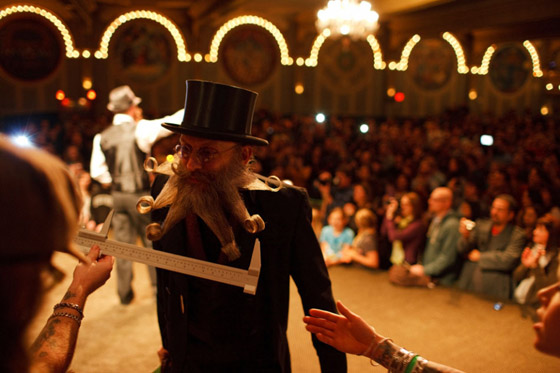 Portland, OR-based photographer Sol Neelman has been writing a weekly photo column for Wired on weird sports, and the first one was about a beard and mustache championship.
Is beard-growing weird? Most definitely. Is it a sport? Well, I guess that depends upon your perspective. Do beardos think beard-growing is a sport? Yes. Yes they do. And that's why it piqued my interest.

I'm a photographer. I've spent years documenting a vast subculture of fun and quirky spinoff sports I call, appropriately, Weird Sports. Perhaps it should be called "I love all sports and I love all those who love sports," but that doesn't exactly roll off the tongue. I could call it "Fun sports," but that sounds weird.

So I call it Weird Sports, and I'll be writing about them for Wired. Some of them are most definitely weird, in the "Who came up with this?" kind of way. Coffin races and lingerie football come to mind. Others may seem mainstream but I consider them weird because of their fanatical subculture. Yeah, NASCAR, I'm looking at you.
Continue reading Sol's first article on Wired and see additional photos on his blog.