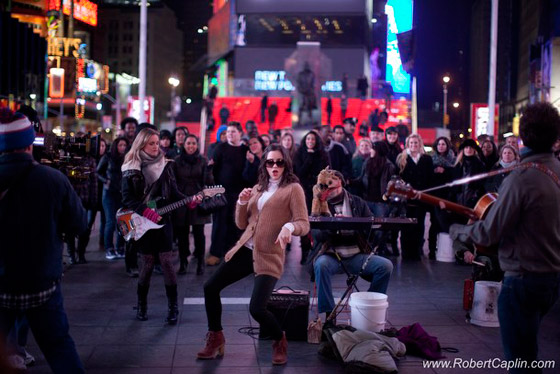 Manhattan-based freelancer Robert Caplin shot on the set of NBC's new show Smash on location in Times Square.
I got a call form the New York Times photo desk late in the afternoon a few months back asking if I could run down to Times Square late that same evening and photograph a new tv show called Smash being filmed on location. I was told the show was NBC's answer to FOX's Glee, but was more of an adult-themed drama/musical about the making of a hit Broadway play.

So I jumped on my scooter and headed south from my pad on the Upper West Side of Manhattan to Times Square around 11PM for the shoot. When I arrived, I was immediately confused because the crew was apparently on a break and all I could see were tons of tourists hanging out in Times Square…the usual. Moments later as I saw the camera crews start to move around, it dawned on me that I was actually standing in the midst of hundreds of extras who were only acting like tourists for the production! Clearly they were doing a great job as they even fooled a New Yorker like myself!
Continue reading and see more photos on Robert's blog.