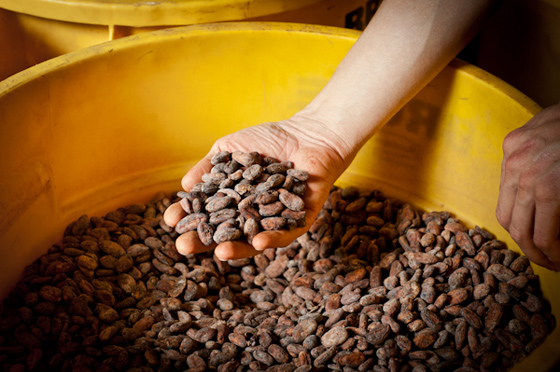 Seattle-based freelancer Nate Watters recently photographed a chocolate factory.
Theo Chocolate is a rapidly growing, local chocolate company located in Seattle, WA.  They are the only organic/fair-trade chocolate factory in the country.  Everything in the process – from roasting cocoa beans to producing and wrapping the bars and confections – is all done inside their Seattle factory.  Nearly everything is done by hand and in small batches – preparing and mixing ingredients, tempering chocolate on large slabs of granite…it's pretty amazing to see.

After putting together a photo essay about Theo's artisan chocolatiers for City Arts Magazine, Theo became interested in commissioning a few prints for their newly remodeled retail space.  They wanted to use a few of the photos used in the photo essay piece, but also wanted a few unique photos as well.  In order to get the photos I needed, I was allowed nearly unrestricted access to their factory space.  We really wanted to emphasize the hands involved in the chocolate making process as well as the rich colors of the equipment and ingredients found throughout the factory and kitchen.

The majority of the photos were taken using available light from the large factory windows and interior building lights, however there were times when an off camera strobe was very helpful.  Especially when capturing cocoa beans and nibs falling from the winnower machine, or when the overhead fluorescent lights in the kitchen just weren't cutting it.  Either way, between the smell of fresh chocolate, all of the amazing equipment, and the incredible people who work at Theo, I would shoot there every week if I could.  Even before I did any work for them, I always recommended to anyone who came to Seattle to stop in at Theo for a tour and some chocolate.  They're truly one of my favorite places in the city.
See more photos on Nate's blog. He will be having an opening reception for his work at Theo's retail store on February 3rd as part of the First Friday Art Walk in the Fremont Neighborhood from 6pm-9pm.