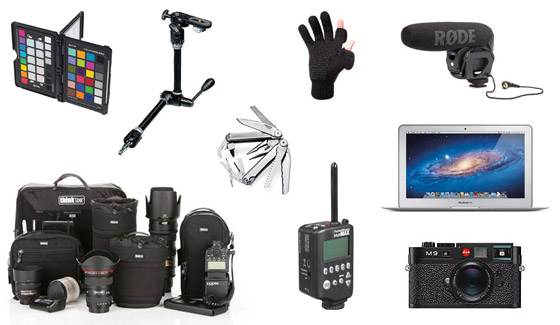 It's that time of the year again! Time to make your photographic gift list in hopes that Santa will bring you everything your camera bag desires. Also, it's a great time to get your last-minute shopping in before the end of the year so you can deduct the purchases on your taxes!
We decided to ask a handful of our photo-industry colleagues what products they recommend and/or have on their gift list this holiday season. They came back to us with some great recommendations… many from our sponsors like PhotoShelter, ThinkTank, Dale Photo, and AdoramaPix who are all offering some special deals to our readers! Feel free to share some of your gift ideas in the comment section below!

I recently got myself my first ever Leica, an M9. Is great, but the camera body itself is rather boxy and doesn't have great grippage… I opted to purchase this Thumbs Up accessory that slides into the hot shoe of your camera and mimics a film advance lever. It's super simple and gives your thumb a nice spot to grip the body… I highly recommend if you own the M8 or M9!

One of the things I hate about buying nice cameras is that they never provide you with a quality camera strap… even Leica gives you a cheap one! One of my friends showed me his preferred camera strap for his Leica and now I definitely want one for Christmas! It's a one size fits all, so none of those awkward adjustable plastic devices…and best yet, it's leather, so it ages and gets nice and soft!

My wife an I have been looking for a simple point-and-shoot and have decided that we're asking Santa for the Canon S100, the successor to the popular S95, which is a great point and shoot itself. The s100 has a slightly larger sensor, a wider angle lens (24mm vs 28mm), higher quality video (1080HD vs 720HD), and is slightly smaller, among numerous other improvements over it's predecessor.

I've been doing a lot of traveling lately and thought the iPad would be the perfect fix for all my long flights, that was until I saw my first 11″ MacBook Air… I couldn't believe how small the laptop was… ultra thin, but with the versatility of a computer vs the one-app-at-a-time nature of the iPad and iPhone. It'll also be perfect for assignments in which I need to transmit on site… No more lugging around the bulky MacBook Pro! I've already got one of these suckers on order and cant wait to put it to good use.

I'm a sucker for murder mystery novels, but I can't stand lugging books everywhere… I feel it's a time to go the eBook route. Now with the Kindle Fire not only can you do the eBook thing, you can also watch movies, listen to music… and much more!

If you're anything like me your electronics, especially my monitors and keyboards, get covered in crap… iKlear makes quality cleanser for all your electronics. I was turned onto this product by the Apple Geniuses after a recent trip to the Apple Store.

Listen up… if you're serious about your photography, you MUST start building your archives through PhotoShelter. Not only is it a wonderfully manageable place to store and make your archives searchable to photo buyers worldwide, but it's an amazing image delivery tool for your clients whether it be for a corporate gig, a wedding, you name it! PhotoShelter makes it super simple to sell prints and even make a slick portfolio website. My entire business is built around this product. PhotoShelter has been so kind to offer our readers a 30-day trial for FREE… You have no excuse now!

I'm a lover of Think Tank products and highly recommend this bag if you're in the market for a roller bag. It's the smallest of their Airport Series Rollers line and perfect for a camera kit with a couple of cameras and various lenses, or a small light kit that can carry numerous small-system lighting strobes and up to a smaller ProFoto kits. Check out a recent review I wrote about the Airport Airstream.

Gift your friends or relatives a custom photo book of your work, make a photo album from your latest vacation for your loved one, or finally put together a high-end portfolio to send out to clients by using AdoramaPix!

Cut the cord between your camera and laptop or iPad! Using WiFi, the Eye-Fi Pro X2 will quickly transfer images as you shoot so you can instantly share them with others. An iPad serves as a much better display than the back of a camera when others need to see what you're shooting. The newest Eye-Fi, the Pro X2, can send photos directly to your favorite social media website directly from your camera. To top it off, it can also geotag your location in the pictures automatically!

This seemingly expensive filter is invaluable for video as well as landscape photography. Neutral density filters let one use a wider aperture or slower shutter speed without having to affect other parts of the exposure. Normally, one would have to carry a whole set of various filters for different lighting conditions. The Singh-Ray Vari-ND filter lets you dial in precisely how much neutral density you want, from 2 stops all the way to 8 stops of light blocked. No need to carry a whole wallet of filters any more.

These highly advanced PocketWizards give you incredible flexibility and control when working with multiple strobes or remote cameras. Its advanced timing functions enable you to synchronize multiple cameras (to the millisecond), shoot time lapses, do a multi-pop strobe effect, and more…all from over a quarter mile away. Each channel has four zones, letting you decide which group of lights or cameras you want to fire. No more running around to test each flash's output individually. The MultiMAX lets you decide right from the camera what will fire.

With iPads becoming ubiquitous on photo shoots, it's important to have a good way to keep them close at hand. The Wallee is a mounting system consisting of an iPad case as well as mounts that attach to tripod heads, C-Stands, SuperClamps, wall mounts, and more. Combine this with the Eye-Fi Pro X2 card (they're actually offered as a bundle from TetherTools), and you've got a fantastic iPad-based photo review tool. The Wallee case's versatility and smart design make it a great tool for any iPad-owning photographer.

Many photographers rely on external hard drives, but aren't always protected in case of hard drive failure. The Guardian MAXimus from NewerTech is a RAID-1 external drive system, which writes your data to two identical drives at the same time. This protects you from hard drive failure, and also gives incredibly high disk read speeds. It's equipped with Firewire 400, 800, eSATA and USB3 ports. Prevent data loss, enjoy high speed.

Get accurate color every time. Warm or cool your images in camera in a controlled manner. Create a color profile for your camera so it's always spot-on, and the Passport will slip into a small camera bag pocket so it's always with you. This color checker is an industry standard for ensuring what you photograph is what gets printed.

Get that flash off of your hotshoe and end the deer-in-the-headlights look. With Bogen's "Justin" clamp, you can mount your flash anywhere. On top of a lightstand or tripod, to a SuperClamp, or clamped onto almost anything you can imagine. It will also support your flash in a variety of positions on a tabletop or any other flat surface. In addition to mounting cameras, with the right adapters it can be used for GoPro cameras for behind the scenes footage of your shoots.

Nobody wants to lose something, but when we do we hold out hope that we'll be reunited with it soon. Labels on everything can increase the chances you'll see it again. Maverick Label makes two great products for marking your gear: the ready-made idMyStuff labels, as well as fully custom labels. Starting at $9.95 + shipping, the idMyStuff labels are a cinch to order and are perfect for labeling a few items. For a bit more customizability, Maverick also offers fully custom labels (http://www.mavericklabel.com/quoter.html) where you can specify the size, colors printed, background, material, and even supply the artwork or logo for the label.

The Leica D-Lux 5 Titanium is a limited edition kit that includes possibly the best compact camera out there today, the Leica D-Lux 5, in a titanium-color finished, and a special leather case. The D-Lux 5 is the perfect camera for the photo enthusiast, combining RAW image capture, full manual control, and a fast, 24-90mm lens that is f/2.0 at the wide end. Only 1,500 of these sets will make their way to the US. The D-Lux 5 excels where most compact cameras fail, especially in low-light situations.

The Leica M9 represents the ultimate in 35mm digital photography. It brings together 60 years of Leica M camera design with a full frame, 18 megapixel Kodak CCD sensor and the ability to use just about any of Leica's legendary M lenses. The M9's sensor has no blurring, anti-aliasing filter of the sensor and thus delivers image quality previously reserved for the rarified air of medium format cameras. Leica classic design meets modern technology, and it brings us the smallest full frame digital camera ever made.

Do you remember the first time you watched HDTV after years of standard definition? That is the same feeling you will get when you first look through Leica's Ultravid Binoculars. Fully weather sealed, the Ultravid series from Leica will change the way you see the world. Leica optics have never been better. Every photo-gear head enjoys good lenses and these do not disappoint.

Travelling with a tripod can be a pain. Not only are they heavy, but nearly impossible to bring with your carryon luggage. That changes today. The Gitzo Traveler series of tripods fold up small enough to fit in a standard rolling bag, and is sturdy enough to hold over 15 pounds of weight. Super-strong carbon fiber means the Gitzo 2-series traveler weighs only 3.8 pounds but expands to over 5 feet in height. The best tripod is the one you have with you, and you will not leave this one at home.

Nearly all photographers are familiar with HDR done in post processing, but what if you could do it all in camera? With Schneider graduated neutral density filters attached to a Lee filter holder, you can. With 3 stops or more of graduated neutral density available, the filter holder allows the glass filter to slide up and down to allow for precise adjustment of the affected area. The Landscape Control Kit includes both a holder and a 2 stop soft edge graduated neutral density filter.

Why does a camera bag need to look like one? Artisan & Artist camera bags are handmade in Japan, and look like traditional messenger bags. The outside is treated canvas, designed to resist the elements, and the inside is well padded to protect your gear. There are plenty of pockets available to store your extras, and a wide, comfy shoulder strap. Their bags come in a wide variety of styles, but for SLR and laptop storage, the ACAM-8000N is ideal.

As camera megapixels grow larger, the amount of our memory cards needs to grow as quickly. Especially with DSLR video. Show your photographer how much you love them with a high-performance memory card.

Like the video cliche goes, an audience will look at bad images, but they don't listen to bad audio. Help out your burgeoning video-making photographer with a Rode shotgun mic from B&H.

Two words: 35mm movies. Photographers love toy cameras. Photographers love analog. What will photographers really love? This new Lomography movie camera that uses 35mm film!

Think Tank Photo Gift Certificate
Don't know exactly what your photographer wants in a bag? Want to surprise them without asking exactly what they want?
Get a gift certificate from Think Tank Photo and let them have the pick of the bunch!

The administrative parts of photography are not our favorite. But getting a printer/scanner and knowing she didn't blow her last gig's paycheck to get it? Any photographer would be happy.

No one likes photographing in the cold. And we certainly don't want to lose our dexterity.
Get some gripped gloves so his fingers stay warm!

B&H is offering this 2TB Lacie hard drive

Everyone loves a great tote. Surprise your loved one with a photographer's take on Milton Glasser's classic "I Heart NY" logo.
Not sure why I want this light, but I do! I can see a ton of different uses for this light. I can't wait to get it and play around with it.

Everyone needs promo pieces and leave behinds. These have a much larger impact than a single postcard and the quality is excellent.

I HATE the camera straps that come with the new cameras. No one needs to know which model I have around my neck and Canon isn't paying me to advertise. Make the thieves work harder to know which model they are trying to grab! I've been using these straps and at least one of the ones I use now since 1990!

I finally replaced my old tripod after 20 years with a nice set of carbon fiber legs and figured the old 3-arm head could use updating too! I love the ease of using this head.
Every photographer should have a tool like this. It has saved my ass  more than a few times. Tighten a bolt on the tripod, tighten a screw, cut open a package, clean the dirt out from under your nails, trim a gobo or reflector, fix your car? This can do it all.

Since I started shooting more outdoor sporting activities, this filter has been indispensable! It is on my camera for almost every outdoor shoot I do, esp. when I am around water.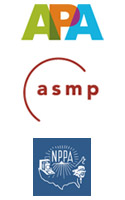 Professional Organization memberships
Every one of you should be a member of at least one professional organization. We need groups to lobby on our behalf and on our businesses behalf. If you don't belong, they won't exist and we won't have anyone to be our voice. They all have additional benefits and professional discounts. Sign up today!

Most of us by now own an iPad or iPhone. Instead of sitting awkwardly next to someone (i.e. and editor) while you show them your images on a slow loading computer, hand them your iPad with high res versions of your images ready. No waiting for your images to load and it's a much more personal and engaging way of showing off your portfolio to anyone! Foliobook is also by far the most professional and customizable portfolio app out there.

These can come in handy for almost anything from a backboard remote camera to an extra hand when shooting your own family portrait. Make sure to pick up some safety cables at your local hardware store along the way as well if you plan on setting up your camera in high places!

Great for sports or news! Keep the local authorities happy while on the scene of a fire without losing a picture. And for sports such as football, you'll start seeing little moments from a play that you might've otherwise missed because you didn't have the reach.

The ThinkTank Modular Component Set is perfect for anyone constantly changing lenses! For those of you who don't have the money to spend on an extra camera body, this is definitely for you as well. It's semi-hard case allows for protection of your gear while also staying lightweight.

The pro speed belt allows you to easily adjust and customize the location of your lenses around your waist. And the best part? The pouches are weather sealed and come with a built in rain cover!

Your Logo – on anything! – $60 (approximately)
Your local embroidery store can digitize your logo (approximately $50) on a CD. Once you have that file, you can email it to family members or friends and they can have it printed anywhere on things like t-shirts, hats, or your camera bag for around $10 each. So instead of wearing that vintage Metallica t-shirt to cover your local high school basketball game, you can wear a nice collared shirt with your company name on it. It's much more professional looking than screen printing and will last much longer.