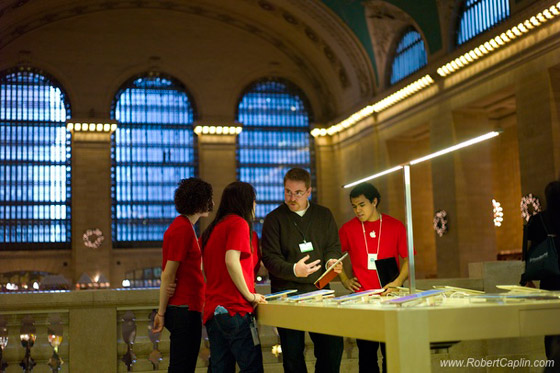 Manhattan-based freelancer Robert Caplin photographed a press preview of the new Apple Store in New York's Grand Central Terminal.
Yesterday I had an assignment to photograph a press preview of the brand-spanking new Apple Store which is opening tomorrow in New York's Grand Central Terminal. I was amazed when I found that the store wasn't tucked away in a traditional retail location inside the terminal, rather the store is perched overlooking the main hub and busy concourse .  As in most Apple stores, there are sections devoted to handheld devices like the iPhone, iPod and iPad, as well as accessories, desktop computers and the company's signature Genius Bar. But there will also be express pickup stations where people can pick up Apple products that they've purchased in advance. Apparently it's the biggest store in their international chain and will employ 315 workers. I'll let the photos do the talking. Too bad Steve Jobs wasn't there to see it!
See more photos on Robert's blog.