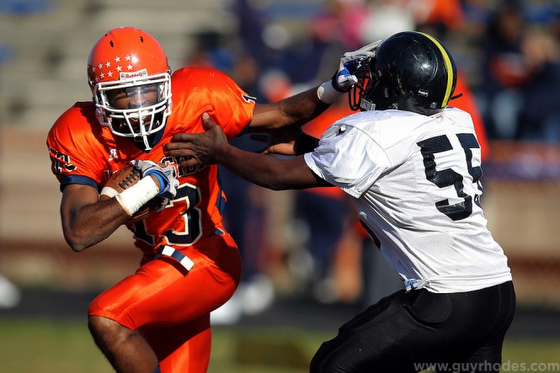 East Chicago, Indiana-based photographer Guy Rhodes shares some of his favorite high school football photos of the year proving you don't need to pro sports to make great images…in fact, it's better!
With the fall theater and concert season ramping up (and lighting design work taking a front seat for the next month or so), my photography work on the sidelines of high school football games came to a close this evening for the 2011 season — one that was quite enjoyable and yielded some very diverse images.

Perhaps the challenge of shooting 100% available light (I absolutely abhor on-camera flash for night football) in some of the worst lighting conditions imaginable is what keeps me excited about Friday night football? Perhaps it's having a front-row seat to the best moments of student athletes' sporting lives, most of whom will never play on another organized football team ever again following high school? Or, perhaps it's the adrenaline rush of dodging a physical attack from a dejected football player (still in full pads) who realizes I'm photographing his upset teammates?

There's one definite realization I solidified within my mind this high school football season, one that I would have rolled my eyes at just a few years ago, despite reading the same words from veteran photographers many times: You don't need professional athletes as your subjects to produce professional, dynamic sports images. Just because Peyton Manning is in a photo doesn't make it aesthetically or technically better than a peak-action image of a high school player you've never heard of. Don't believe me? Here's a few reasons why it's easier to come away with great images from a high school football game (or any sport, for that matter):

For starters, the access is way better. Want to shoot from behind the bench as an offensive coach goes over plays in a huddle? Go right ahead! As long as you're not in the way, chances are you'll be able to get a behind-the-scenes view of the game that the fans can't see from the bleachers. Try shooting behind the bench at an NFL game, and get back to me on how quickly your credential was pulled.