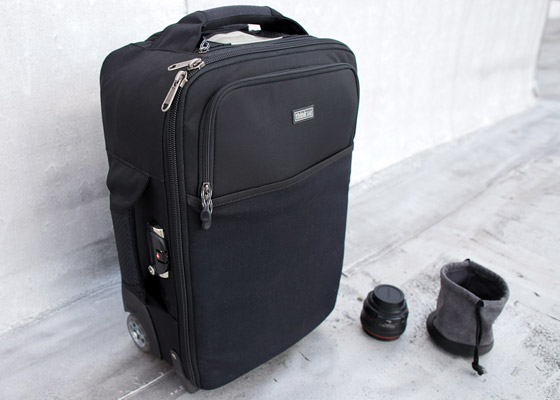 Brooklyn-based freelancer Noah Gilbert gives the Think Tank Airport International V 2.0 roller a Photo Brigade quality review.
Carrying my camera bag was finally taking its toll on my back and it was time to let go of the shoulder bags. Over time, the weight of a heavy shoulder bag was compressing my spine and really imposing itself on my middle and low back. I decided to get some more longevity out of this back of mine and acquired a think-tank roller for my primary gear. Specifically, the International V 2.0 model.  It's a relatively small bag (Small enough to be approved for carry-on nationally and internationally) yet it accommodates up to a 500mm lens. Impressive, so far.
I know that Think Tank has built a solid reputation in the photo industry and I was looking forward to seeing if they earned it, by trying to find all the flaws I could with my recent acquisition…
Like most Think Tank bags, at first glance, they're hardly recognizable as photo bags – which is a good thing considering many of us carry thousands in gear at any given time. Upon closer inspection, I noticed right away, the build quality and materials Think Tank use are above average. Finding flaws in design or materials just isn't going to happen. The stitching is impeccable and barely noticeable. Just grabbing and pulling on the external fabrics gives you an idea of what the tensile strength must be. These bags are no joke.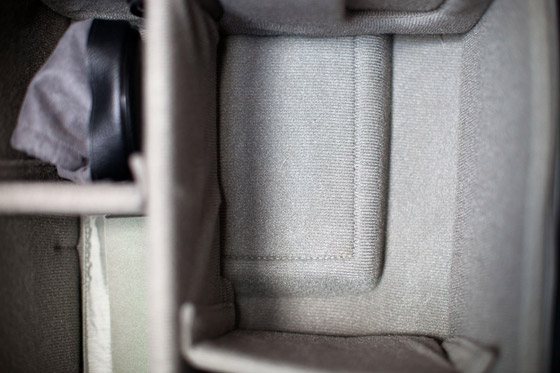 The next thing I noticed is that they do a great job of maximizing space and making this bag as efficient as possible. I've got a 5D MKII, 24-70 2.8, 70-200 2.8, 24 1.4, 50 1.2, and two strobes in this bag and it's not even close to full. Pass me more gear…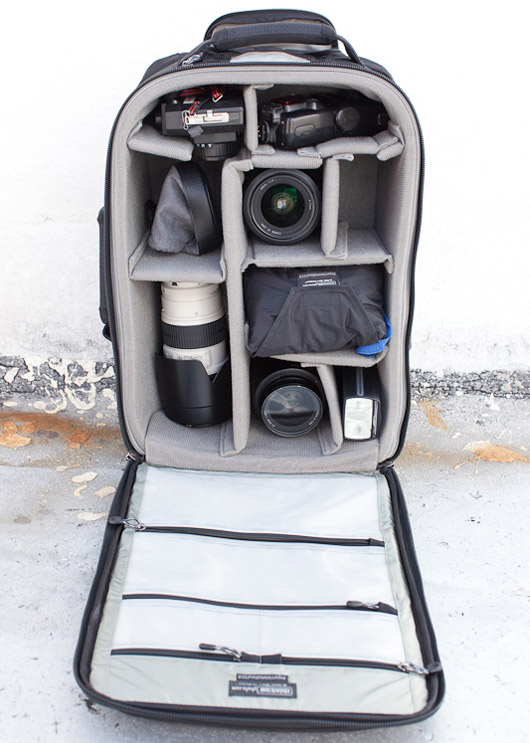 Another nice feature is that the housing for the telescoping handle is integrated very well on the inside of the bag, not exposed to potential breakage. The inside-back of the bag contours beautifully and in one piece around the handle and allows for a more snug fit near the barrel for the larger lenses.
Storage capacity is excellent for peripherals and there are a plethora of compartments on the flap, internally and externally – for filters, pocket wizards, cards, batteries, cables, gaff tape, small tools…etc…etc…and they can be as specific or as versatile as you want them to be.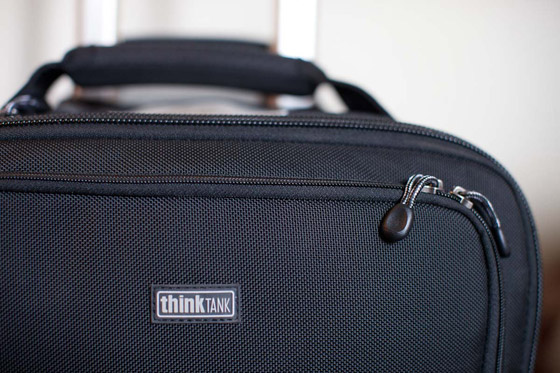 YKK RC Fuse zippers (Zippers that actually have thread bonded to them for increased strength) are embedded with precise detail and build quality that is clearly above average. The plastics are thick and tough – they're not going to tear or crack anytime soon. This is one of those rare products where design and execution are equally successful. This Think-Tank bag is rigid and stiff without being hard and unforgiving like an aluminum case. It's an excellent balance. The fabrics inside are soft and well put together for a nice home to any piece of glass. The Velcro is tenacious and does not budge when the bag is rattled. The thought and the amount of detail put into these bags is incredible. I love the handle on the bottom of the bag between the wheels for pulling out of an overhead compartment on an airplane. Sounds simple, but not all bags have that and it's a really great feature to see.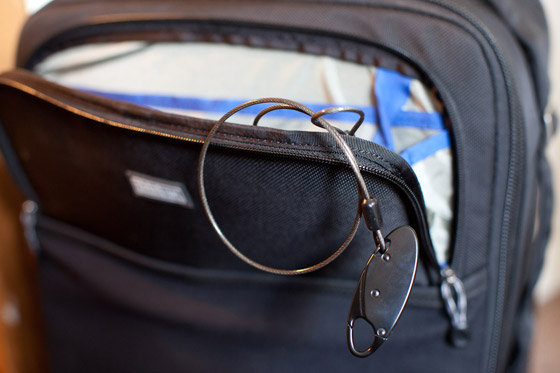 The bag comes with 3 locks. One for TSA's (Keep their fat little fingers outta there), one for locking a laptop to your bag (Yes, they went there), and one in the back to secure it to static objects (Preferably large ones). The cables are dense and solid and as thick as possible, given the bags lightweight. There's documentation and instructions on how to set and reset the locking mechanisms…plus online videos, which really simplify the process.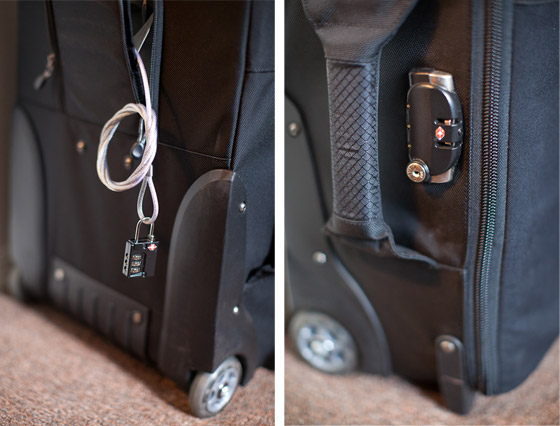 I was also pleasantly surprised at how light the bag is (9-11 pounds dependent on configuration) based on the quality of construction.  Even at its max weight, the wheels roll smooth and handle the weight very well. The wheels are also replaceable and Think Tank will provide a free kit to swap them out if need be. That, is impressive and the wonderful sign of a company that backs their product.
There's very little flex in the structure / chassis of the bag itself, which instills confidence over rough terrain. There is a bit of flex in the telescoping handle, but that's to be expected of any bag and it is suggested to always lift from the bag, not the handle. That's just good practice in general.
One minor criticism – a little more padding on the back between the inner shell and the gear would have been nice, but I'm sure they had to keep it thin so it would be possible to achieve the lightweight and international carry-on requirements.
At $350 for this bag, it's a bargain. True, it's not the cheapest bag on the market, but it's by far the best value. I feel it's quite inexpensive if you consider the quality, functionality, and durability of this Think-Tank bag. My guess (And I'll find out soon enough) is that you can go through 2 or 3 bags in the time it would take to wear out one Think-Tank.
Well, after my first trip out with the bag, it performed exactly as it should. No issues and no callouts…damn you, Think Tank – I can't find any faults…yet. Long-term update to follow. The bag will be heading to Europe with me in a few months…will it live up to it's name? Will it handle the long-term use of Freelance photography in New York City? Check back to see…