Brooklyn-based freelancer Michael Rubenstein reviews the Think Tank Airport International Roller V 2.0 and explains how using one can save your back.
My name is Michael and I'm a bag whore. It's true. I admit it. At last count there were around 15 camera bags in my tiny New York City apartment. So what do I say when Robert Caplin asks me to review a new Think Tank bag? Do you even need to ask? Who needs a living room, right?
Seven of my 15… errr 16 bags now sit on a shelf in my studio. Five Domke and two really nice Billingham shoulder bags don't really move these days. Why don't I put my fancy cameras in them and take them to jobs? Because my back hurts, that's why. Unless I have a young burly assistant to haul them in and out of my fourth floor walk up it ain't happening. My spine looks like a cork screw.
7 years as a professional  photographer (damn time flies) have effectively destroyed my back. Heavy shoulder bags are the culprit according to my chiropractor. He's advised me to keep everything off my back.
Check out the x-ray and before you ask, yes, I'm standing up straight and yes your back probably looks like this too.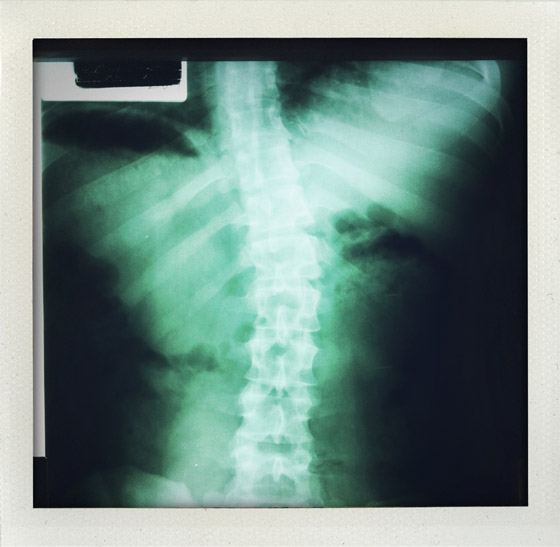 So now I have a Think Tank roller bag to review. Perfect. I have an old Airport Security roller from Think Tank. I got it five years ago before I moved to India and it's still with me. It still rolls, doesn't have any holes in it and looks pretty nice. The old bag is great, you know what the problem is? Airlines.
Airlines have made their carry-on sizes smaller. Thanks Continental! Thanks Delta! You suck. The Think Tank Airport International V 2.0 is about 2/3 the size of my original Think Tank and it fits in all the airline size checkers. I love that. It fits on the back of my motorcycle. I love that too.
Lets start with how much stuff you can fit into one of these bags.  For a simple portrait I'm using Canon 5DMkII's these days. I'll stick two of them and three or four lenses into the Airport International along with a couple of batteries and two Quantum Q flashes. Perfect. Tie a couple of light stands to the side of the bag and I've got everything I need for a shoot all in one little roller. Stick it on the back of my motorcycle and I'm on my way.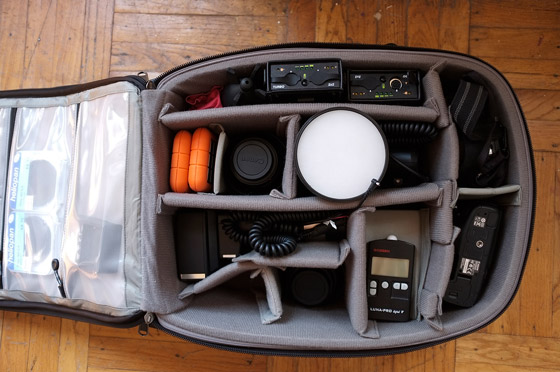 For a more serious portrait I'm either using a PhaseOne P45+ on a Mamiya RZ or my Rolleiflex's. The RZ's take up a little more room and I was worried that the kit wouldn't fit. Wouldn't ya know, this little bag can handle a lot more stuff than I thought it could. With a little fine tuning everything fit in there. Check it out.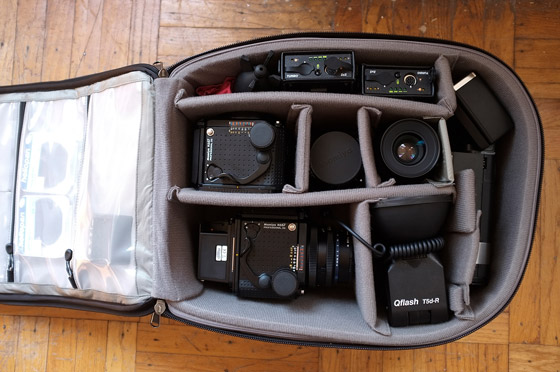 With the Rollei's it's a little more of a challenge. I have to bring four with me when I shoot because they are old and fragile and most of the time I end up breaking one. Happens every time. So I've got four Rollei's, film, meter, handle flash and film. Yeah, film. They all fit. I even stuck a Maimya 6 in there with a 50 on it for the wide stuff. Perfect.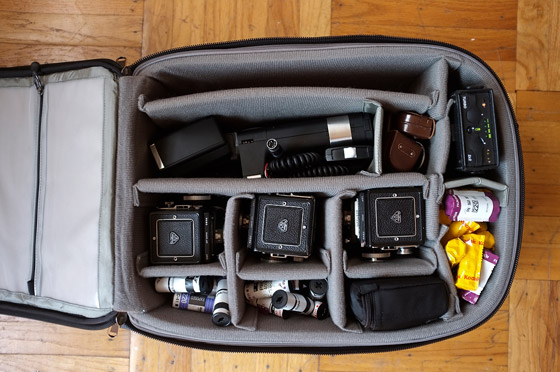 If you've owned one of these Think Tank bags before, everything is pretty much the same. Same grey Velcro inserts. Same pockets for your stuff in the front, passport, ticket, keys, memory cards… all that stuff. Same clear pockets inside for batteries and filters and the like. The bag is familiar. The only differences I could find are the wheels, they are more like roller blade wheels now, and clear. They seem better. I've had the bag for a little more than a month. I use it just about every time I go out and so far I like it. Anyone want to buy some shoulder bags? Please?