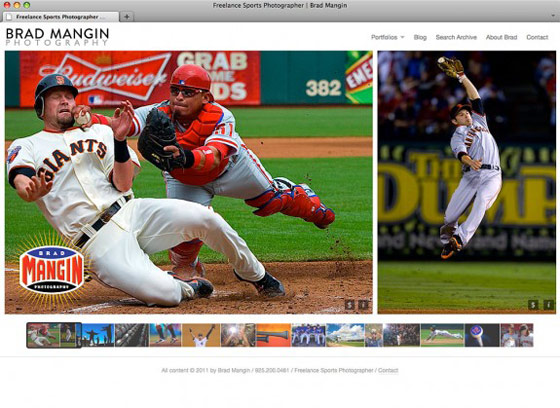 San Francisco Bay Area Sports photographer Brad Mangin explains why he's redesigned his website to be 100% Flash-free.
I recently made the decision to go in another direction with my website — away from an entirely Flash-based portfolio — to something done completely with HTML. In the past few years, I realized that I would be better served with a more flexible system that can grow with me, my business, and the evolution of technology. My Flash website, which at one time seemed like cutting edge stuff, was showing its age and limitations.

It was time to move on.

I am certainly no stranger to the web. In 1998, I used Adobe Pagemill to maintain my first website (built by life-long friend Joe Gosen.) This site did quite well in it's time, but since it was entirely in HTML it was difficult to update. I needed an easier way.

In 2005 I moved away from HTML, and fully embraced Flash. I bought a liveBooks website, and was thrilled with how easy it was to update. The pictures were large, and the images moved on the screen. The interface seemed easy to use, and the people at liveBooks were (and still are) great, helpful people.

Within a few years, I started to see limitations. The first one being that I couldn't integrate my online image archive. My archive, which as of this writing has 51,240 images in it, was awkwardly disconnected from my portfolio. I put so much effort into filling up my archive, and I felt it deserved to have more visibility.
Continue reading on Brad's blog.