Washington, DC photographer Jay Westcott reflects on transitioning from being a staff newspaper photographer to a freelancer and then back again.
I ran into a buddy a few months ago at an alumni event for my school, the Corcoran College of Art and Design.  We were chatting with the PJ program director and talking about work, of course, because the program director wants to brag to the new kids what alumni are doing.  I had just started a couple months prior as a staff photographer at Politico, covering news and politics on Capitol Hill and the White House.  We chatted about the staff opportunities in photojournalism and how they are diminishing.  My friend thought for a second, and with a look of sudden realization turned to me and said, "do you realize you've had FOUR staff jobs?"  "No, five," I said.  "And I freelanced for 3 years, too."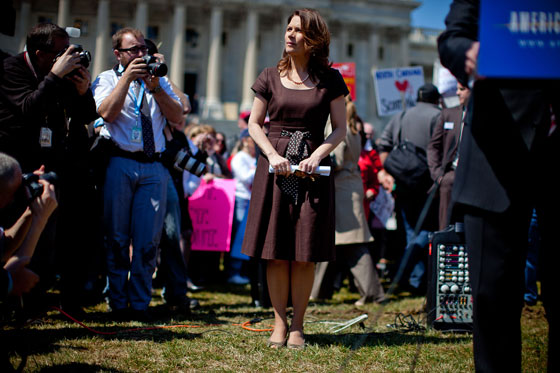 While I was studying Photojournalism at the Corcoran, I interned at Scripps Howard News Service here in DC.  On a lunch break one day, I photographed the aftermath of an armed robbery where the suspect had been shot in the knee by an armored car security guard.  I sold the pictures to the Washington Post and a few months later, while still a full time student, I started my first staff job, a photo tech and assistant picture editor at The Washington Post.  9 months later there was an opening at what would become The Washington Examiner.  I had interned there a couple years before and had stayed in touch with the staff.  I was offered a position as a staff photographer so I jumped at the chance to shoot every day.  Score staff job number two!
I worked at the Examiner for two years, covering the entire range of newspaper photojournalism: community news, politics, features, sports, you name it.  I shot 3 assignments a day, and if I didn't have 3 from the director of photography I had to make up my own assignments.  Then one Thursday afternoon at the end of January 2007 I got a phone call I never expected to get.  "We need you to come in for a meeting with H.R. tomorrow," the managing editor said.  I knew exactly what that meant, and of course the next day I was laid off.  The last one hired, the first one fired.
I quickly found work as a photo editor for a medical publisher in Maryland.  It was 9 to 5, Monday through Friday and I sat a desk all day.  It was a decent job, but not exactly what I pictured doing not even two years out of school.   And the commute was terrible.  I spent 3 1/2 hours a day going to and from work.  I would get calls from people asking me to freelance and I couldn't take the assignments.  After six months of editing pictures for such stellar visual publications like Skin and Allergy News and OB/GYN News I decided to make the leap and freelance full time.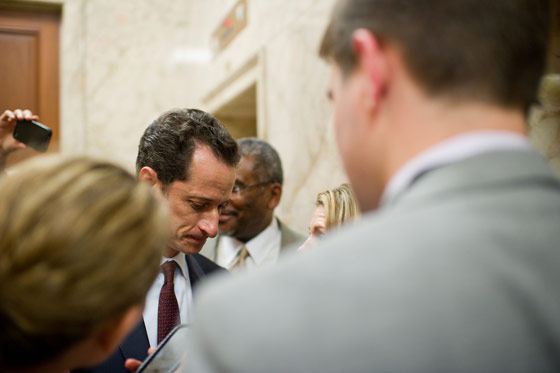 Deciding to freelance full time was the scariest/happiest/craziest thing I've ever done.  I had friends that freelanced full time and figured if they could do it, so could I.  There are definite pluses to it.  I loved working for myself.  I loved coming back from an assignment and blowing the editor's mind.  I loved shooting self-assigned projects and pitching them to clients, turning them into a paycheck.   I loved not having to go into an office.  I loved being able to go for a two-hour bike ride on a Tuesday afternoon if I wanted to.
There were definite down sides, too.  I hated chasing down clients that were slow to pay.  It shouldn't take 5 months to pay me for an assignment, mister boutique photo agency owner/editor.  Turning your cash flow problems into MY cash flow problem is not cool.  I hated December.  Three years of freelancing and I never had one assignment in December.  Not a one.  I hated changes that were beyond my control.  A new art director comes in and poof, five or six assignments a month disappeared.  That was $2-3K a month, gone.   So you go out and find new ways to make money and new clients to impress.  It's a definite hustle, that's for sure.  Sometimes you're the pimp, and sometimes you're the ho.
In late 2009, after two and a half years of freelancing, I started looking for another staff gig.  I found an opening at a small paper in western Virginia and thought that it would be a great opportunity to get back to the daily grind.  Running and shooting three, four or five assignments a day forces you to think fast and make decisions on the spot and I liked that challenge.  Plus, the area was beautiful.  Near the mountains but still a decent drive to see my daughter.  It is also less crowded and has a slower change of pace.  At the time I felt I like I needed that.  I applied and interviewed for the gig and was told by the hiring manager that I was the guy.  Then I got a phone call two days later that I wasn't the guy.  I was crushed.  I had started looking at places to live and all the stuff you do when you are looking to move and get a new job.   I spent a couple days getting over it and forged ahead with a new project, energizing my creativity and refocusing my goals as a photographer.  I decided to combine my passion of cycling with my career as a photographer and work on an essay about an amateur bike racing team in Arlington, Virginia.  I continued to work on the project for the next 4 months as often as I could, in between paying assignments for various clients.  By June I had a project worth showing to editors.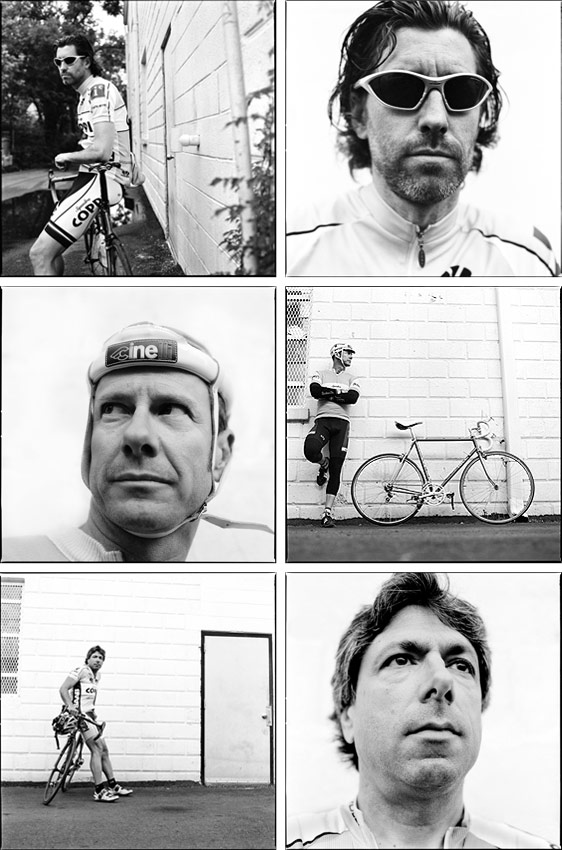 One of those editors happened to be hiring for a staffer.   I spotted an ad for a still photographer at some to-be-launched website at a local TV station.  The ad seemed a little vague but I was intrigued.  I applied and a few weeks later I was called in for an interview.  It was the strangest interview I have ever experienced.  The person I had been corresponding with was actually the Arts Editor and he led me to an office with the Editor in Chief.  Three other people came in, not introducing themselves, and sat down looking over my portfolio while the EIC rapid-fired questions at me.  Then questions came from every direction.  "How would you photograph me here, in this office?"  "How long would it take to turn around an assignment?" "How many food shoots could you do in a day?"  This went on for about forty-five minutes until I was asked to submit a writing sample.  I was given thirty minutes to write something.  Anything.  "Here's a computer, write."  Ok.  I churned out a quick story about a bike race I had competed in the day before and finished 600 words before my thirty minutes were up.  I left feeling dazed and confused, to say the least.  A month went by and I hadn't heard anything.  I chalked it up as just another weird experience in my career and didn't think much of it until I got an e-mail from the Arts Editor asking me if I was still interested.  They had questions about how serious I was and wanted to know if I still wanted the job.  "Absolutely," I told him.  A week later, on a Saturday night, I got a phone call from the Editor in Chief telling me that I got the job.  His exact words: "You won."  I started the following Monday as the lone staff photographer for TBD.com, a new, local news organization that was web-only.  It was awesome.  It was the ideal job for me.  I had the independence I liked, generating my own projects and ideas but still had assignments from others and worked hand in hand with reporters.   One of the things that landed me the job,  I was told, was my ability to work on projects and handle daily assignments, which my portfolio reflected.
For the next seven months I worked crazy hours and did crazy things, like producing a video about the drunken mayhem that is Adams Morgan on a Saturday night.  I produced a time-lapse at the Washington Redskins season opener.  I photographed a couple of portrait series on the attendees to the Glenn Beck rally and then the Jon Stewart rally.  I shot video, I gathered audio, I shot stills.  I was even interviewed on television about my work.  And then one day, poof, it was gone.  I got that familiar tap on the shoulder and "can you come into my office?"  Just like that, 12 of us were let go.  TBD.com was changing it's emphasis to arts and entertainment only and the need for a full time staff still photographer was not there.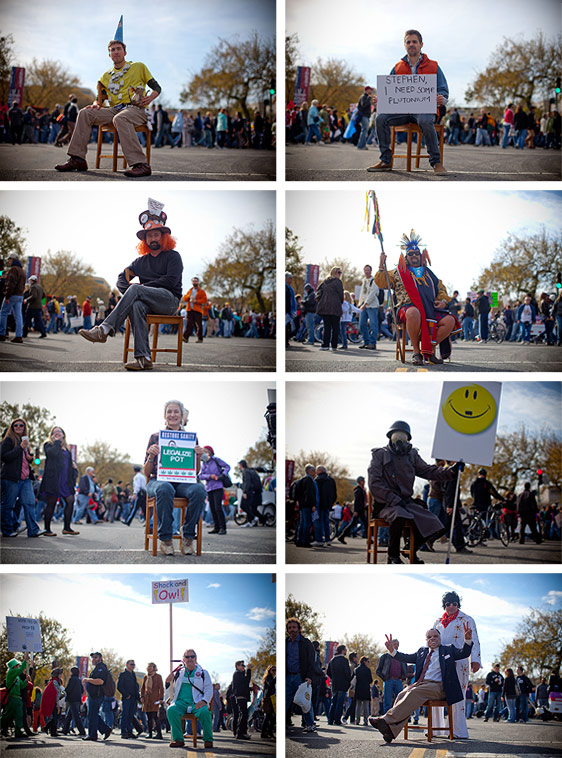 Luckily, across the newsroom at Politico (TBD, ABC-7 and Politico are owned by the same company), there was a need for another staff photographer.  Two weeks after being downsized from TBD.com I was brought on at Politico.   Politico and TBD couldn't be any further apart in their focus and coverage.  TBD was all about local news and how it impacted the different local communities.  Plus, the quirkier the story, the better it fit.  And don't let me forget the snark factor.  Every story had some level of snark to it that frankly I wasn't used to.  But it worked, and worked well.  Or so I thought until I was laid off.   Politico, on the other hand, covers all aspects of politics and government.  I got the opportunity to return to covering government, which I fell in love with when I was an intern in 2004 for Scripps Howard News Service.  I occasionally covered Capitol Hill for the Examiner, but it was few and far between.  Politico is all about it.  We are on a national stage, as our reporters and editors are featured on a variety of news channels on a regular basis.  Our website is one of the highest visited websites out there for politics and news.  The President reads our morning e-mail update.   To be a staff photographer here is a big deal, one I don't take for granted.
My first assignment as a staffer at Politico was to get a shot of up-and-coming freshman Senator Marco Rubio (R-FL).  After spending a few months getting his feet wet in the Senate, the Tea Party favorite stepped into the spotlight in a national interview and called out President Obama, fellow Republicans and the "establishment."  The story looked at the near blitzkrieg-like assault Rubio launched on the debt debate and how he was going from being a virtual unknown to a rising star.  I found out he was on his way to a committee hearing and staked out the location.  When the door opened and he started stepping through, I made the picture I wanted.  And I made the front page the next day.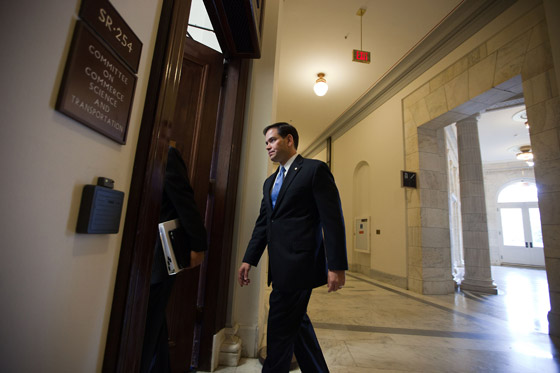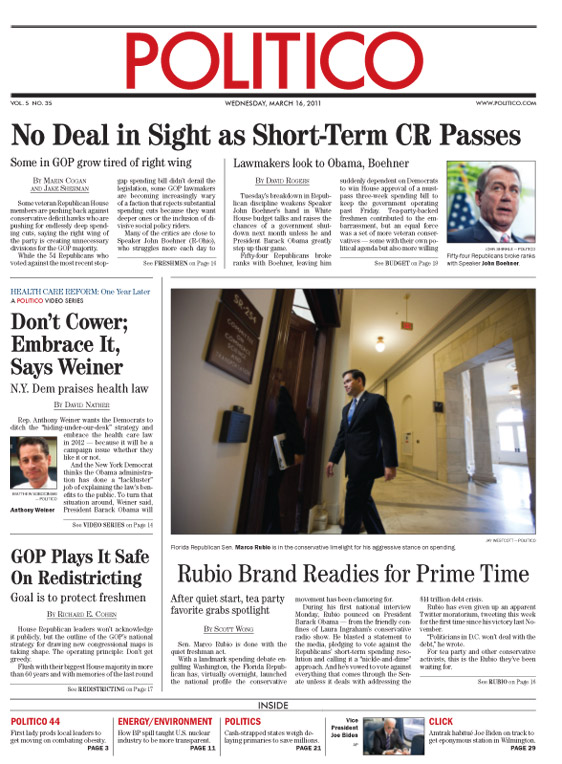 Things I love about being a staffer:
– My gear was purchased just for me with someone else's money.  I got to pick out what I wanted, the paper paid for it.  35mm 1.4, 85mm 1.4, 300 2.8,  all mine to use.
– I get to see the results of my efforts right away.  Photos go up on the web very timely and then the print edition comes out the next day.  And its AWESOME display in print.  I love seeing a two-page spread where the story makes room for the photos.
– I have a great boss that has been in the biz for 13 years.  He has a great eye and I have the best working relationship with him I've ever had with a boss.  I'd do anything he asks of me because I know it's for the best and will be great.
– I'm not trying to come off as an egomaniac when I say this, but I'm documenting some pretty important stuff when I'm on assignment.  When I'm covering all aspects of Congress I am documenting history being made.  That's kinda cool.  I like the challenge of making images that will stand the test of time.
– My office, which I go into on occasion, is a 10 minute walk from my apartment.  That rocks.
– I can freelance for TBD and ABC-7 covering sports, so I shoot Redskins football and Nationals baseball games.  I get to keep my sports skills sharp and make a little extra money.  I love it.
– I get paid every two weeks.  On time.  Direct Deposit.  Every time.
– I just had surgery on my hip to repair a torn labrum and to fix a condition called FAI (Femoral Acetabluar Impingement).  The bill was over $20,000.  It was 100% covered by my health insurance that my company provides.  My insurance when I was a freelancer was crap and wouldn't have covered this surgery.
There may be downsides to being a staffer, I just haven't found one worth writing about yet.  Yes, one day I had to go out and take mugshots of buildings, but the next day I was on a train to New York to shoot portraits of comedian Seth Meyers of SNL.  Are you kidding me?  I have nothing to complain about.  Nothing.  It's a sweet gig and I couldn't be happier with it and where I'm at in my career.  I feel like I have the best job in the world, period.  Even if it is my 5th staff job!