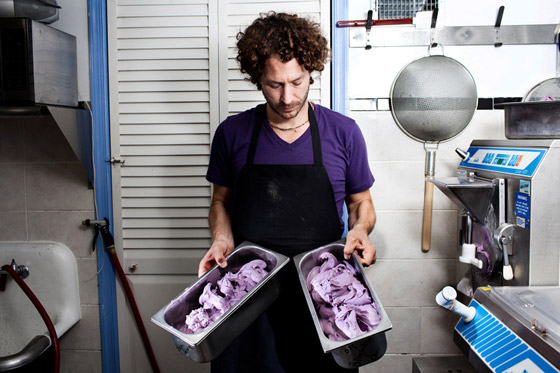 DC-based freelancer Melissa Golden photographed a story for the Wall Street Journal about a master gelato artisan.
Gelato is a magical thing. It tastes richer than ice cream, but it's half as bad for you.  It's my frozen treat of choice, so when I got a call from the Wall Street Journal asking me if I could photograph a master gelato artisan, I was pretty excited.  Robb Duncan and his wife Violeta own and operate Dolcezza, a small chain of cafes in the District that specialize in really remarkable gelato.  This was a pretty hands-on shoot and I got to try almost all of the flavors and I can personally vouch for the deliciousness and creativity of the offerings.  Most of the flavors are seasonal, based upon the best offerings that the local farms and farmers markets have at any given time.  Dolcezza works closely with area food producers, which was obvious as we walked through the Sunday Dupont Circle Farmers Market.  Robb and Violeta know everyone and everyone knows them.  They themselves are vendors at the market.
Continue reading and see more photos on Melissa's blog.