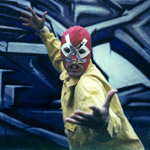 Sol Neelman
is a failed athlete turned sports photographer living in his home city of Portland, Oregon, USA. In 2007, he left his staff job at The Oregonian to pursue a life-long project documenting sports culture around the globe. In July, 2011, Kehrer Verlag in Heidelberg, Germany published his first book, "Weird Sports."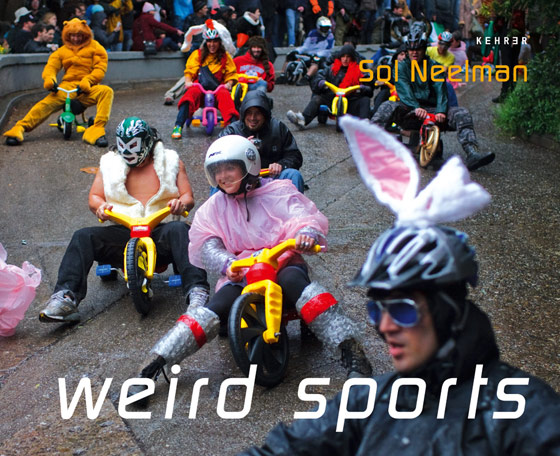 My book project Weird Sports really started back in 2005 when Tiffany Brown dragged me to Geekfest Austin, hosted by aphotoaday's Melissa Lyttle. I had zero idea that weekend would change my life. In Austin, I was surrounded by passionate, über-talented photographers who were fun to hang with. It wasn't like attending a stale Flying Short Course, where rockstar speakers seem remote and aloof. This photo retreat was inclusive, supportive, inspiring, and kind of what I always was looking for – and seldom got – from the newspaper world. We made photos that weekend just because. We created images for ourselves, not for an assignment, or to fill a hole in the paper. They were images to make us laugh, images that made us think. I could wax on more about this weekend, but let's just say it rocked my little world. Even though I'm a failed athlete, I've always loved sports and sports photography. I learned that Austin was experiencing a roller derby renaissance, which seemed pretty sweet and photogenic. This was back before every suburb had derby teams. Just a small handful of cities in the U.S. had leagues. Austin had two. Though I passed over a chance to photograph one of the Austin derby leagues that weekend in favor of a biker rally, I did some research and found that Seattle had a league. I drove up from Portland a few weeks later with a buddy for a game and made photos for myself. I had a blast. I wasn't trying to make photographs to appease a newspaper editor. I was making photos for myself. It was so liberating. That entire experience changed my attitude about photography. No longer was I worried about what ran in the paper or what someone else thought about my photography. As long as I was happy I was good to go. Two years later I quit my staff job at The Oregonian. I really needed a change, though quitting a day job was scary as shit. One of the great things about freelancing – for better or worse – is that I'm my own boss. I had already started looking for fun sports to photograph. And now I was looking to make it a full-time obsession. That summer I traveled to Georgia with a pack of newspaper photo friends to shoot The Redneck Games. We all had such an amazing time.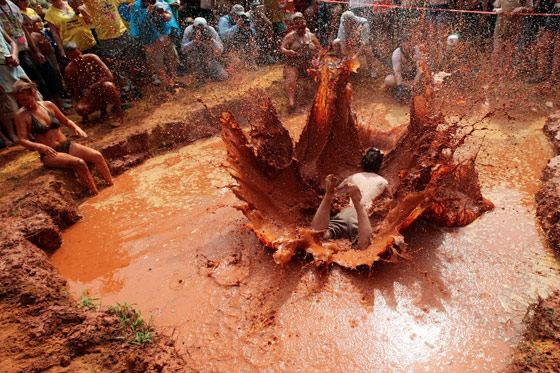 I missed the street cred that came with saying I'm shooting for a newspaper, something people instantly understood and trusted. Not sure if it was then or not, but when folks asked me who I was shooting for, I'd say I was working on a book project. I never really thought I'd have a book published. You kidding? Especially on weird sports. But I knew I had found my niche, my passion. I tried pitching my project to magazines, but without luck.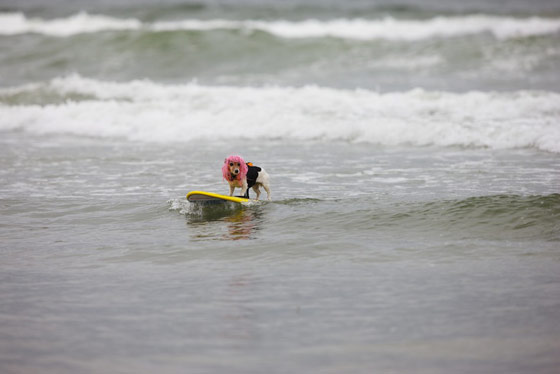 I kept moving forward, doing some commercial work and weddings to pay my travel and living costs. A year or two ago, I started thinking more seriously about finding a publisher. One of the events on my radar was the annual Frankfurt Book Fair, the largest one in the world. It's held each October. I didn't really expect to show up at the book fair and find a publisher. I didn't know how else to do it.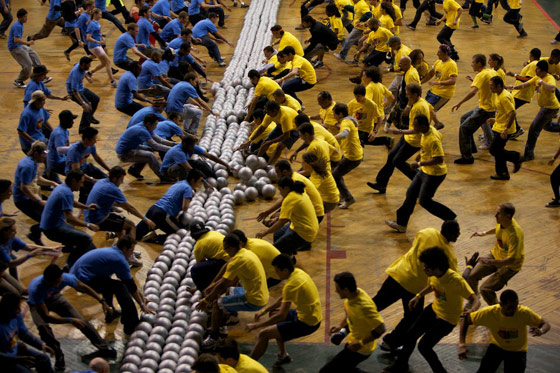 One thing I'd noticed is that Europeans love when Americans do stupid shit. Yeah, they love weird sports. I thought I might have a more interested audience going to Europe, instead of NYC, where I'm just some schlomo from Oregon. Long story short, I showed up to the book fair with an Apple Aperture book with about 100 images. The body of work, edited by Mike Davis, included all aspects of sports culture, both weird and normal (e.g. football, baseball, Olympics). This fair is truly monstrous, five days, more than 7,000 exhibitors from over 100 countries, and more than 286,000 visitors. I found the airport hanger-sized hall where I'd most likely find photo book publishers, most of which I'd never heard of. I wandered the aisles with no expectations, asking people in booths about how they chose photo books to publish, exchanging business cards and taking notes. Some would look at my body of work. Others blew me off. I came across a medium-sized booth for Kehrer Verlag. When their acquisition editor, Alexa Becker, asked me what I photographed, I said weird sports. "Oh yeah, I know your work." Say what? Turns out, Alexa was a judge for a book contest I had entered that summer called Critical Mass, something friend Matt Eich encouraged me to enter. She remembered my body of work and even my mission statement. I was floored! Alexa was the only person at the book fair to look over my entire book, from front to back. She asked questions and answered mine. She encouraged me to focus on just weird sports, because it was more fun – and more marketable. She told me about the financial aspect of getting published, that I'd need to fundraise to have a book, which I already knew from Eich. Thankfully, the stars were already aligning. I had just scored a monster commercial job for an Oregon bank. I told Alexa I felt I could handle the financials on my own. She told me to email her after the fair and they'd send me a letter of intent. I didn't realize it until later, but I walked out of there with a book deal on my very first morning at the book fair. I sensed something great had happened, though, and grabbed a bier to quietly celebrate and reflect. I spent the rest of the weekend trolling for other offers, but to no avail. That was actually fine by me, because I really liked Alexa. I liked her energy, her honesty, and her enthusiasm for my work. I only needed one publisher and none of the other ones interested me nearly as much as Kehrer.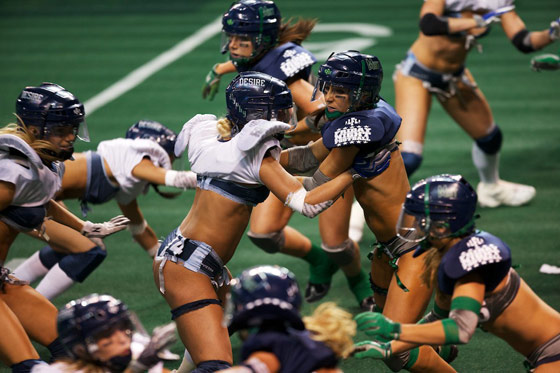 At the time, I felt I was close to being ready to publish my book, but I wanted to make a final push. Mike and I edited my weird sports collection down to about 70 images. I wouldn't be able to pay for the book until the spring, so that gave me some time to add new photos into the mix. If I wanted to be included in the European 2011 Fall catalog, I needed images turned in by May. (I like deadlines.) Kehrer scheduled the publishing of my book for the final week of June near their office in Heidelberg, Germany. I flew there to supervise last-second changes and color correction. I also got to meet the wonderful people I'd only exchanged emails with. Klaus Kehrer, the main hombre, is charming, passionate and funny. Everyone there asked my opinion on literally every aspect of the book publishing, from book size, to layout, to fonts, to printing material. I signed off on every aspect of my book. It felt like I was renovating my condo again, choosing colors for my walls and material for my floors.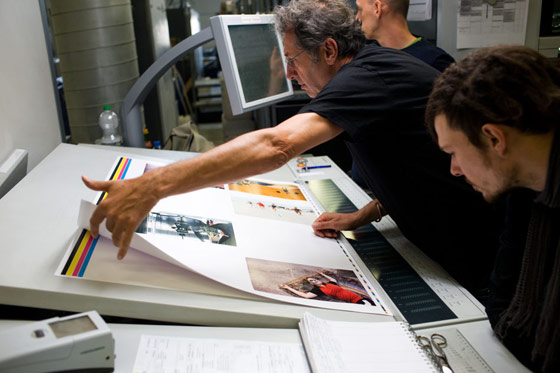 Thankfully, not only are the folks at Kehrer cool, but they also know what they're doing. My designer, Katha, is awesome. (She better be thinking already for Weird Sports Vol. 2.)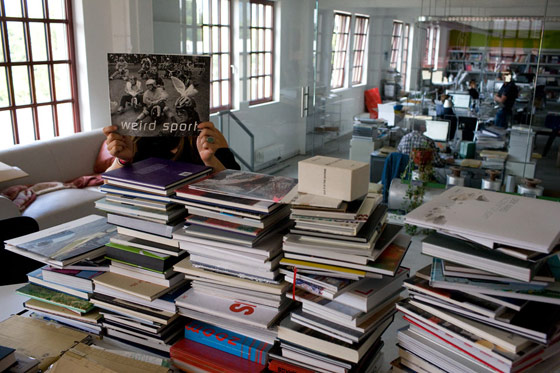 Friends have asked me how I published a book. And I tell them I don't know how I did it. Many stars had to align for me to get to this spot, from Austin to Seattle to Frankfurt, and everywhere else in between. It required a vision, killer clients, patience and luck. My entire career has had a weird path. I have no idea where I'm going with it, but whenever I look back, everything along the way put me in position to take advantage of an amazing, unexpected opportunity. I still can't believe I have a book. But having just received a half-ton of books the other day from Germany, it now feels real. Very weird, but also very real.