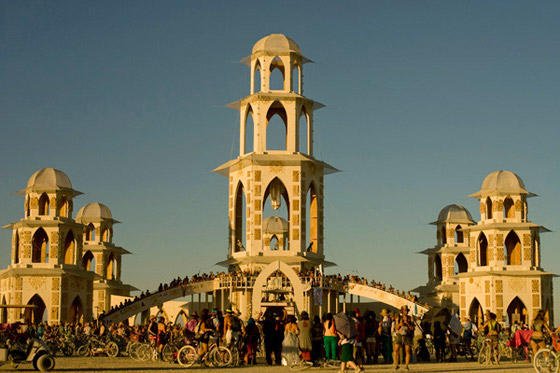 I went to Burning Man for a break from the normal and I returned a much different individual.  Never before have I experienced a more welcoming community like Burning Man.  It's by far one of the most unique experiences out there, though it's not for everyone, that's for sure. However, if you are willing to let people be, it will be a rewarding experience.
Whether you make several thousand images or not a single one, go to Burning Man.  It's well worth every frame, roll of film, dollar, mile, and day you spend to become a Burner.
For those unfamiliar with Burning Man, it's a weeklong yearly event where 50,000+ "Burners" descend to the unforgiving Black Rock Desert in Nevada to create "Black Rock City".  Attendees come from all around the world to create the community known as Burning Man.  Upon the week's end the community is gone and there is nothing left of the all that went down, and it returns to the drab desert until next year's Burning Man.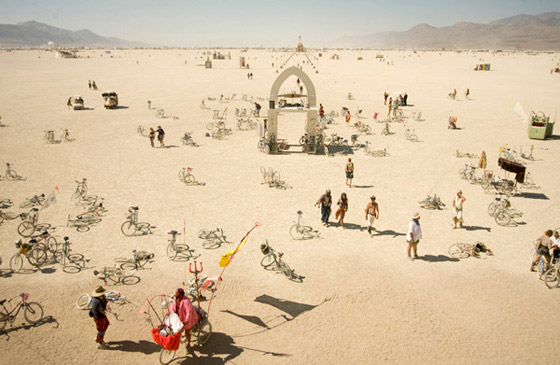 The logistics of it all is quite amazing.  This event is not a small band of desert hippies signing and dancing in the middle of nowhere.  It's quite obvious the moment you cross the entrance gates that it takes the whole year of committed individuals to make Burning Man a reality.  Every Burner I met goes out there way to help, from your fellow campmates, to volunteers, and staffers, everyone is there to assist.  If you're worried that Burning Man is nothing more than a giant cluster f***, don't be.  To the contrary, it is a well-organized event with plenty of EMT, security, and well-minded individuals.  I wouldn't think twice about returning to Burning Man.
The volunteers, known as "Rangers", were of significant help during my first Burning Man.  When I was completely lost in the middle of the night, I simply asked a Ranger.  And to those Burners that like stealing the road signs at the Playa, you're nothing more than material left in the porta potties.  By the fourth and fifth nights of the event, don't rely on road signs to guide you.  While on the Playa, be sure to mark known headings and fixed objects for navigation.  At the end of the week I was quite thankful for the giant light sphere that marked my street and camp spot.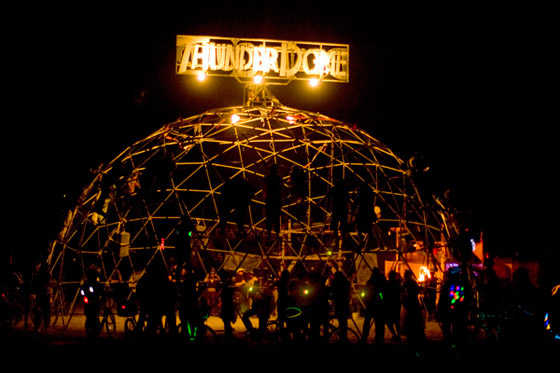 Suggestions for first time burners, or "Burngins". 
– Go with someone you know as Burning Man is meant to overwhelm the senses.  I was pretty stunned and amazed myself, however my buddy Mike was beyond the point of return the first few days.  It's good to have someone to keep you grounded.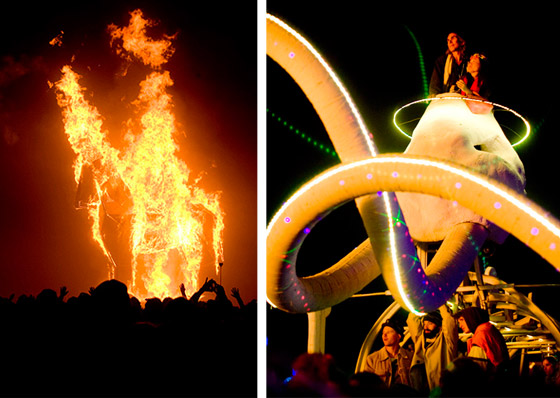 – Pack light in regards to food.  I used only 10% of the food I packed.  One does not need much food in this environment.  I myself was quite content with canned pearls and Gatorade for my time at The Playa.  Water is an item I would still pack heavy.  It is hard to beat the value of safe drinking water.  Two gallons/day per person is a safe ratio for Burning Man.
– Build a shade structure.  Whether it's a reinforced easy-up tent heavily staked to the desert with rebar or a monkey hut, shelter is key to protect you from the sun.  A monkey hut is my preference.  It's easily fixed when the wind breaks it and is easy to modify depending on your exact needs.  Most of Burning Man occurs from a few hours before sunset until sunrise.  During the brunt force of the sun is when most Burners are recovering from the previous day, which is fine because the light is also horrible at that time anyway.  After all, always better to shoot during the golden hours before sunrise and before sunset.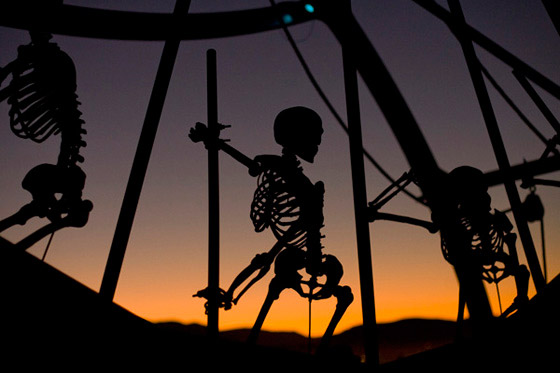 – Taking a siesta became my daily practice.  Though sandstorms were light this year, the weather still took its toll.  You'll be forced to become a night owl as there's no other way to experience Burning Man.
– Decorate your bike well with lights as it's important to be seen with thousands of opportunities for a collision and it's also a lot easier to find your bike.  I usually parked it near a well-lit art installation for easy recovery after a venture.  Without a bicycle, getting around the Playa is a pain unless you bring a Mutant Vehicle.
– In the beginning don't even carry a camera.  There's no need to shoot absolutely everything, as it would give a very tainted perspective on what Burning Man has to offer.  I didn't even take my cameras out of the truck until after two days experiencing The Playa.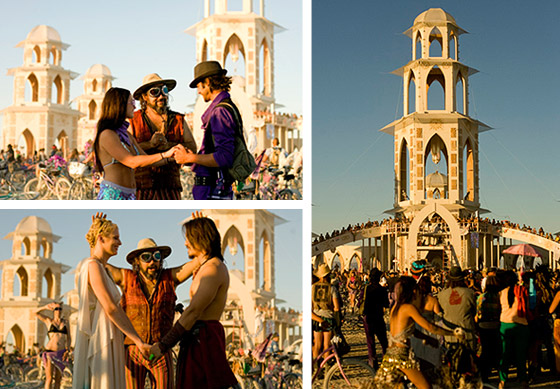 – Understand the rules of the event.  If someone prefers not to be photographed, move on as there are thousands of others opportunities.  Pack light and if possible do not change lenses or you will no doubt have a very dirty sensor.  EWA bags help a lot but nothing is going to keep all the sand out.
– Do not work a wedding before Burning Man.  Arrive as early as possible in the beginning.  Once you are in the region of Black Rock City, be patient.  The line may be several to many hours into and out of the city. It's much worst then the 405 freeway or the post-game cattle herd out of Dodger Stadium.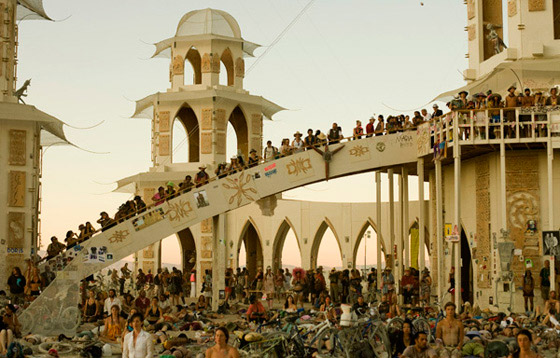 – Be sure to top off your gas tank in Reno.  I highly recommend an additional 5 gallon tank to avoid refilling until you return to Reno as your car may be idling for hours.  Avoid waiting in the middle of the heat as air conditioning requires the car engine to be running.
– There are few resources and service stations past the city of Reno. If you breakdown, expect a long wait.  Please don't be that prick drafting like a NASCAR driver with your high beams on or expect a brake check from me at the very least.  If you are in such a rush, fly out of Burning Man at Black Rock City Airport.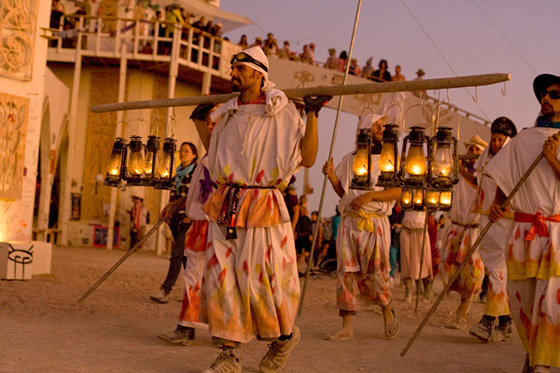 – Plan your departure.  I left Monday at 2am after the Temple burning and I didn't get to Reno until 9am.  Yup, that's 7 hours on the road to go 117 miles from Black Rock City to Reno, and I was actually one of the lucky ones.  Next time around, I am just going to camp an extra day and wait for the mass to leave.  I rather would've enjoyed the desert an extra day verses competing with literally 50,000 people leaving through the straw of a two-lane highway.
– When nature calls, guys have it easy, we can utilize a Gatorade bottle.  For the ladies, pack a pee funnel.  It is worth its weight in gold when the need arrives.  Also, when camping on the playa, try to avoid being down wind of the porta potties.  Such a luxury as clean air goes along way in the realms of comfort.  Baby wipes are the only way to get through the lack of indoor plumbing and showers.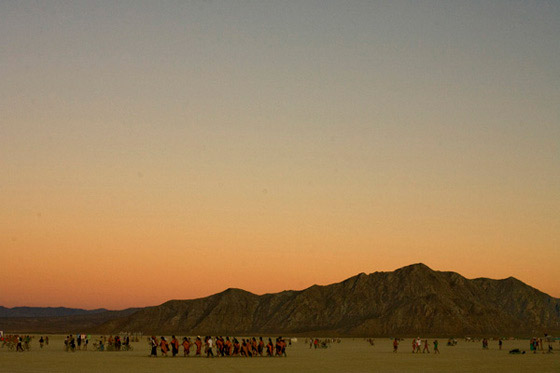 – Avoid using a RV as they're super expensive and kill a vital component of Burning Man.  They are slow, loud, and a hamper the reward of a proper Burn.
– Don't wait until the last minute to buy your ticket, secure your opportunity early.  The ticket can always be resold easily; hopefully without a mark up.  Early next year, I will be buying my ticket for the 2012 Burning Man right away.  Hopefully I will score a ticket in the lower price bracket.  There are also scholarships available for those who cannot afford a ticket.  Good luck in that application process.  From my experience, the ticket is the cheapest thing you will spend to Burn.
– Lastly, be sure to plan your recovery from Burning Man.  Decompression is important after you take on an event of this magnitude.  Driving or flying back home in order to make it to work the following Tuesday is just not going to happen.  If you're lucky it will take at minimum of seven hours to go from Black Rock City to Reno in the mass exodus.  Get a room in Reno and just crash.  Let the holiday traffic and madness creep by while you sleep off your Burning Man outing.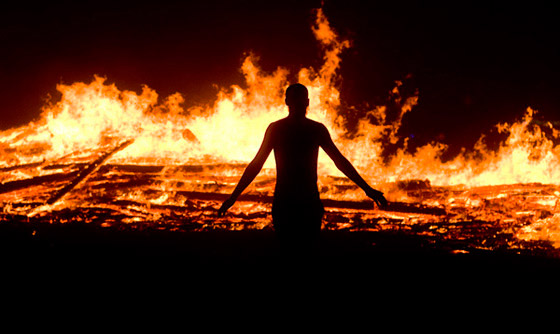 After experiencing this year's Burning Man, I cannot think of a better opportunity to disconnect from daily grind.  I, for one, will be a Burner for life. There is simply nothing else like it.  I may have left Black Rock City without a trace, but the memories and experiences will be instilled in me until I return next year.
Feel free to ask any questions about you may have in the comments below and I will try to respond!