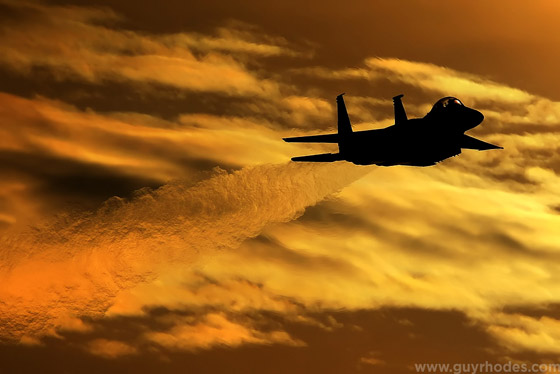 Just as I did as an aviation-loving teenager (with my Canon AE-1 along for all the under-lensed excitement), anyone can view an air show from down on the ground. Of course, this means most people already know what a plane looks like twirling around a thousand feet in the sky above them. Inevitably, human curiosity will lead those spectators to question the view from the other side. They might wonder, "What does a 'barrel roll' look like from the pilot's point of view? What does the pilot's face look like when he's pulling 4 G's at the bottom of a loop? Can the Golden Knights parachute team see my blanket down here as they're free-falling 12,500 feet up?"
As a photographer documenting aviation, it's my job to answer these questions visually. I always keep the wonder an excitement of aviation in mind when I'm planning my air show coverage, and seek to capture a truly unique image each year that will allow viewers to vicariously experience the thrill of aerobatic flight.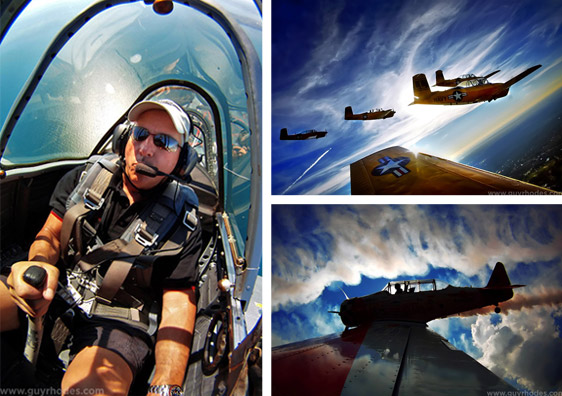 For coverage of the Gary South Shore Air Show in Northwest Indiana, the media are allowed a set number of flights with the various teams set to perform, usually the morning before the actual show gets under way. I've managed to land the coveted fly-along slot for The Post-Tribune for several years now, in part because my photo editor Andy Lavalley knows how much I enjoy flying, but also, because aerobatic flight isn't for everyone. I'm thankful that I've never lost my breakfast over Lake Michigan, but I can't say the same for every photographer who's flown before me!
As for capturing that unique aviation image year after year, it all comes back to that simple goal of giving the viewer a perspective of the air show they don't have from the ground. Often, the most impressive images (aviation-related or otherwise) are born from creative solutions to limitations presented at the shoot.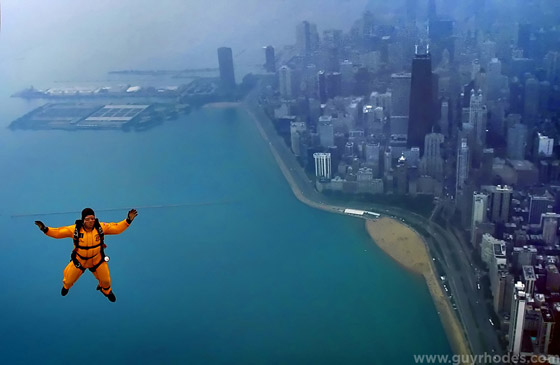 Case in point: Many of the aerobatic groups I've flown with (including the Lima Lima Flight Team, the Aeroshell Aerobatic Team, and the Aerostars Formation Aerobatic Team) all fly two-seater "trainer" aircraft, where you sit in a single-file row in the cabin behind the pilot. Of course, this makes it impossible for you to photograph the pilot's face from the back seat with a handheld camera, much less lean over for a shot of their hands on the controls. Trust me, you're strapped in tight back there, parachute and all. This limitation ushered in one of the first aviation remote cameras I did with the Lima Lima Flight Team back in 2006.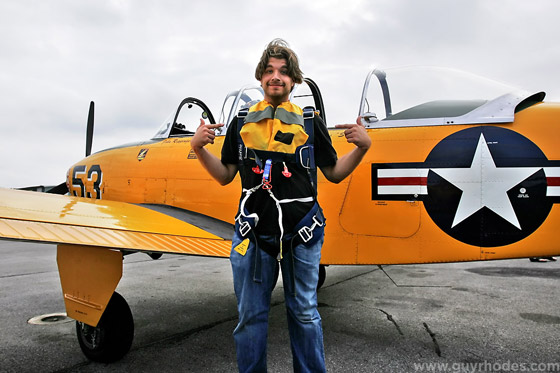 I knew I'd be flying that week with Lima Lima, and I knew they flew Beech T-34 Mentor aircraft (using that single file seating configuration), so the challenge arose of how to get a photo of the pilot's face in flight. I knew I needed to get a camera (then, my Canon 10D) in front of the pilot, but having never seen the aircraft interior, I had no idea how I was going to rig the camera. I searched every image of a T-34 cockpit I could find on Google, and packed a bag with every clamp, arm, zip tie, and piece of tape I could get my hands on. "Clamps, arms," you say? You see, back in my day, we didn't have these new-fangled Go Pro cameras. We had to figure out how to rig heavy, large DSLR cameras to places they were never intended to be mounted, without damaging anything, and trigger them remotely.
Thankfully, my Lima Lima pilot that day, John Rippinger, was also a photography enthusiast (you'll find that most pilots are also gadget geeks). As we climbed up on the wing of John's T-34 Mentor aircraft, John pointed to a square of Velcro on the glare shield above his instruments, similar to the dash board in your car. It turns out John had a Canon DSLR as well, and used adhesive Velcro, of all things, to secure the camera during flight. "Are you sure it's not going to fall off?", I asked nervously. John reassured me that we'd only be performing positive-G maneuvers that day, meaning that, if anything, the camera would only be pushed harder into the Velcro.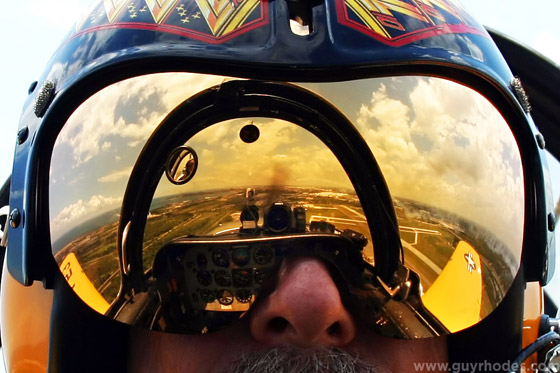 It just so happened that I'd packed some adhesive Velcro into my remote bag (in these situations, you have to be ready for anything), and I applied a sizable square of the correct side onto the bottom of my 10D. After mounting the camera, and focusing the 15mm fisheye lens, we used another piece of Velcro to secure the PocketWizard I used to trigger the camera, and up we went. From the back seat, I mashed the button down on my PocketWizard transmitter in between shooting the other planes in formation with my handheld camera. The best image I ended up with on the remote, depicting John rolling our T-34 almost 90 degrees to the side above Lake Michigan, was used the following day for a very large front page photo. With it, a unique view from the top side of the air show was presented to readers of the paper. Mission accomplished!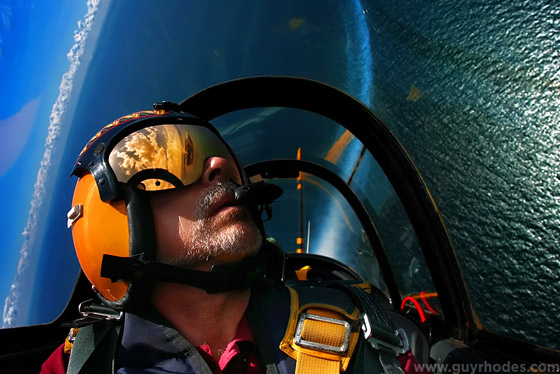 Of course, tiny, lightweight cameras like the Go Pro Hero have made obtaining photos like this this much easier, and have allowed me to capture images that would have been nearly impossible just two years ago (such as my wingtip mount with the Aeroshell team from 2010, or my helmet mount with The Golden Knights from this summer). While I'm far from a gear head, it is very exciting when new tools come along, allowing photographers to realize images that have been trapped in their minds, like those I'd wished I was shooting at the air show back in my junior high 35mm film days.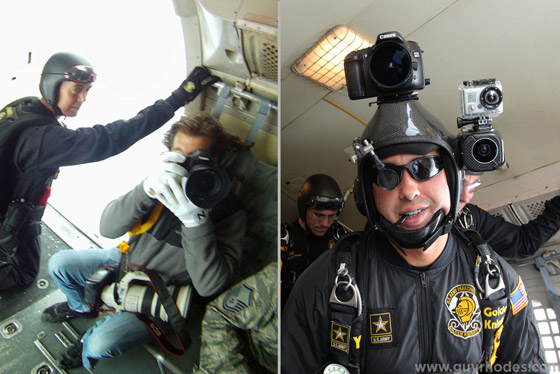 Photography started off as a way for me to capture what thrilled me the most as I was growing up, but it has also become a looking glass for me to measure the growth of what has become my lifelong career. From my Canon AE-1 in junior high to tiny, HD cameras riding –quite literally– on a wing and a prayer, I've been on quite a life's journey through photography. I can't wait to see where it leads me next.