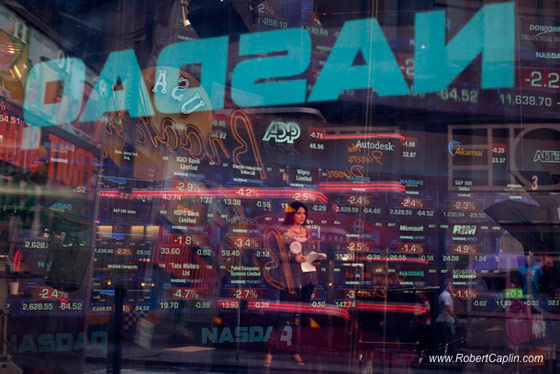 Manhattan-based freelancer Robert Caplin photographed the Nasdaq building in Times Square for a New York Times story on the economic recession.
Yesterday I was sent out to Times Square by The New York Times to photograph what was quickly becoming America's double dip recession. I was assigned to take photos at the Nasdaq building in Times Square where I was told screens showed walls of red monitors displaying plummeting stock prices. My mind quickly went back to 2008 when I found myself covering the initial market crash.

I was familiar with the Nasdaq building as I've shot there numerous times in the past and immediately had an idea to make an artsy reflection photo showing the stock prices within the building against a reflection of the craziness of Times Square in the background. When I arrived to the scene I was bummed to find the window blinds were drawn, which put a wrench in making any sort of stock market related photo.
Continue reading and see more photos on Robert's blog.