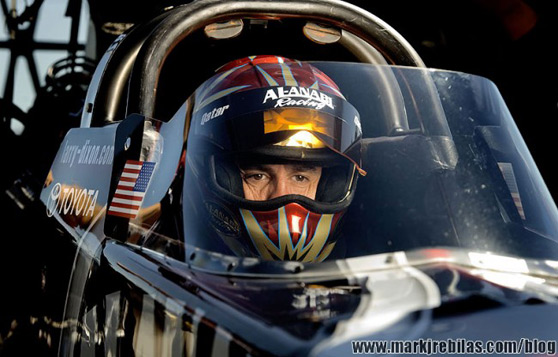 Phoenix-based freelance sports photographer Mark J. Rebilas recently shot portraits and action at the NHRA U.S. Nationals.
Indy Car has the Indianapolis 500, NASCAR has the Daytona 500, but when it comes to NHRA the grand daddy of them all is the U.S. Nationals. With all the different sports I shoot it has gotten harder and harder for me to be able to fit NHRA in my schedule but when the race fell on an open weekend in my schedule I just had to shoot this race. Strap in, here we go!

I still remember attending my first U.S. Nationals back in 1990 with my father, we only went to the race foe two days of qualifying but it was enough for me to see what a big deal the event is in the world of drag racing. Enough memory lane crap, lets get on to this race.

Normally I fly in to events the day before so I can get all settled in at hotel and get a good nights sleep before starting my shoot. This time I was unable to do so since I was in Phoenix Thursday night to shoot an NFL game. So after that late night of work I got less than five hours of sleep before my glorious 6 AM wakeup call to fly to Indy. After a long layover in Denver I landed in Indianapolis just as the one professional qualifying session of the day began.
Continue reading and see more images on Mark's Blog.