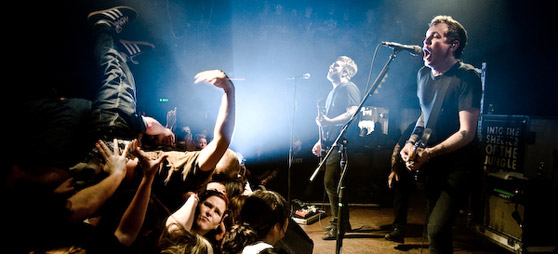 Seattle-based freelancer Nate Watters has been focusing on photographing live music for the last six years.
I grew up in the Pacific Northwest, have been photographing various subjects for over 12 years, and have been documenting live music and events primarily in Seattle for just over one year.  Being relatively new to Seattle, my work includes many up-and-coming and local acts, but also a lot of larger, more well-known bands as they tour through the Northwest.  While I mainly shoot digital presently, I learned what I know about photography using manual 35mm cameras.

As a result, I've never moved away from the desire to have complete control over my camera and make images using my knowledge of the camera's function rather than relying on editing software and other automated technologies.  I would rather make a good image in my camera than on my computer.  Today, it is very common in live music photography to see over-processed images where heavy editing is an attempt to compensate for lack of technical skill.

When it comes to subjects, punk and metal bands are by far the most fun and challenging to shoot because of the stage antics and high level of energy of both the performers and the fans.  When I photograph a live show, my goal isn't to get the best looking photo of a band member that everyone will like or that's necessarily magazine-worthy.  I want to capture an emotion or a connection that can usually only be felt when present at a show – a moment that fans experience when they are so focused, that nothing else matters but their connection with the person standing on stage.
To see more images visit Nate's portfolio site.